Choose a speciality or career
Learn to teach students, from early childhood, to primary and secondary education.
Work with the building blocks of literacy and numeracy. Choose a specialisation—find the beauty in art, explore the wonders of science or celebrate the poetry of English.
Explore the digital world, how it works and its role as a research and delivery tool. Fill your toolbox with the educational skills you need to master lesson plans and curriculum design. Through it all, negotiate the complexities of educational pedagogical theory.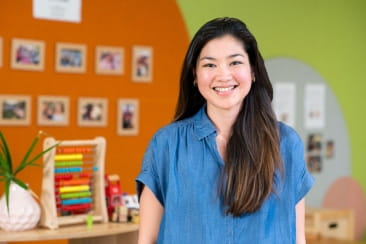 Education & teaching degrees
Education & teaching subjects
Graduate then go straight to the head of the classroom
Embrace the title of educator—it's not just a job. Become the best teacher that students remember forever. And enjoy your job security because teachers will always be in demand.
Let your career flourish. Pursue leadership pathways, work in administration, develop policy and contribute to research. From in front of the blackboard or behind the books, you'll inspire students and learners no matter what course you set in education and teaching.
Careers
Student stories and study advice
We're here to guide you there
Our student advisors can assist you with enrolment, help you plan your studies, and answer questions about how studying through Open Universities Australia can get you from where you are today, to where you want to be tomorrow.