Early childhood education
Choose an early childhood degree to shape young learners' minds.
Did you know: 90% of a child's brain development happens before they turn five?
As one of the first people who young learners interact with, early childhood educators play one of the most important roles in a child's life. If you're drawn to creativity and caring for others, an early childhood degree could be for you.
Am I suited to early childhood courses?
Cast your mind back to the people who guided you through your early years. What did they do that shaped you?
There are a few key qualities that are ideal if you're looking into an early childhood education and care course.
Do you have a love of learning?
To inspire a love of learning in others, you must love learning yourself. During an early childhood degree, and throughout your career, you'll be tasked with understanding the psychology behind young minds so that you can help them develop.
Are you patient and calm?
Being able to keep cool as a cucumber in a variety of classroom situations is key. Children feed off the energy of those around them. If you're a patient person by nature, this could be the place for you to shine.
Do you enjoy organisation and planning?
Planning activities and lessons that inspire young minds is important in this profession. Complete an early childhood education online course, and you could put your knack for organisation to good use.
A day in the life
Choose an early childhood degree and you could spend your days:
Planning and delivering classroom activities for young children.
Promoting language skills and confidence in your learners.
Working as part of a team with parents, other educators and wellbeing professionals.
About the industry
It's a good time to step into this field. According to Job Outlook, graduates of early childhood education courses can expect:
Very strong industry growth
Low unemployment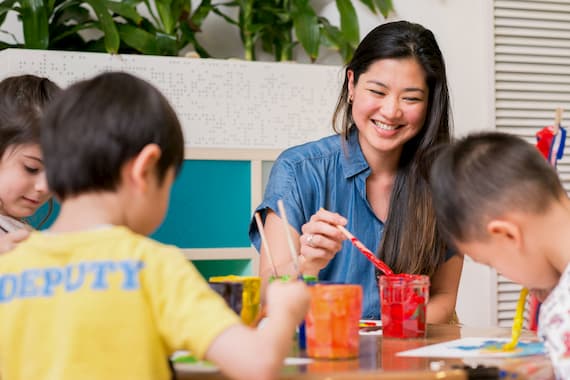 Discover related subjects
Why study online through OUA?
Find the right course for you
We can guide you in your selection from 500+ degrees, and 2,530+ subjects, from leading Australian unis.
Start studying, regardless of history
We offer single undergraduate subjects from full degrees without any entry requirements.
Gain credit towards your degree
Apply for credit for past study, or your work experience, and finish faster.
Graduate with a degree from a leading uni
Enrol through us, and graduate with exactly the same university degree as on-campus students.
Feel supported from start to finish
Our student advisors can guide you in the right direction and help with your enrolment.
Studying an environmental science course prepares you to protect, restore, and rehabilitate the environment.
Put your knowledge of biology and chemistry under the microscope, and examine science through the lens of biodiversity, conservation, and spatial ecology.
Use your skills to tackle climate change, reduce pollution, and conserve threatened species. Join the ranks of environmental scientists who dedicate themselves to making a difference. With an environmental science qualification, you can play a crucial role solving today's environmental challenges.
Compare and apply
We'll help you find the right course for you. Our student advisors are ready to answer your questions.
Work out your finances
During your enrolment, we'll offer you the option to pay upfront in full, or defer your payment using a student loan. Remember to look into income tax deductions for course fees and study-related expenses.
Get credit for your success
We won't let your hard work go unrecognised. Choose to take a single subject, or combine your work as part of a degree.
We're here to help
Our student advisors can assist you with your enrolment, help you plan your studies and answer any questions about how studying through OUA works.