Secondary education courses
Help young people grow into confident adults with your secondary teaching degree.
Do you feel a calling to become a teacher? Earn your secondary teaching degree online and turn into the role model you've always wanted to be.
Here at Open Universities Australia, you can compare online courses delivered by universities from across the country. We make it easier to narrow down your options and find your best fit, so you can graduate with the skills you need to succeed in the classroom.
Why should you study secondary teaching?
If you'd like to do something that truly matters with your career, then high school teaching is a fulfilling choice. You'll have a direct impact on teenagers in Years 7 to 12 (ages 12 to 18), when they're still figuring out who they want to be. High school teachers are specialists in one or two subjects, so you'll introduce them to interests that could end up defining their careers.
Demand for high school teachers in Australia is also very high. It's estimated that schools will need at least 4,000 extra secondary teachers by 2025, which means your passion and enthusiasm for education will always be needed.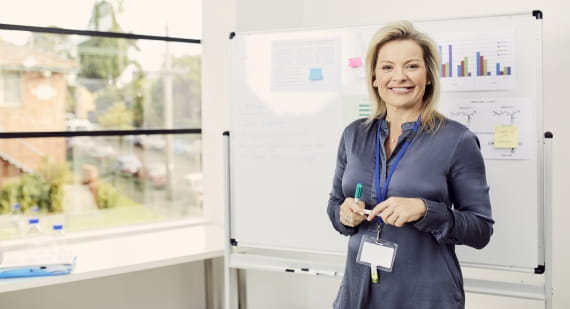 Discover online secondary teaching courses
Discover online secondary teaching subjects
What you'll learn in a secondary teaching degree
When you study your secondary teaching degree online, you have the flexibility to learn about teaching methods and theories at a pace that suits your lifestyle. You can expect to cover essential topics like:
leadership and classroom management
lesson planning
assessment at a secondary school level
teaching with technology
diversity in the classroom
establishing a teacher identity
You'll also be required to choose one or two teaching specialisations, which means you can build your career around a special interest. You will explore how to teach young adults from Years 7 to 12 in these curriculum areas only.
The secondary teaching specialisations you can focus on include:
Arts (Visual Arts or Drama)
English
Humanities and Social Sciences (HASS)
Mathematics
Physical Education
Science
Technologies
Once you're comfortable with the curriculum, you'll be required to complete professional placements (in person) in a secondary school environment. This is compulsory before you can register as a teacher in Australia, and a fantastic opportunity to put your classroom skills into practice.
Secondary teaching course FAQs
Student stories and study advice
Why study online through Open Universities Australia?
Find the right course for you
Explore and choose from thousands of degrees, subjects and short courses from leading Australian unis.
Start studying, regardless of academic history
We offer entry without requirements through single undergraduate subjects from full degrees.
Gain credit towards your degree
Apply for credit for past study, or your work experience, and finish your studies faster.
Graduate with a degree from a leading uni
Enrol through us and graduate with exactly the same qualifications as on-campus students.
Feel supported from start to finish
Our student advisors can guide you in the right direction and help with your enrolment.
Get help every step of the way
Our student advisors can assist you with enrolment, help you plan your studies, and answer questions about how studying through Open Universities Australia can get you from where you are today, to where you want to be tomorrow.