Secondary education courses
Choose a secondary teaching degree to inspire the next generation of leaders
Study secondary teaching degree online and you can impact the lives of students from year 7 through to year 12. Help them understand concepts, achieve their study goals, and ultimately become the people they want to be.
What you'll learn from a course in secondary school education:
Choose a secondary teaching degree, and you'll cover a range of topics to build your confidence as a teacher. These include:
How to manage learning environments – A bachelor of secondary education will help you build skills in building and maintaining a safe and supportive learning environment for your future students.
Who you would like to be as a teacher – Form your educator identity throughout your secondary teaching degree – including your academic integrity and folio.
How to explore topics for the curriculum – Gain confidence in preparing lesson plans that address the needs of the major of your teaching degree.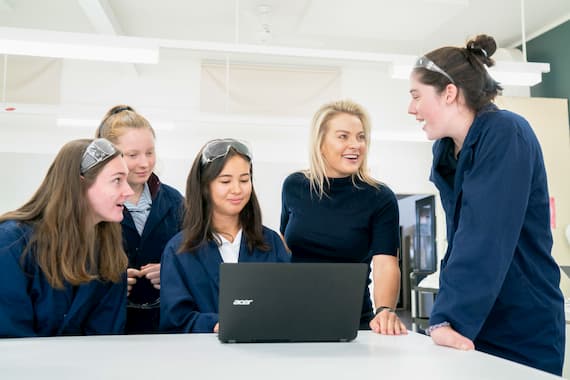 Secondary teaching degree specialisations
Where you take bachelor of secondary education is up to you. That's the beauty of the profession.
Choose to specialise in teaching a particular topic you're interested in—forming your career around your passions. You might choose to teach an area such as:
the arts
English
humanities
social sciences (geography)
mathematics
physical education
science
Of course, there are endless other fields, such as drama, home economics, woodwork and more.
Your questions answered:
Yes, practicum placements are required to be completed during education degrees across Australia—including online courses.
Some degrees will allow you to study more than one specialisation. You may also find that you can end up teaching other specialisations if you have a relevant major.
Yes. In fact, completing a teaching degree online prepares you for the modern workforce as a teacher. Today's teachers are expected to deliver material using online tools and environments. What better way to learn that by completing online education yourself?
Discover related subjects
Why study online through OUA?
Find the right course for you
We can guide you in your selection from 550+ degrees, and 2,610+ subjects, from leading Australian unis.
Start studying, regardless of history
We offer single undergraduate subjects from full degrees without any entry requirements.
Gain credit towards your degree
Apply for credit for past study, or your work experience, and finish faster.
Graduate with a degree from a leading uni
Enrol through us, and graduate with exactly the same university degree as on-campus students.
Feel supported from start to finish
Our student advisors can guide you in the right direction and help with your enrolment.
We're here to help
Our student advisors can assist you with your enrolment, help you plan your studies and answer any questions about how studying through OUA works.