Brendan is a high school teacher with a passion for the future—both his students', and his own. Through OUA, he's determined to become a school principal.
As someone who started out studying history, life is now all about the future for Brendan. This secondary school teacher is tackling not only his own future, having returned to study to become a secondary school principal, but he's determined to influence the future of education as a whole.
Life's no longer about historical events, that's for sure.
Choosing to study a Master of Education with Curtin University was the key to making these dreams a reality for Brendan. But as a full-time teacher and head of house at Iona Presentation
College in Perth, finding a course that would allow him to continue with his classroom commitments was key.
Not only that, but Brendan needed a course that was focused on the future of education just as much as he was. He wanted to "be able to enact change from the top down", as he puts it.
Choosing a modern degree
With a Graduate Diploma of Education under his belt already, Brendan didn't want to continue to study pedagogies of the past.
For this teacher, dissecting up-and-coming education trends needed to be part of his journey towards becoming a leader in education.
After finding the Master of Education with Curtin University on the Open Universities Australia website, Brendan felt he finally found the key to make it happen.
"I think Curtin University is really future-focused in the way they teach and the units they offer. They're really focused on where education is going." Brendan says.
Through OUA's website, Brendan was able to not only find a degree that matched his focus on the future of his industry, but one that allowed him to study electives that met his personal career goals.
"I've been able to pick and choose what I feel is important in being a teacher for upskilling." he adds.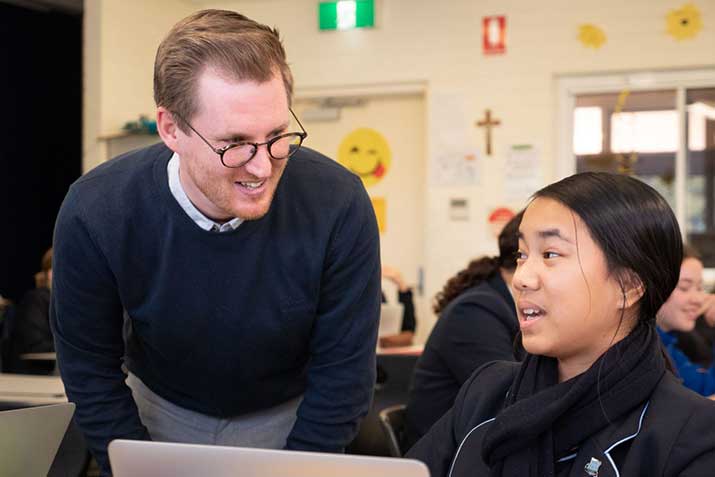 Mastering the balancing act
With the best match for his goals selected, the next part of Brendan's journey was actually studying. Which is no small feat when you're busy educating the next generation.
While Brendan was initially worried that he might not have the self-discipline to study and work at the same time, he's been pleasantly surprised by his ability to make it work.
His top tip? Take one unit at a time, and schedule study time.
Brendan blocks out time in his calendar on Saturdays and Sundays, so that it doesn't clash with school or social events.
"It's very manageable when paired with full-time work." Brendan admits.
"Those weekends are solely focused on uni and studying… but it's a worthy sacrifice. In the long run it will definitely pay off."
By studying one unit per study period at a time, Brendan will finish his Masters in just a couple of years. Not bad for someone who has his hands full teaching secondary school English, Humanities and Social Sciences, and Psychology daily.
Related courses through OUA:
Bachelor of Education (Secondary Education)– Curtin University
Graduate Certificate in Training and Development – Griffith University
Master of Education – Griffith University
Master of Educational Leadership – Australian Catholic University
Browse  thousands of courses from leading Australian universities.
Or complete the form on this page to chat to an advisor about study options.
Explore courses