Primary education
Open up new worlds for young learners
As an educator, everyday is a new opportunity to make a difference in a young person's life. If you're ready for a career that's truly meaningful, begin a primary education course today, delivered online through Open Universities Australia.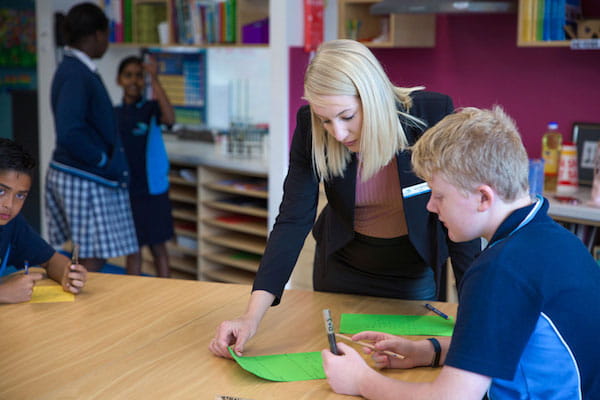 What you'll learn
A teaching course will not only give you methods to run a positive and productive classroom, you'll also gain expertise in such areas as:
Subject teaching, for example, maths, health, or performing arts.
Catering to diversity and learning differences.
Analysing and challenging school curriculum.
Leadership skills.
Communication with parents and carers.
Guiding students through the digital world.
Catering to students with a disability.
As part of your studies, you may undertake an internship to help you put your theoretical knowledge into practice.
Where to next?
Once you've gained a teaching degree, or an education degree in general, many graduates seek the role of primary teacher in a classroom. There's opportunity to progress to leadership positions, such as head of department, or principal. A course in primary education could also serve as a starting point, enabling graduates to veer off into related areas like youth guidance counselling and adult education.
If your passion lies in the administration side of education, you may find yourself seeking a career in education reform and policy. Research is another key career area for graduates—offering the opportunity to examine how children learn best, and influence policy and curriculum design for future generations.
Discover related subjects
Why study online through OUA?
Find the right course for you
We can guide you in your selection from 500+ degrees, and 2,530+ subjects, from leading Australian unis.
Start studying, regardless of history
We offer single undergraduate subjects from full degrees without any entry requirements.
Gain credit towards your degree
Apply for credit for past study, or your work experience, and finish faster.
Graduate with a degree from a leading uni
Enrol through us, and graduate with exactly the same university degree as on-campus students.
Feel supported from start to finish
Our student advisors can guide you in the right direction and help with your enrolment.
Primary education student stories
Studying an environmental science course prepares you to protect, restore, and rehabilitate the environment.
Put your knowledge of biology and chemistry under the microscope, and examine science through the lens of biodiversity, conservation, and spatial ecology.
Use your skills to tackle climate change, reduce pollution, and conserve threatened species. Join the ranks of environmental scientists who dedicate themselves to making a difference. With an environmental science qualification, you can play a crucial role solving today's environmental challenges.
Compare and apply
We'll help you find the right course for you. Our student advisors are ready to answer your questions.
Work out your finances
During your enrolment, we'll offer you the option to pay upfront in full, or defer your payment using a student loan. Remember to look into income tax deductions for course fees and study-related expenses.
Get credit for your success
We won't let your hard work go unrecognised. Choose to take a single subject, or combine your work as part of a degree.
We're here to help
Our student advisors can assist you with your enrolment, help you plan your studies and answer any questions about how studying through OUA works.