Choose a speciality or career
Technology and information drives business, industry, communication, and entertainment. Become the expert that creates and maintains the systems and processes that all fields rely on.
Get technical with programming, database design, security and networks.
Get strategic with big data, business intelligence and information architecture.
Get creative with digital design, social media, and interactive entertainment.
Shape your world. Influence and enhance interactions between people and information. Harness your creative intelligence and become the expert who designs and sustains technology and information essentials.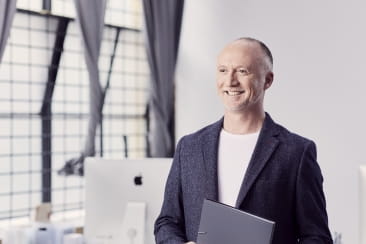 IT & computer science degrees
IT & computer science subjects
Code your future as an indispensable expert
Study technology and information and develop an adaptable and highly portable skillset. Get tech-ready for the workplace.
Collaborate with virtual communities and network with social media. Get enterprising and navigate information and business systems, analyse data, curate and archive records, design digital assets and platforms. Secure networks or design software. Critically analyse complex business issues and adopt new technology. Connect to people and places and navigate cloud computing, mobile learning, and wearable technology.
The tech industry is growing, the roles are evolving. Get informed about a range of transformative careers in this space and charge up your future.
Careers
Student stories and study advice
We're here to guide you there
Our student advisors can assist you with enrolment, help you plan your studies, and answer questions about how studying through Open Universities Australia can get you from where you are today, to where you want to be tomorrow.