Adrian's love of technology grew out of childhood, and continues to grow as he earns RMIT's Bachelor of IT, online through Open Universities Australia.
From as early as he can remember, Adrian has taken a keen interest in Technology. He's always on top of the latest tech news – he's even made a hobby of taking apart laptops and putting them back together, to learn the intricacies of how they physically function. Adrian's ultimate career goal is to work with artificial intelligence, and everything he's exploring, whether at uni or on his own time, gets him closer to this dream.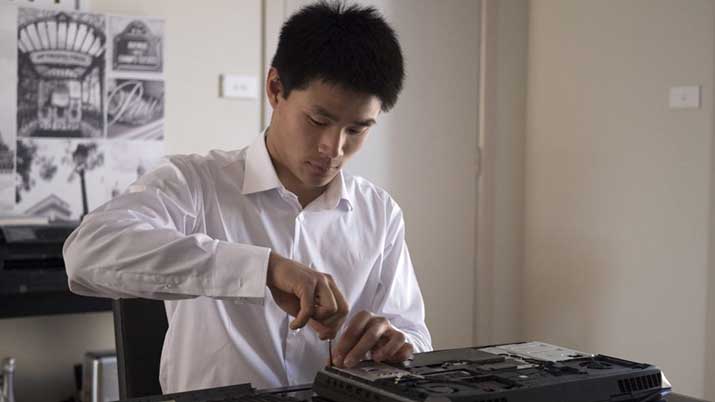 It's no surprise that Adrian was drawn to a broad and varied degree like RMIT's Bachelor of Information Technology. The program exposes him to a number of fascinating areas, from system security and attack prevention, to web design and user experience. The standout subject for Adrian is User-Centred Design, which teaches how to design web interfaces that alleviate user frustration, and make navigation through a website or app a smoother and more intuitive experience.
Studying through OUA has been the perfect solution for Adrian, as it allows him to keep working in retail management while he studies. He gave the on-campus experience a try, but it wasn't a good fit for his lifestyle – so now with the freedom to study on his own terms, he's in full control and loving every day of it.
Room to explore what you love
When you study through OUA, there's no need to put your life on hold. You've got the freedom to explore a wealth of options.
Find the right degree or subject for you – We can guide you in your selection from hundreds of courses from leading Australian universities.
No barriers to study – We offer single undergraduate subjects from full degrees without any entry requirements.
Gain credit towards your degree – Apply for credit for past study, or your work experience, and finish faster.
Graduate with a degree from a leading uni – Study through us, but graduate with exactly the same university degree as on-campus students.
Support from start to finish – Our Student Advisors can guide you in the right direction and help with your enrolment.
Browse  thousands of courses from leading Australian universities.
Or complete the form on this page to chat to an advisor about study options.
Explore courses