Cyber security courses
In a world that relies so heavily on data, nobody can afford an attack.
What is cyber security?
At the heart of cyber security is the protection of data.
Today, almost all information is stored digitally, whether it's a company's sales records, or a personal grocery list. Data is everywhere, and can be vulnerable to attacks.
Cyber attacks involve the theft, manipulation or destruction of data that is relied upon by a company or individual. To prevent against this, a layered approach must be taken that combines technology and processes, as well as practices that help employees of organisations be on guard.
It's a complex field of work, with technological, financial, even political implications. In demand are analytical and strategic thinkers, who always keep ethics at the front of mind.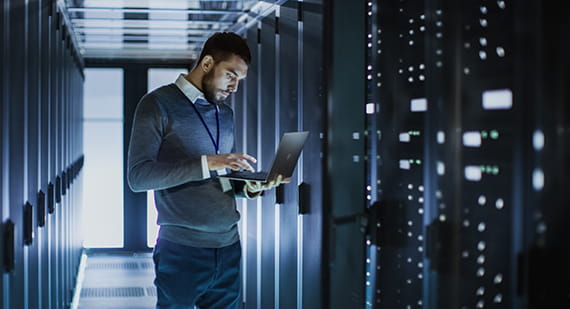 Why study a cyber security course?
The availability of cyber security jobs is growing, as our society becomes increasingly reliant on digital data. Hackers will continue to innovate, so the protection of data will take more ideas, and more hands on deck.
A cyber security career will require you to think and communicate in the online world, so there's no better profession to study online – it will allow you to refine these skills prior to entering the industry as a paid professional.
We offer a range of cyber security courses online, as well as general IT-based courses that delve into computing and internet security. These courses are delivered by universities across Australia – we can help you search, compare and get enrolled.
What you'll learn
Topics vary from course to course, but through a cyber security degree (or similar), you can expect to dive into such areas as:
The history of intelligence
Politics and power
Information warfare
Systems design
Securing systems, databases and networks
Incident response frameworks
Ethics around privacy and data use
Simulations of cyber attacks
Critical thinking and research skills
Discover related subjects
Student stories and study advice
Why study online through Open Universities Australia?
Find the right course for you
Explore and choose from thousands of degrees, subjects and short courses from leading Australian unis.
Start studying, regardless of academic history
We offer entry without requirements through single undergraduate subjects from full degrees.
Gain credit towards your degree
Apply for credit for past study, or your work experience, and finish your studies faster.
Graduate with a degree from a leading uni
Enrol through us and graduate with exactly the same qualifications as on-campus students.
Feel supported from start to finish
Our student advisors can guide you in the right direction and help with your enrolment.
Get going with OUA
Compare and apply
We'll help you find the right course for you. Our student advisors are ready to answer your questions.
Work out your finances
During your enrolment, we'll offer you the option to pay upfront in full, or defer your payment using a student loan. Remember to look into income tax deductions for course fees and study-related expenses.
Get credit for your success
We won't let your hard work go unrecognised. Choose to take a single subject, or combine your work as part of a degree.
Get help every step of the way
Our student advisors can assist you with enrolment, help you plan your studies, and answer questions about how studying through Open Universities Australia can get you from where you are today, to where you want to be tomorrow.