Want to teach and inspire young children before they reach primary school? There are two main study paths to choose from, depending on your goals.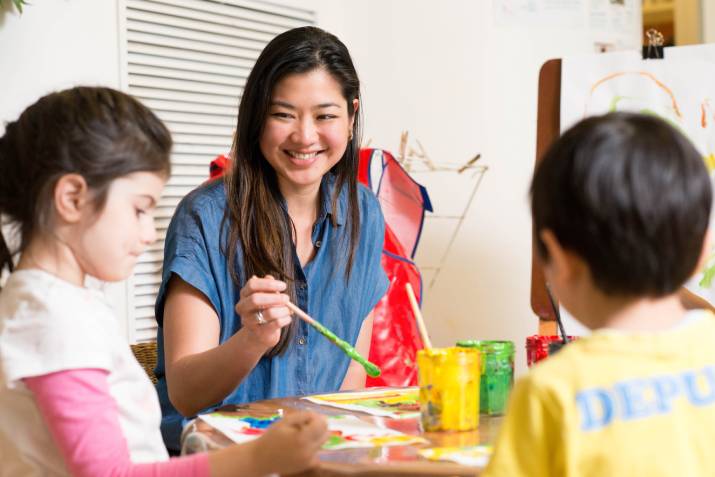 Early childhood education workers are the backbone of our community. Not only do they help families balance work, life and everything in between, but they also prepare young kids for what awaits them at school.
If this is a career that speaks to you, then you might like to consider an early childhood education or childcare course.
While they're very similar study paths and both lead to a rewarding career in childcare, there are also some key differences between the two. It's worth learning them now, so you can decide which option is right for you.
What is childcare?
Childcare involves supervising young kids when their parents can't be there. Childcare workers are generally employed at childcare and family daycares centres, though they also support families through kindergartens, after-school programs and in the home. They teach kids early life skills and introduce them to activities like crafts, reading, games and sports.
To succeed in this role, you'll need to be a confident communicator, patient and energetic. It's common to work rotating shifts between 6.30am and 6.30pm, so you'll need to get used to a flexible schedule, though once you're more experienced, it'll be easier to land permanent part-time and full-time roles.
What should you study to become a childcare worker?
There are several childcare courses you can explore to get qualified. At a minimum, you'll need a Certificate III in Early Childhood Education and Care from TAFE, which will teach you core skills including healthy meal planning, behavior management and play techniques. You can expect to study for nine months full time and complete a 120-hour work placement.
What can you do with a childcare certificate?
Once you finish your qualification, you'll be ready to apply for roles like:
Early childhood assistant
Childcare worker
Playgroup supervisor
Family daycare worker
Out-of-school-hours care provider
Nanny or au pair
However, certificate courses in childcare don't qualify you to become an educator. If this is where you see your career heading, then you should look at an early childhood education degree instead.
What is early childhood education?
Early childhood education involves teaching kids under eight beginner literacy and numeracy skills.
Like childcare workers, early childhood educators tend to work in childcare centres. But they're registered teachers, so they focus more on the social, emotional and mental development of their energetic young charges. They're also likely to be in centre leadership or curriculum planning roles.
If you'd prefer to step outside the bustling day-to-day of childcare, there are plenty of other settings where early childhood educators work too. This includes primary schools, not-for-profits, community service groups and government departments, where they help shape educational policies.
What should you study to become an early childhood educator?
You'll need to earn a Bachelor of Education (Early Childhood Education) or Bachelor of Teaching (Early Childhood Education) to qualify as a teacher.
These courses run for three years full time, but can also be completed at your own pace online. You'll learn about the psychology behind childhood development, and cover things like inclusive education, and teaching science, music and performing arts.
What can you do with an early childhood education degree?
After graduating, you'll be qualified for roles like:
Early childhood teacher
Childcare centre director
Childcare coordinator
Education administrator
Learning designer
Policy development officer
If you're already a teacher but you'd like to focus on early childhood education, consider enrolling in a postgraduate qualification, like a Graduate Certificate of Early Childhood Education and Care, or a Master of Teaching (Early Childhood Education). These courses will give you the skills you need to go after more specialised teaching roles.
Where to study early childhood education
You can study a number of early childhood education courses online through Open Universities Australia. We'll connect you with courses delivered by leading universities, help you enrol, and support you throughout your study journey.
If you don't have a strong academic history, that's okay too, because we have an open-door policy that makes it possible for everyone to get into uni.
The benefit of studying early childhood education online is that you can work in childcare at the same time. You'll see how the things you learn about child development apply in the real world, which will give you a leg up on students learning full time in the classroom.
How do you know which option is right for you?
There's no right or wrong answer. If you're keen to get qualified quickly, then a certificate in childcare will make more sense. But if you'd like to play more of a leadership role and determine what kids learn, then an early childhood education degree would be the best choice for you.
Early childhood educator salary vs childcare workers salary
Understanding what you can earn once you're qualified may help make the decision easier.
Early childhood and childcare salary figures vary depending on your qualification level, experience and position. Here's a general overview:
Early childhood education salaries*
Position
Salary
Early childhood teacher
$44,000–$70,000
Childcare centre leader
$47,000–$62,000
Childcare assistant director
$52,000–$67,000
Childcare centre director
$59,000–$93,000
Childcare salaries*
Position
Salary
Childcare worker
$40,000–$45,000
Playgroup supervisor
$33,000–$50,000
Early childhood assistant
$37,000–$58,000
Nanny/au pair
$38,000–$62,000
*These salaries are based on information provided by Payscale and should be seen as guides only. Current as of 25 Nov 2021.
If you're still not sure where to start in your childcare career, we're here to help. You can contact our friendly student advisors for advice, so you can choose the right course with confidence.
Explore online early childhood education courses now.