Are you a mature-age student ready to undertake university study? While it's normal to be nervous, we're here to tell you, you can do this! Check out this guide to learn more about your options.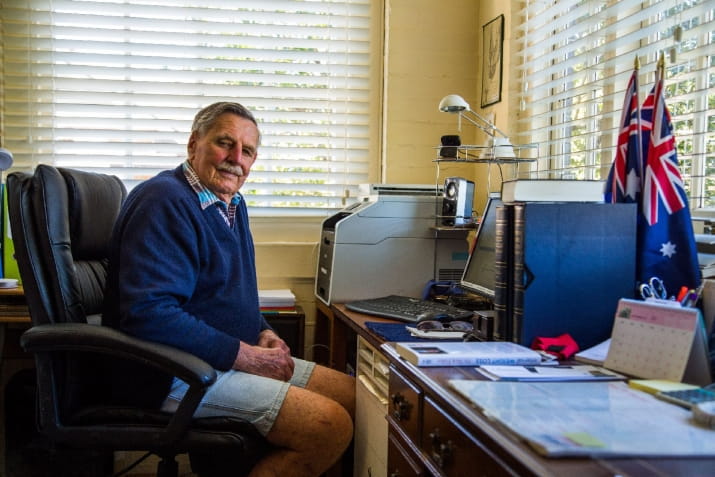 If you've always dreamed of studying at uni, or are just ready to switch up your career and pursue a degree in a brand-new field, enrolling as a mature student may not be as far out of reach as you once thought.
With so many universities and courses to choose from, making that first move can sometimes be an intimidating process. It's completely normal to have fears as a mature-age student, but rest assured, when you enrol through Open Universities Australia (OUA), you have all the support you need to make the right decision for you. If you're not sure where to start, check out this guide put together by our expert advisors to learn more about applying to uni as a mature-age student.
Choose the online route
Going back to school as an adult can be daunting, especially when you're balancing other commitments, such as a full-time job or a van full of children. While in-person classes may be completely out of the question, online courses can be taken anywhere, at any time—without the commitment of travelling to and from campus.
Online courses give you the opportunity to study as you would in the classroom and the experience you need to level up in your career. By embracing new technologies and making use of that home office, you can access thousands of courses and hundreds of degrees with the click of a mouse.
Explore your course options
Your past study and work experience will determine which degree and course options are the best fit for you. Without stepping foot on campus, you can pursue an associate, Bachelor or even Masters Degree from the comfort of your own home. Check out what's on offer now and compare your options.
Undergraduate
If you never started or completed undergraduate study, it's not too late to enrol. Ernest went on to graduate at 87, and if Ernest can do it, so can you! With an abundance of options through OUA with top universities from across the country, whether you want to study business and management or psychology and mental health, you'll have no problem finding a degree that will help you reach your goals.
Explore undergraduate degrees.
Postgraduate
Already hold a Bachelor Degree? Or maybe you have decades of experience in a particular field? Either way, this sets you up to complete a postgraduate degree. Here at OUA, we can help you develop your skills and gain relevant experience while juggling everything else that matters in your life.
Single subjects
Not ready to commit to a full degree yet? When you enrol in single subjects, you can pick and choose topics that suit your professional needs and gain the knowledge needed to move up the ladder in your career. With thousands of single subjects on offer, no matter where your interests lie, you'll have no problem finding a course that aligns with your career goals.
Be prepared for the commitment
When you study online through OUA, the ball is in your court. And while you have the flexibility to study from anywhere you want, there is still a commitment that comes with undertaking any kind of study, whether it's a single subject or a Masters Degree. Typically, students spend anywhere from 10-40 hours per week on course work, so keep that in mind when deciding on your study load. The good news is that most degrees allow you to choose from a full-time, part-time or tailored schedule.
Reach out for help if you need it
While studying is a big commitment, you should never feel alone at any point. At OUA, we are here to support you every step of the way. It's our goal to make finding and enrolling in your course the easy part of studying!
Whether you have a question about the courses you are eligible to enrol in or want to learn more about your financial options, our expert student advisors are always just a phone call or message away. If you're feeling doubtful, get in touch with our highly trained and knowledgeable advisors. They're available 24/7 via these platforms:
Mature-age study FAQs
Who is considered a mature-age student?
This usually depends on the university you're applying to, but most consider anyone over the age of 21 a mature-age student, while others list other criteria. Either way, in most cases, your age doesn't affect your application or enrolment.
What are the advantages of being a mature student?
As a mature student, you may have clear career goals you are looking to accomplish through your studies, unlike other students fresh out of high school. You also have valuable life experience that can help you through your academic studies. Passion and drive are important when it comes to study, and because you've had time to think through your course choices, you're likely picking something you love and are dedicated to improving.
Should I enrol in university as a mature-age student?
If you want to study as a mature student, don't let your age hold you back. Anyone can pursue higher education if they're ready to take the plunge. With OUA you can study with leading universities online and dedicate yourself to a more ambitious future.