Textbooks & study materials
Depending on your subjects, you'll have a range of different study resources including textbooks and online study materials.
Textbooks
To find out if you need a textbook check your university's handbook, website or learning management system (LMS.)
Not all subjects have textbooks. But for those that do, some textbooks will be 'required', and some are just 'recommended':
Required textbooks are essential learning resources that you'll refer to throughout your subject.
Recommended textbooks are additional learning resources that you might find useful to gain a deeper understanding.
Make sure you look up each subject you're enrolled in to check for textbook information. Some textbooks are available through your uni's library as eBooks, but most of the time you'll need to get your own copy. If you do need to buy one, need to buy one, we recommend you buy it a few weeks in advance so it arrives in time for class.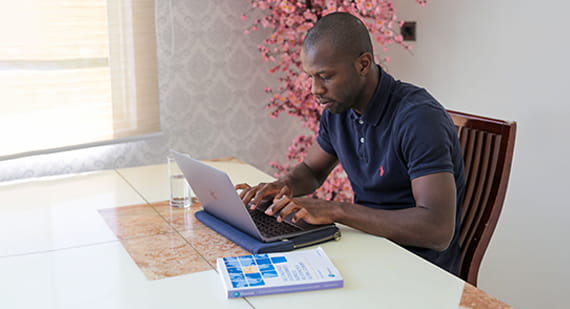 Study materials
Journal articles, podcasts, slide packs and more!
Most subjects through OUA are 100% online, meaning you can access your subject's study materials from your learning management system (LMS).
You'll watch instructional videos and recorded lectures, listen to podcasts, follow web links, and flick through blogs and wikis. See your subject page to find out more about the online study materials chosen by your lecturer. And when classes start, log in to your LMS for access.
If your subject includes other materials, most of your study materials will be online in your LMS, but you'll use some additional materials that might include printed content or DVDs.
Availability
Usually, study materials are available the week before the study term starts.
Online study materials
Your uni will email your LMS access details to the email address you supplied when you enrolled. Expect a username and password in your inbox in the week before classes start. If you can't access your online study materials by the first Wednesday of Week 1 in your study term, contact your uni and they'll sort it out.
Printed and other study materials
You uni will package these up and mail them to the address you supplied during enrolment. Postage can take several days—but do contact your uni if they haven't arrived by the end of Week 1 of the study term.
We're here to guide you there
Our student advisors can assist you with enrolment, help you plan your studies, and answer questions about how studying through Open Universities Australia can get you from where you are today, to where you want to be tomorrow.