If you're a mature age student university bound, prepare yourself with this study checklist so you can nail online learning.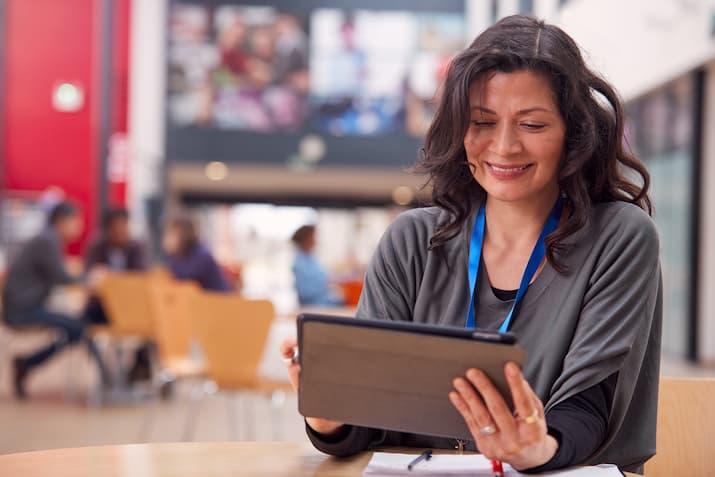 Returning to study or starting study for the first time at an older age is one thing. But doing so online presents its own set of challenges. Or at least, it used to. These days, online learning for mature age students in university can be both straightforward and rewarding.
How old is a mature age student for university?
Whether you're 25, 55, 75, or somewhere in between, if you're enrolling in university at a stage other than straight out of high school, you are considered a mature age student. "Mature age" is just a way of saying you're not fresh from the school system.
Figuring out your study essentials: Your uni checklist
If you haven't studied online before, you're likely feeling a little anxious about how it all works. The good news is, online platforms for learning are generally designed to be intuitive. With some playing around in the online environment, you'll soon come to learn how to research, listen, learn, discuss, submit assignments and more. In fact, by the end of your first study period, you'll likely wonder how you ever didn't know how to do those things!
What do I need for uni when taking up online study?
To be successful in online learning you'll need to be equipped for a variety of situations. Think of these as your uni essentials.
1. A decent internet connection
A bandwidth of 1.5 MB per second is recommended for both upload and download speed. If this isn't possible, above 1.00 MB may be adequate.
Most telco companies provide high speed internet as standard these days. And some websites even let you test your bandwidth.
Chat to your local provider about the above needs and they'll be able to tell you whether your current speed is adequate for online learning, or what you need to do to upgrade. If you regularly stream shows on Netflix and the like, you may not need to make any changes.
2. Portable technology
While you may adore your desktop computer, surrounded by its various knick-knacks, a portable computer is a wise investment. A laptop will allow you to take your studies as a mature age student in university anywhere.
Finish assignments in cafes, discuss topics with your classmates in your backyard, or even take your studies on holidays with you. Now that's learning.
While you're at it, a pair of Bluetooth headphones may be beneficial too. While not strictly necessary, Bluetooth headphones will allow you to roam from room to room, or even go on walks, while listening to lectures and the like. Some even have noise-cancellation technology, allowing you to block out distractions while you hit the (virtual) books.
3. Confident knowledge of your Learning Management System (LMS)
Your Learning Management System, otherwise known as your LMS, is the central online space run by your university where you'll discuss topics, listen to lectures, submit assignments and more.
You'll log into your LMS using your student number or email. Your university will be in touch after your enrolment to provide these details as well as the link for access. Be sure to bookmark it on your internet browser so that it's always handy.
4. 10-12 hours per week
The time you need to set aside for study as a mature age student in university is dependent on the type of course you're enrolled in – whether that be undergraduate (your first degree), postgraduate (a secondary degree), and the topic you are studying. For instance, law students typically need to put in more time than those enrolled in arts.
Generally, however, an undergraduate subject requires 10-12 hours of study per week as a minimum. Be prepared to set this time aside before you begin so that you're in the best position for success.
While this may sound like a lot, it's not so bad when you break it up over the week. You may choose to do one hour per weeknight, and then a block of time on Saturdays or Sundays.
Got questions about your study journey? Our friendly student advisors can help, as can the university you're enrolled with. Never hesitate to get in touch. No matter your goals, we're here to guide you there.
Browse  thousands of courses from leading Australian universities.
Or complete the form on this page to chat to an advisor about study options.
Explore courses