Open Universities Australia is here to guide you through course selection, enrolment and study planning. Meanwhile, your university will be by your side for academic help—such as discussing assignments.
On this page: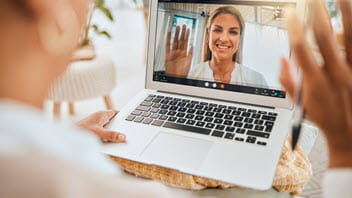 Student advisors
Enrolling and study planning
Available seven days a week over the phone or through live chat, our student advisor team can answer all your queries. And if there's one thing we've learnt, there's no such thing as a silly question.
If the thought of going back to being a uni student is on your mind, but you're not sure where to start or how to find the perfect course, a student advisor can help. They'll walk you through our catalogue of degrees and subjects, explain the terminology and the processes, and help you find the perfect match.
We know that things like applications, student loans and enrolments can sometimes be a bit tricky, so from your first day through to graduation our student advisors are on call to help you. And if they can't help you straight away, they'll know exactly who can.
Student counselling
Free and confidential counselling
If you're struggling with something personal or worried about anything—whether it relates to your study or not—knowing there's someone you can talk to can really help.
When you're studying online through us you can access free and confidential* appointments with professionally-qualified counsellors. This short-term, solution-focused service can help you:
Work through stresses relating to student life.
Deal with study anxiety.
Look after any health or welfare issues that are affecting your studies.
Manage your work, study and life balance.
Plus, counsellors can also put you in touch with other health and wellbeing professionals that are based close to you.
* The counselling service respects your privacy and holds information obtained in the course of professional service in confidence, except where the law demands otherwise or where there are ethical or moral reasons not to do so.
How to make a counselling appointment
Your first step is to request an appointment by email to counselling@open.edu.au.
When you ask for an appointment, let us know your OUA ID plus the best number to reach you over the phone.
If you're seeking urgent support outside business hours, you can reach out to:
Lifeline on 13 11 14 for crisis support.
Emergency services (police, fire and ambulance) can be contacted on 000.
BeyondBlue for mental health support.
University teaching staff
Help with your studies
When you're enrolled and studying your course, reach out to lecturers, tutors and teaching staff for help with course content and assessments. You'll find their details in your learning management system (LMS)—you can log in from your university website.
Your LMS is full of study support. You'll be able to connect to the university library and find out about on-demand learning services. Explore university study help tools via your LMS, university website, or reach out to your teaching staff directly for personalized recommendations.
Study support tips and guides
We're here to guide you there
Our student advisors can assist you with enrolment, help you plan your studies, and answer questions about how studying through Open Universities Australia can get you from where you are today, to where you want to be tomorrow.