Choose a speciality or career
Study science online and investigate innovative and evidence-based solutions to improve the world around you. Whether your passion lies in the environment, biology, chemistry or astronomy, studying a course in science will equip you with the tools to devise solutions and make a meaningful difference.
Grow an appreciation for laboratory, field research or explore the origins and evolution of life on Earth.
Make discoveries, devise solutions, forge breakthroughs, solve equations, challenge existing beliefs, save energy, experiment. Discover the undiscovered.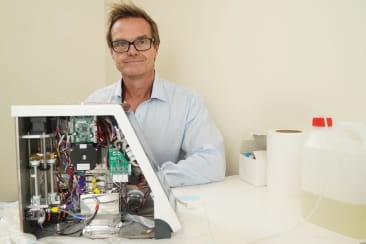 Plant the seeds for a budding career in a growing field
Study science and open up a world of opportunities across a range of industries.
Accreditation
Improve your career prospects when you study through OUA and get accreditation from some of Australia's peak, reputable organisations.
Australian Institute of Biology (AIB)
The AIB represents biology professionals throughout Australia. They promote education and research in biology, and speak on behalf of biologists with government and other organisations.
Careers
Student stories and study advice
We're here to guide you there
Our student advisors can assist you with enrolment, help you plan your studies, and answer questions about how studying through Open Universities Australia can get you from where you are today, to where you want to be tomorrow.