Counselling courses
Train as a counsellor, and empower others to overcome their personal challenges
If you'd like to make a difference in people's lives, then becoming a counsellor is a fantastic way to do it. After taking an online counselling course, you'll have the knowledge you need to help people navigate tricky situations, manage their self-care and improve their mental health.
Discover why counselling is the right path for you before exploring your study options through Open Universities Australia. All courses are delivered online by leading Australian universities.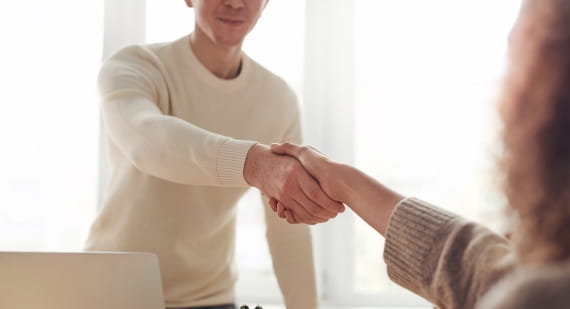 Why should you study counselling?
If you're interested in learning more about the human mind so you can help others manage their mental health, then a counselling course could be the perfect fit. Studying counselling allows you to use your compassion and empathy in a professional setting.
Demand for those in counselling roles has grown strongly over the last five years. Data gathered by JobOutlook suggests that Australia will need almost 5,000 new trained counsellors by 2025.
Discover online counselling courses
Discover online counselling subjects
What you'll learn in a counselling course
It depends on where you are in your study journey. At an undergraduate level, a counselling degree covers the knowledge and skills that form the foundations of counselling. At a postgraduate level, counselling diplomas give students the opportunity to diver deeper and specialise.
Regardless of the path you choose, you'll explore a variety of mental health topics, including mental health first aid and how to support others through personal issues like grief, chronic illness and trauma. Once you better understand the human mind, you'll know how to encourage healthy thoughts and behaviours. You'll also learn techniques for managing your own stress and helping others with theirs.
On graduating, you'll have the knowledge you need to counsel others in different contexts, while keeping ethical considerations firmly front of mind. You'll also be able to apply relevant counselling theories and research to better understand mental wellbeing and distress.
Counselling FAQs
A Diploma of Counselling is a great choice for you if you don't have prior counselling experience. You'll gain foundational skills that you can use in many healthcare settings, including alcohol and drug rehabilitation, family counselling and phone counselling.
A Graduate Certificate in Counselling is a six-month qualification, while a Graduate Diploma in Counselling is a 12-month qualification. Both are designed to quickly upskill those who already have some experience in the health industry.
A Masters Degree in counselling (or a related area) is a more advanced postgraduate qualification for those who would like to specialise or take on a more senior role in counselling.
Before starting an enrolment, it's important to read the entry requirements for your chosen course to ensure that you're eligible to apply. If you don't quite meet the requirements, we can help you find a pathway into your course through open entry subjects, which anyone can study. Chat with us to find out more.
Here at Open Universities Australia, we make enrolling online as straightforward as possible. To get started, find the course for you by browsing the options on this page. You can also compare different qualifications using our handy comparison tool, or request help from one of our student advisors.
When you've made your choice, click 'Apply now' on the relevant course page and follow the prompts to begin your enrolment. We'll ask you to supply some supporting documentation, including proof of your identity, your tax file number, and a unique student identifier (USI) during this process.
Your university will get in touch with you via email to confirm whether or not your application has been successful.
If you get stuck at any time, reach out to us and we'll talk you through it.
You can also take a look at our online self-service enrolling instructions.
Student stories and study advice
Get help every step of the way
Our student advisors can assist you with enrolment, help you plan your studies, and answer questions about how studying through Open Universities Australia can get you from where you are today, to where you want to be tomorrow.