Aviation management courses
Launch your aviation career into blue skies.
Why study aviation online?
Become part of the rapidly growing aviation industry. Adopt a practical and industry-focused approach to learning the science and theory of flight. Use your aviation course as a pathway to a career in the commercial or passenger airline industry or with government organisations, like the Australian Defence Force and the Civil Aviation Safety Authority (CASA).
Begin working towards a career as a pilot, or answer the challenge of changing aviation management practices. Work in areas as diverse as maintenance and repair, air traffic, human resources, airport or airline operations, tourism or rural farming operations.
Studying online means that you can work in your learning around what you're doing, whether you have a background in aviation, or you're just starting out.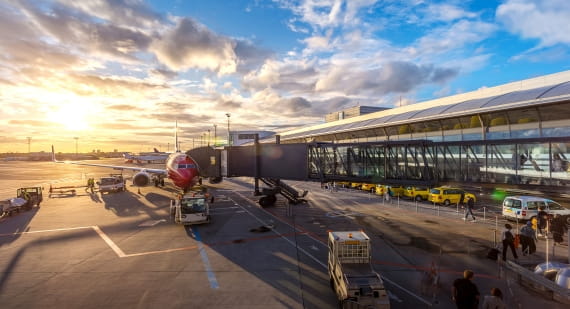 Aviation highlights
Understand all the components of the complex aviation industry.
Engage with operational and management aspects of airlines and airports.
Prepare for work, locally or internationally, in a rapidly expanding job market.
Aviation specialisations
Develop innovative solutions for problems facing the aviation industry.
Delve into the complexities of moving cargo and passengers around the world.
Learn to combine the twin agendas of business and technology.
Why study online through Open Universities Australia?
Find the right course for you
Explore and choose from thousands of degrees, subjects and short courses from leading Australian unis.
Start studying, regardless of academic history
We offer entry without requirements through single undergraduate subjects from full degrees.
Gain credit towards your degree
Apply for credit for past study, or your work experience, and finish your studies faster.
Graduate with a degree from a leading uni
Enrol through us and graduate with exactly the same qualifications as on-campus students.
Feel supported from start to finish
Our student advisors can guide you in the right direction and help with your enrolment.
Get going with OUA
Compare and apply
We'll help you find the right course for you. Our student advisors are ready to answer your questions.
Work out your finances
During your enrolment, we'll offer you the option to pay upfront in full, or defer your payment using a student loan. Remember to look into income tax deductions for course fees and study-related expenses.
Get credit for your success
We won't let your hard work go unrecognised. Choose to take a single subject, or combine your work as part of a degree.
We're here to guide you there
Our student advisors can assist you with enrolment, help you plan your studies, and answer questions about how studying through Open Universities Australia can get you from where you are today, to where you want to be tomorrow.