Architecture courses
Train to become an architect and invent cities of the future.
If you've got a knack for design and a passion for the spaces we inhabit, then an architecture course may lead you into a career you'll love.
Discover why studying architecture in Australia could be the pathway for you. We're here to help you explore online courses available with leading universities.
Why should you study architecture?
The world of architecture is constantly changing because of new design trends, building practices and environmental conditions. If you're a creative problem solver who wants to influence how our towns and cities look long into the future, then it couldn't be a better industry to get into.
As our population booms, the need for architects and architectural design is set to increase—making it a profession that offers plenty of job security.
An architect earns well, too. The fully-fledged architect has an average salary of $133,761, with senior architects earning up to $180,000 per year.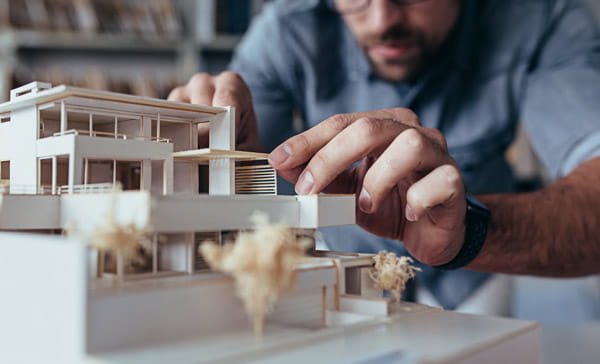 Discover online architecture courses
Discover online architecture subjects
What you'll learn in an architecture course
Since becoming an architect requires both an undergraduate and postgraduate architecture degree, what you learn will really depend on where you are in your study journey.
For an introduction to architecture, there are short courses available that cover topics such as:
The history of architecture, from the ancient world until today
Different architectural movements
Sustainable design
When you take the next step into an undergraduate degree, you'll learn:
The broad discipline of architecture and ways of thinking
How to conduct appropriate scholarly and professional research
The art behind architectural methods including 3D computer-aided design and modelling, technical drawing and model making
In a postgraduate degree, you'll build on the above learnings through work-based projects, before writing an individual dissertation in architectural design.
Architecture course FAQs
You will need an ATAR between 70 and 89 to be eligible for a Bachelor of Architecture or Bachelor of Applied Science (Architectural Science). Other prerequisites can include:
a Senior Secondary Certificate of Education (SSCE)
assumed knowledge in English and/or maths
basic freehand drawing ability
computer skills
It's important to check the entry requirements for your chosen course before you apply to avoid disappointment.
However, an ATAR isn't the only way to start studying architecture. If you don't meet these entry requirements, Open Universities Australia can help you get into an undergraduate architecture degree through pathway subjects that are open to everyone. Chat to our student advisors to find out more about this.
It takes a minimum of seven years to become an architect. You'll need to complete:
3 years of undergraduate study
2 years of postgraduate study
2 years of supervised experience with an architectural firm
You will also need to pass the Architectural Practice Examination and register with your local state or territory's Architects Registration Board.
If you choose to study online through Open Universities Australia, you can complete your qualifications at your own pace. You have the flexibility to choose how many subjects you take at once, and scale them up and down as it suits you. This is a fantastic way to work towards your dream of becoming an architect, while balancing other commitments like full-time work, family and friends.
Here at Open Universities Australia, we make enrolling online as straightforward as possible. To get started, find the course for you by browsing the options on this page. You can also compare different qualifications using our handy comparison tool, or request help from one of our student advisors.
When you've made your choice, click 'Apply now' on the relevant course page and follow the prompts to begin your enrolment. We'll ask you to supply some supporting documentation, including proof of your identity, your tax file number, and a unique student identifier (USI) during this process.
Your university will get in touch with you via email to confirm whether or not your application has been successful.
If you get stuck at any time, reach out to us and we'll talk you through it.
You can also take a look at our online self-service enrolling instructions.
Student stories and study advice
Why study online through Open Universities Australia?
Find the right course for you
Explore and choose from thousands of degrees, subjects and short courses from leading Australian unis.
Start studying, regardless of academic history
We offer entry without requirements through single undergraduate subjects from full degrees.
Gain credit towards your degree
Apply for credit for past study, or your work experience, and finish your studies faster.
Graduate with a degree from a leading uni
Enrol through us and graduate with exactly the same qualifications as on-campus students.
Feel supported from start to finish
Our student advisors can guide you in the right direction and help with your enrolment.
Get going with OUA
Compare and apply
We'll help you find the right course for you. Our student advisors are ready to answer your questions.
Work out your finances
During your enrolment, we'll offer you the option to pay upfront in full, or defer your payment using a student loan. Remember to look into income tax deductions for course fees and study-related expenses.
Get credit for your success
We won't let your hard work go unrecognised. Choose to take a single subject, or combine your work as part of a degree.
Get help every step of the way
Our student advisors can assist you with enrolment, help you plan your studies, and answer questions about how studying through Open Universities Australia can get you from where you are today, to where you want to be tomorrow.