Architecture
Bring to life an inspiring space, that strikes the perfect balance between beauty and utility.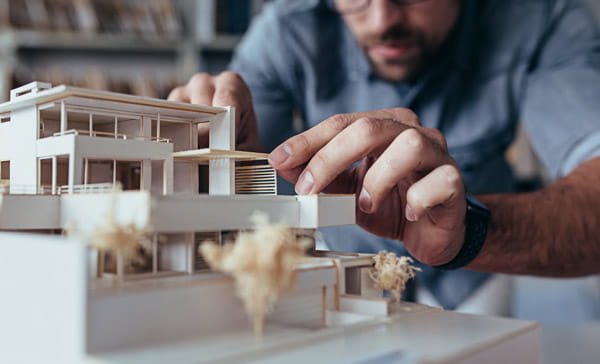 We're surrounded by built environment, but did you ever stop to consider what goes into the design, planning and construction of our surroundings? An architect could tell you exactly what's involved.
What draws architects to their craft is the ability to create something both imaginative and utilitarian, that real people can use and be inspired by. If you've got a knack for design and a passion for the spaces we inhabit, an architecture degree may lead you into a career you'll love.
What you'll learn
In a typical architecture course, you'll cover off key skills to prepare you for work in the field, or further study. These areas include:
architectural design
history and philosophy of architecture
cultural influence in architecture
building science and environmental impact
construction technologies
3d computer-aided design and modelling
technical drawing
model making
We offer a range of architecture courses online, delivered by leading Australian universities. A Bachelor of Architecture (or similar) will give you specific architectural-based knowledge, whereas a Bachelor of Design is perfect for those who want to delve into architecture as part of a broader design course.
After an architecture degree
Graduates of an architecture degree have the choice of various job roles, which include:
Architect - Specialise in the aesthetic design of buildings, and also manage such aspects as contracts, research, technical specifications and team leadership.
Draftsperson - Create technical drawings, that serve as a plan for builders to follow.
Landscape Architect - Design public spaces including parks, playgrounds and educational campuses, to ensure both visual appeal and functionality.
Urban planner - Plan out the use of urban and rural land, considering such aspects as housing, transportation, and public spaces and facilities.
Interior or spatial designer - Use architectural knowledge, design skills and project management expertise to design or renovate internal spaces, for domestic, commercial or leisure use.
Discover related degrees
Undergraduate CUR-AIA-DEG-2022
Bachelor of Applied Science (Interior Architecture)
Level Four Subjects
Level Four Subjects - Honours Stream
Discover related subjects
Why study online through OUA?
Find the right course for you
We can guide you in your selection from 500+ degrees, and 2,530+ subjects, from leading Australian unis.
Start studying, regardless of history
We offer single undergraduate subjects from full degrees without any entry requirements.
Gain credit towards your degree
Apply for credit for past study, or your work experience, and finish faster.
Graduate with a degree from a leading uni
Enrol through us, and graduate with exactly the same university degree as on-campus students.
Feel supported from start to finish
Our student advisors can guide you in the right direction and help with your enrolment.
Studying an environmental science course prepares you to protect, restore, and rehabilitate the environment.
Put your knowledge of biology and chemistry under the microscope, and examine science through the lens of biodiversity, conservation, and spatial ecology.
Use your skills to tackle climate change, reduce pollution, and conserve threatened species. Join the ranks of environmental scientists who dedicate themselves to making a difference. With an environmental science qualification, you can play a crucial role solving today's environmental challenges.
Compare and apply
We'll help you find the right course for you. Our student advisors are ready to answer your questions.
Work out your finances
During your enrolment, we'll offer you the option to pay upfront in full, or defer your payment using a student loan. Remember to look into income tax deductions for course fees and study-related expenses.
Get credit for your success
We won't let your hard work go unrecognised. Choose to take a single subject, or combine your work as part of a degree.
We're here to help
Our student advisors can assist you with your enrolment, help you plan your studies and answer any questions about how studying through OUA works.