If you want to take the next step in your career without putting your life on hold, this is the only place to start your research.
We've partnered with some of the best universities in the country to make postgraduate study more flexible than ever.
Use the links below to compare hundreds of online postgraduate courses, with multiple enrolment options. If you want advice about navigating your choices, we're here to help at any time.
Browse by postgraduate course type
Browse by postgraduate interest area
Why study through Open Universities Australia?
Dictate your own timetable, including how many subjects you take at once
Study across different disciplines—and different universities
Pause your course when you need to prioritise other commitments
Start at multiple dates throughout the year
Enrol without a bachelor degree, if you have relevant professional experience
Enrol with confidence because we'll help you decide—and even handle the admin
Frequently asked postgraduate study questions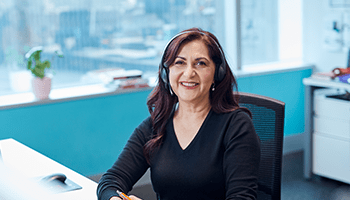 Get tailored advice when it suits you
A student advisor will call you at your preferred time to answer your questions.
Book a free consultation now
Postgraduate insights and study advice
Meet some of our postgraduate students
"My full-time workload gets pretty intense, and sometimes I need to focus on my family... Open Universities Australia is perfect simply because of the flexibility."
—Edward, Master of Business Administration student, RMIT University

Read Edward's story
"Doing a single unit in social policy has allowed me to see if that's where I want to go. It's less pressure, without the commitment of a whole degree. I can basically see if it's for me."
—Kimberley, Developing Social Policy student, Macquarie University

Read Kimberley's story
"It was really helpful to be able to not do a subject for a study period, just to regroup and get things in order at home, and then pick up my studies again in the next study period."
—Melissa, Graduate Certificate in Health Promotion student, Curtin University

Read Melissa's story
Open Universities Australia is a not-for-profit organisation helping every Australian access thousands of university courses.
Over 497,000 students have enrolled in university through us since 1993.
Our friendly student advisors are here to help
We're here to guide you every step of the way with advice on:
choosing a course that suits you best
enrolling and planning your studies
understanding your funding options.
Call, message or chat with an advisor today.