Did you know you can take a subject with another university, but have it count towards your current degree? Find out how Open Universities Australia can help you enrol in cross-institutional study, even if you're an on-campus student.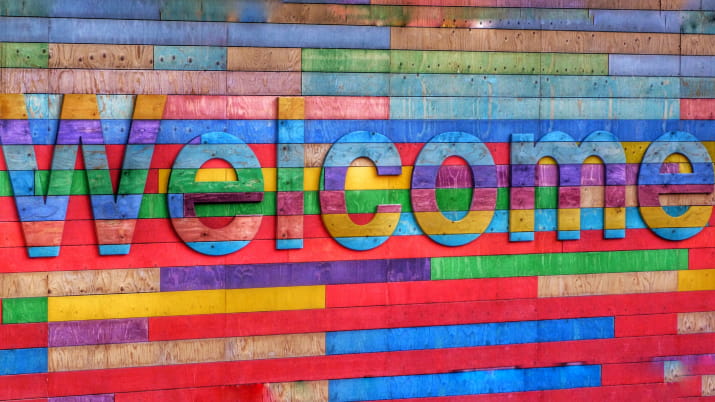 Cross-institutional study might be one of the best kept secrets in the university world.
Say you love your degree, but you feel like it's lacking in just one or two areas. You don't have to settle for your current curriculum. You can find and enrol in subjects that interest you with other universities and have them count towards your final degree—provided those subjects are related to what you're currently studying.
If you do this online through Open Universities Australia, you can access subjects offered by unis from across Australia. Here's everything you need to know about what cross-institutional study is and how it works.
Why should you consider cross-institutional study?
Cross-institutional study isn't for everyone, but it can make sense for you if you have certain career goals that aren't being met by your current degree—or there are timetable restrictions getting in your way as an on-campus student. These are the main reasons you might like to take a subject or subjects online with different universities.
1. You want to fast-track your degree
When we asked former student Darren why he decided to enrol in cross-institutional study, he said, "It was important to me to finish my degree as quickly as possible, so I could get out and make a name for myself in the workforce." While the 20-year-old studied his Bachelor of Arts and Commerce on campus at Curtin University, he also took extra subjects with Griffith, Swinburne and Macquarie University online through us. Everything was credited towards his degree, and he was able to graduate a full year early and get a head start on his digital marketing career.
2. You want to take subjects that aren't normally available to you
Is there anything worse than a timetable clash? As an on-campus student, it's a real pain when you're faced with an impossible choice between two subjects you like. So instead of making that sacrifice, why not take the other subject with a different uni, online in your own time?
3. You want to explore an elective that isn't offered by your uni
Not all universities offer the same electives, and let's face it—some of them are guaranteed to grab your attention more than others. If you've spotted an elective that you think would really benefit your future career, and it's offered online through one of our partner universities, then give us a call. As long as you get the approval of your current course coordinator, we can help you enrol.
How do you enrol in cross-institutional study?
You should follow these steps if you want to take a subject with another university online through Open Universities Australia.
1. Chat with one of our student advisors
Before you start, it's worth getting in touch with an Open Universities Australia student advisor to chat about your plans. An advisor will be able to tell you what you can and can't do with cross-institutional study and answer any initial questions you have.
You can call us whether you're a current Open Universities Australia student or not. We offer free university advice to everyone.
2. Choose a subject that interests you
Find and compare subjects across different universities using our helpful comparison tool. When weighing things up, you'll want to look at the subject outline, the assessments and prior study required. You'll also want to make sure the subject is offered at a start date that suits you.
3. Check if the subject has any entry requirements
Some subjects require you to have prior knowledge before you can enrol, so it's especially important to read the subject's entry requirements.
If the subject does have prerequisites, you'll need to contact the subject's course coordinator at the university to confirm that you meet the requirements. In some cases, you may be able to apply for a prerequisite waiver, which will allow you to take the subject even if you don't meet the listed requirements. The course coordinator will let you know what's possible based on your study history or work experience.
4. Get written approval from your course coordinator
After establishing your eligibility, you'll need to submit a cross-institutional study request to your current course coordinator at your university. Usually, you can do this by completing and submitting a cross-institutional study application form, which will be available on your university's website.
The form will ask you to provide:
A unit outline so your course coordinator can decide whether the subject is going to meet the requirements of your degree
Details of the subject in your current program structure this subject will replace
Make sure you get written approval and confirm that the subject will be credited towards your qualification. In most cases, your university will email you to tell you the outcome of your application. This process can take up to four weeks, so you'll want to apply for cross-institutional study well before any close of enrolment dates.
5. Contact us to finalise your enrolment
All approved? Let's do this! Get back in touch with our student advisors to enrol in your chosen online subject. You'll be asked to supply:
Written approval from your university that you can enrol in cross-institutional study
Written approval from the cross-institutional university (subject coordinator) that you have met the prerequisites and are approved to enrol, if the subject has any prerequisites
You'll also need to provide some basic enrolment information, including your Unique Student Identifier (USI).
Important cross-institutional study facts to know
Study fees for cross-institutional students
If you're eligible for HECS-HELP or FEE-HELP with your current institution, then you may be eligible for the same fee type at your new institution. Our student advisors will help you understand your options.
Withdrawing from cross-institutional study
We all change our minds sometimes, and that's okay. If you do decide to withdraw from a cross-institutional subject, give our student advisors a call. Just know that you'll need to withdraw before the relevant university's census date to avoid incurring any study fees. You'll also need to make sure that both universities are aware of your decision.
Accessing your cross-institutional subject
Once you're enrolled in your online subject through Open Universities Australia, you'll be emailed access to:
Our Student Hub, where you can review your enrolment
Your university's learning management system (LMS), where you'll view your lectures, complete your assessments and communicate with your tutor and classmates
Then you're free to start studying when, where and how you choose—with a subject that you've handpicked yourself.
Want to ask us more about cross-institutional study?

Get in touch

with our friendly student advisors. They're here to guide you, every step of the way.