Learn all about this popular postgraduate qualification, which many students are choosing over a masters degree.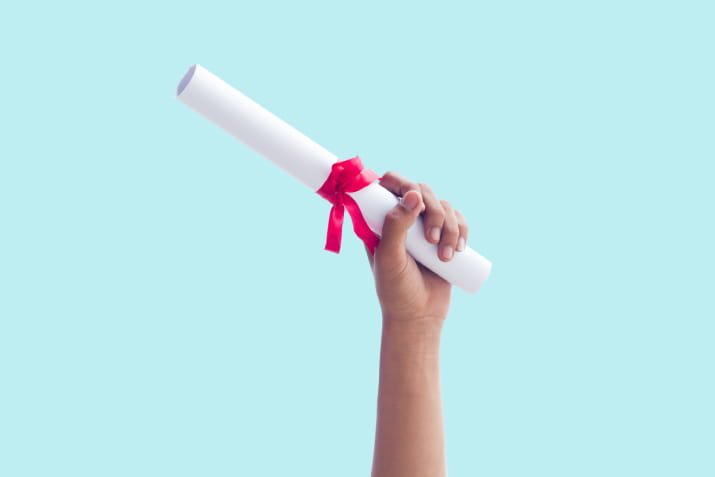 There's a reason graduate diplomas are becoming a go-to study option for busy working professionals. The postgraduate qualification can be completed in half the time it takes to earn a masters degree, making it a smart choice if you need to upskill sooner rather than later.
But is it the right study path for your circumstances, or should you consider another postgrad course? Let's find out.
Define it for me first: What is a graduate diploma?
A
graduate diploma
is a postgraduate qualification that will help you prepare for a more specialised role or qualify for further study. In the university hierarchy, it sits above a graduate certificate, but just below a masters degree.
Because it's a qualification designed to help you advance your existing skills, you generally need an undergraduate qualification in any discipline before you can enrol in a graduate diploma—or five years of professional work experience. Many students who haven't been to university before can get in by first earning a graduate certificate.
Why is a graduate diploma worth studying?
It's a great way to secure a more senior or specialised role
A graduate diploma will allow you to focus on a niche, practical subsection of your industry. It's an especially popular qualification among those in healthcare, IT and business management. If you need new technical skills or leadership training before you can take the next step in your career, it's definitely a study path worth considering.
It's faster than a masters degree
Not everyone has the time or money to commit to a masters degree. A graduate diploma can be the next best thing. It only takes the equivalent of one year of full-time study to complete, whereas a masters degree will take at least two years.
But here's the kicker—graduate diploma subjects are usually taken from a closely related masters degree, so you'll still cover much of the same material anyway. In many cases you'll just skip the more intensive coursework and research-related subjects, but learn the crucial practical topics that you need to take the next step in your career.
It's a great way to explore a new career altogether
You can also enrol in a graduate diploma if you want to switch to a new industry, but you don't want to start again with another undergraduate degree. As an example, say you have your heart set on an accounting career, but you're qualified in health science. With your previous undergraduate qualification, you already meet the entry requirements for a
Graduate Diploma of Professional Accounting
, which will set you on a faster path towards becoming an accountant.
It's a direct route into a masters degree
If it
is
your goal to eventually earn a masters degree, but you don't meet the entry requirements, you can start the journey with a graduate diploma.
Graduate diplomas tend to have lower entry requirements than masters degrees, so they can be easier to get into. Once you successfully finish your course, you should have a direct pathway into the equivalent masters degree.
What's the difference between a graduate certificate vs a graduate diploma vs a masters degree?
If you're still caught between the three postgraduate course types, let's make your choice easier.
Think of a graduate certificate, a graduate diploma and a masters degree as three stages of the same qualification.
A graduate certificate is the first stage. It covers the four most essential units of study. It's a great choice if you want to upskill very quickly, since it can be completed within six months. However, it's generally treated as a pathway into further study.
A graduate diploma is the second stage. It covers the essential units, but also gives you the chance to learn about more specialised topics and even go on industry placements. It can be treated as a standalone qualification or as "half" of a masters degree. Many students complete their graduate diploma, take a break, and then complete their masters degree later with the credit they have already earned.
A masters degree is the third stage. It's the most comprehensive way to explore your area of study, because you can take specialised electives and complete a research project on top of the core essentials. Some specialist roles require you to have a full masters degree before you'll be considered, so it's important to be aware of this when picking a study path.
Can you earn your graduate diploma online?
You sure can. Most of our graduate diploma students are full-time professionals or working parents who don't have time to study on campus. When you earn your graduate diploma online, you're not beholden to lecture or tutorial times. You still have regular deadlines that you need to meet, but you're free to view lectures and work through course material where and when it suits you, like after work or on the weekend.
How long does a graduate diploma take?
As mentioned above, it takes a year of full-time study to complete a graduate diploma.
However, if you study online, you can take as many or as few subjects per term as you like, and earn your qualification at your own pace. A lot of our students choose to study one subject per term so they can keep balancing work and family. Others load up on subjects and fast track their qualification.
It all depends on you, what you can manage and how quickly you need to upskill.
A typical graduate diploma subject will require at least 12 hours of your time per week, though this can vary depending on your study area and how much reading is involved. So factor that into your decision when picking your pace.
What can you do after earning your graduate diploma?
The right graduate diploma can open exciting doors in your career. It can give you the knowledge you need to apply for a managerial role. The hands-on skills to step into a higher-paid technical job. Or the confidence to enter a masters program.
Consider where you want to be, what you're passionate about, and whether investing in a postgraduate qualification will help you get there. If you'd like any advice about your study options, you can always chat with our student advisors.
Browse  thousands of courses from leading Australian universities.
Or complete the form on this page to chat to an advisor about study options.
Explore courses