Want to make sure you have a stable career ahead of you after you study? Take a look at the top 10 most in-demand jobs in Australia.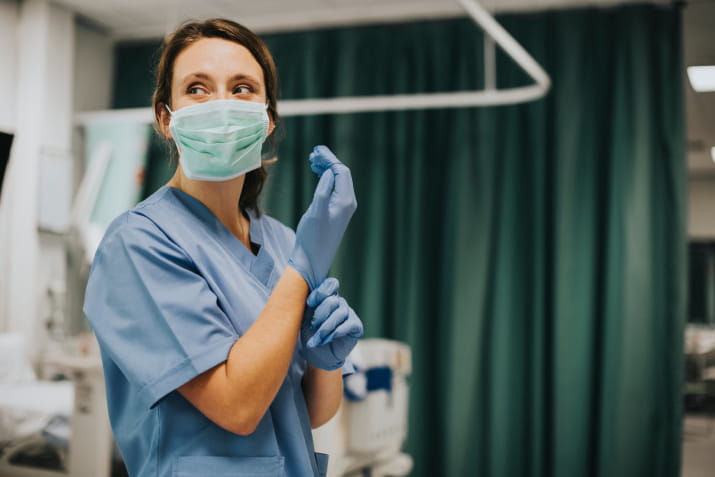 If you had to wager a guess at the most-needed jobs in Australia, where would your mind go? Some jobs are always highly sought after—such as those in healthcare—while others see more of a fluctuation in demand.
A recent labour market report from the federal government revealed the top 20 most in-demand jobs in Australia right now—and while healthcare roles do dominate, others might surprise you.
If you're currently studying or considering starting a new course, it might be worth thinking about what lies ahead and seeing what the data has to say about your prospective profession.
So, let's take a look at the top 10 jobs in demand in Australia—and how you may end up in one of these roles. (If you're interested, you can see the full list of 20 here.)
The top 10 in-demand jobs
1. Registered nurses
Topping the list is an all-important profession—nursing. The report found a whopping 8,377 job ads listed for registered nurses. Interestingly, most of the current vacancies are in regional areas.
Your study path
To become a registered nurse, you need to study a bachelor degree in nursing (or a masters degree if you're coming from another discipline) and register with the Nursing and Midwifery Board of Australia. If you don't quite meet the entry requirements for a Bachelor of Nursing, you can start with an Undergraduate Certificate in Health Sciences, which is a pathway course that is open to everyone.
2. Software and application programmers
In a time when ChatGPT and AI dominate headlines, it's no surprise that the professionals who work with this technology are highly sought after. The report found 6,269 job ads listed for software and app programmer roles.
As a programmer, you'll be able to find work in a range of contexts—from a big tech company to your own freelance business.
Your study path
To land a job in this field, you'll likely need a tertiary qualification. You can start with a course such as a Diploma of Software Engineering or a Bachelor of Information Technology.
3. Aged and disability carers
As our population ages, demand for aged and disability carers continues to rise. You'll have no trouble securing a role in these sectors.
Your study path
While you may be able to find an entry-level job without a formal qualification, it might be a good idea to consider a course that will develop your skills in person-centred care, like a Diploma of Ageing Studies and Services.
4. Child carers
The report found 4,277 advertised job vacancies for childcare workers across Australia—indicating that your skills will always be needed if you train in this area.
Your study path
To become a childcare worker, you need to complete VET-level training and likely do an apprenticeship at a centre, so you can build your skills working with and caring for children and giving them the best possible start. You could take your skills even further with a qualification in early childhood education.
5. Construction managers
Whether it's working on public infrastructure as part of Victoria's Big Build or on a family's dream home, you'll generally have no trouble finding a role in construction. The report found 4,230 available job openings for construction managers.
Your study path
A construction management qualification will give you the communication skills and the OH&S and legal knowledge needed to land a job. Many positions require a Diploma of Construction Management at a minimum.
6. Motor mechanics
If you love working with your hands and solving problems, you may make a perfect motor mechanic. The report found 3,924 current job openings for mechanics across Australia and it's a trade that consistently sees high demand.
Your study path
To find work in the field, you'll likely take on a Certificate III or IV VET course and then complete an apprenticeship at a workshop before fully qualifying as a mechanic.
7. Retail managers
For those who love working with people and have a good eye for detail, a career in retail could be a great fit. A big plus of the retail sector is you'll likely be able to transfer your skills across jobs and probably won't have too much trouble finding work. The labour market report found 3,777 current vacancies for retail managers across Australia.
Your study path
You don't need a degree to get started in the retail industry, though it can help to earn a vocational certificate like a Certificate III in Retail. To help you successfully lead a team, it's worth considering a short leadership or management course.
8. Chefs
Another profession that lends itself to travel is cheffing, which came in at number 8 on the list with 3,725 job openings. Regional areas in Australia are very often in need of more food professionals. Interestingly, the report found Outback Queensland has a current 17.1% vacancy rate for chef roles.
Your study path
To become a chef, you can consider a VET-level course that will give you expert food handling and prep skills. If you'd like to one day own your own restaurant, you could even enrol in a Bachelor of Business (Hospitality Management), which will hone your entrepreneurial skills.
9. Generalist medical practitioners
If you're considering a career in medicine, you'll be pleased to know general practitioners are highly sought after in Australia—particularly in regional areas. You'll likely have no trouble finding work after you complete your medical training.
Your study path
You can study an undergraduate degree in any discipline before applying for a Doctor of Medicine. It's best to choose a bachelor degree with a focus on science or biology, like a Bachelor of Health Science or a Bachelor of Science.
10. Metal fitters and machinists
Rounding out the top 10 is another popular trade, metal fitting and machining—with 3,137 openings. In this specialised role, you'll help operate and service machines that assemble metal parts that are crucial for manufacturing.
Your study path
You can study a VET course to gain these skills, like a Certificate III in Engineering (Mechanical Trade). You could even earn a mechanical engineering degree like a Bachelor of Engineering Systems to go after higher paying roles.
Get advice about upskilling for a high-growth industry
If you'd like more guidance on studying for an in-demand career, why not chat with an Open Universities Australia student advisor? We can help you weigh up different online courses offered by universities from across the country.
Book a free phone consultation with a student advisor now.