You don't always need to earn a qualification to become more employable. Upskill online through one of these short-term courses, and learn in-demand new skills within weeks.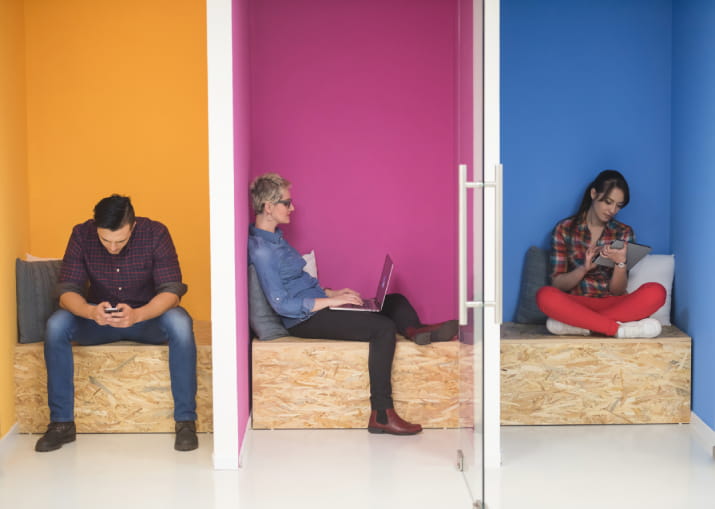 If you're on the hunt for a new job, then enrolling in
a short course
can be a great way to give your resume a quick boost.
Employers love to see that you're dedicated to building your career. In fact, research published by SEEK suggests that 70% of employers will view your application more favourably if they can see you've completed training in your spare time.
Can these short online courses lead to good jobs in Australia?
The following job-oriented short courses will help you
gain practical new skills
in industries where workers are really needed right now. While no short course can guarantee you a job, these courses can certainly help you take on new responsibilities at work, shift into a new role, even go after a promotion. We've purposefully highlighted choices across three industries—
IT, digital media and business
—because you don't necessarily need a degree to get ahead there.
It's worth noting that these courses are delivered online by respected universities. This means you'll upskill at a university level (and you get to benefit from having that uni's name on your resume), but you don't have to commit the time and money to a whole qualification. Instead, you can finish in as little as 10 weeks from the comfort of your own home.
Another thing to know is that because these courses are technically undergraduate subjects offered as short courses, they are covered by FEE-HELP funding. Basically, this means you can defer your study fees until you're earning enough to pay them back, just like you would with a longer uni course. We've included price estimates, however, so you can weigh up the investment for yourself.
Online IT short courses
Why focus on IT?
While IT is one of Australia's
fastest growing industries
, you might be surprised to learn it's in dire need of more skilled workers.
According to a Deloitte report on the future of our technology workforce, we'll need about 60,000 new IT specialists every year over the next five years to keep up with demand, but we're not on track to get there because there just aren't enough people upskilling in IT.
That's where you come in. Upskill in a sought-after area (the big ones are software programming and cyber security), and you could play a role in filling that gap.
Short courses to consider
Introduction to Information Technology

RMIT University

13 weeks

Cost: $1,003 (covered by FEE-HELP)
Enrol if: You want to learn IT support



If you don't have any existing IT skills, start with this course. You'll soon know enough to be able to provide basic IT assistance. You may even be able to land a help desk or ICT support role (a more beginner-level IT job where you help schools with their IT setup) because these jobs don't always require a qualification. This course will give you the foundational knowledge you need to work on an ICT team and use the tools of the trade.
Information Technology Fundamentals
University of South Australia
10 weeks
Cost: $2,050 (covered by FEE-HELP)
Enrol if: You want to learn programming
Knowing basic programming can lead to opportunities in a lot of non-coding careers, from graphic design to finance. After taking this quick online course, you'll understand the most common programming languages and how to translate simple algorithms into code, which could help you move into a more technical role.
University of Tasmania
14 weeks
Cost: $2,402 (covered by FEE-HELP)
Enrol if: You want to learn about cyber security
Jobs in cyber security are about to explode, so now's the time to get acquainted with cyber security protocols. In this 14-week course you'll learn how to keep an organisation's information safe, how to come up with contingency plans and how to respond to security incidents. While you don't need any prior knowledge to enrol, this isn't a course recommended for beginners.
Why focus on digital marketing?
You know what they say: "Everything is content." Creative jobs are expected to
grow steadily
over the next five years because most businesses need to promote themselves through digital media.
While it helps to have a relevant qualification, it is possible to move into design, social media, video production or content roles without one. Some people make this happen by going into business on their own, while others shift into creative roles after starting somewhere else in their organisation.
A short marketing course can teach you the technical skills you need to take that leap.
Short courses to consider
University of South Australia
10 weeks
Cost: $2,050 (covered by FEE-HELP)
Enrol if: You want to learn video production
Discover how to plan, shoot and edit videos in Adobe Premiere Pro or iMovie. You'll also learn about design elements so you can create graphics, and basic coding skills so you can build a website.
Swinburne University of Technology
13 weeks
Cost: $3,320 (covered by FEE-HELP)
Enrol if: You want to learn copywriting
While everyone knows how to write to some extent, knowing how to write well for digital media is a specialised skill. This course will teach you how to reel in online readers and write for businesses across social media, websites and email.
University of South Australia
10 weeks
Cost: $2,050 (covered by FEE-HELP)
Enrol if: You want to learn graphic design
Get to know the three main graphic design programs: Adobe Photoshop, Illustrator and InDesign. In 10-weeks you'll know how to create and edit digital designs, logos and infographics, plus all about the rules surrounding colour and typography.
Why focus on business?
There's no doubt business and sales are safe paths to follow if you'd like to have your pick of jobs.
In 2021
, receptionists, administrative assistants and customer service representatives were the most in-demand roles on job boards in Australia. Marketing, advertising and sales roles also made the top 10 list.
You don't always need a specific qualification to thrive in these careers, but you'll be in a better spot to compete with other jobseekers if you have some specialist skills. The best short courses to focus on include those in marketing, finance or leadership.
Short courses to consider
Griffith University
13 weeks
Cost: $1,828 (covered by FEE-HELP)
Enrol if: You want to learn consumer marketing
Learn essentials like how to write a marketing plan and how to conduct consumer research, so that you can start your career in brand marketing. This 13-week course will help you switch into a marketing role or take on more marketing tasks in a small business.
University of Tasmania
14 weeks
Cost: $2,702 (covered by FEE-HELP)
Enrol if: You want to learn budgeting
Familiarise yourself with the tools and techniques used to measure an organisation's financial performance. After 14 weeks, you'll know how to create budgets, communicate financial information to others in your organisation, and help with financial decisions.
University of South Australia
10 weeks
Cost: $2,050 (covered by FEE-HELP)
Enrol if: You're ready to become a manager
Understand what it takes to lead a team, motivate others and weather unexpected business challenges. With this training behind you, you'll have the skillset and the confidence to take the next step in your career.
Browse  thousands of courses from leading Australian universities.
Or complete the form on this page to chat to an advisor about study options.
Explore courses