Public health courses
Help shape the future of healthcare in Australia and overseas
Why study public health online?
Create plans that protect the health of communities. Work to protect people who are vulnerable and disadvantaged. Help plan for the care of Australia's ageing population. Use healthcare strategy to help manage the factors that can lead to illness.
Concentrate on areas including health advocacy, research, disease control and prevention and chronic condition prevention. Work in areas including health promotion, nutrition, community health, women's health, public health activities, for organisations like NGOs, clinics, community health centres, and local government.
Studying online means that you can work in your learning around what you're doing, whether you're looking to make a career change or pursuing a long-held passion for public health.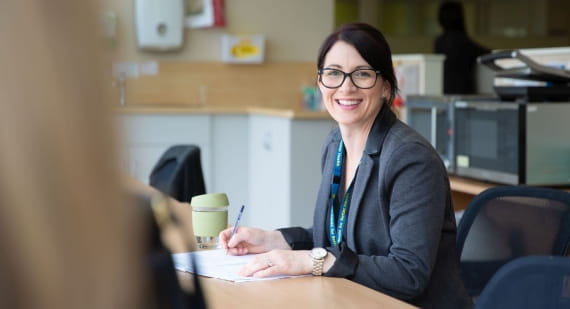 Public health highlights
Make strategic decisions to have a positive impact on community health.
Help to improve the lives of people who are systematically disadvantaged.
Learn how to engage an audience around issues relating to public health.
Public health specialisations
Interpret research to help plan healthcare resource allocation.
Work collaboratively to improve community health outcomes.
Respect and engage with the diverse needs of different communities.
Discover related subjects
Student stories and study advice
Why study online through Open Universities Australia?
Find the right course for you
Explore and choose from thousands of degrees, subjects and short courses from leading Australian unis.
Start studying, regardless of academic history
We offer entry without requirements through single undergraduate subjects from full degrees.
Gain credit towards your degree
Apply for credit for past study, or your work experience, and finish your studies faster.
Graduate with a degree from a leading uni
Enrol through us and graduate with exactly the same qualifications as on-campus students.
Feel supported from start to finish
Our student advisors can guide you in the right direction and help with your enrolment.
Get going with OUA
Compare and apply
We'll help you find the right course for you. Our student advisors are ready to answer your questions.
Work out your finances
During your enrolment, we'll offer you the option to pay upfront in full, or defer your payment using a student loan. Remember to look into income tax deductions for course fees and study-related expenses.
Get credit for your success
We won't let your hard work go unrecognised. Choose to take a single subject, or combine your work as part of a degree.
Get help every step of the way
Our student advisors can assist you with enrolment, help you plan your studies, and answer questions about how studying through Open Universities Australia can get you from where you are today, to where you want to be tomorrow.