There are thousands of digital marketing job ads on LinkedIn, but what do digital marketers actually do? How is the role different from that of a mainstream marketer? Let's find out.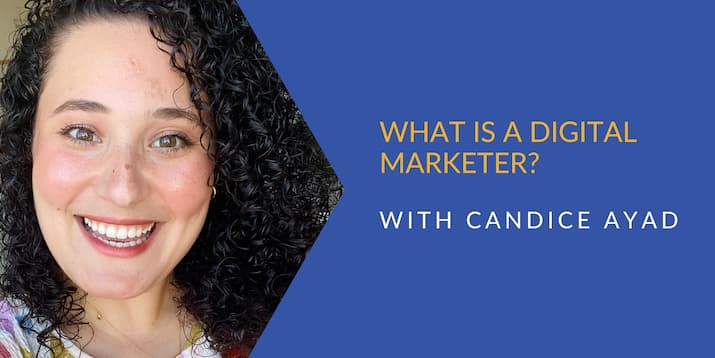 What is digital marketing?
In all types of marketing, the objective is to promote awareness of your brand and its products or services, as well as generate leads for future sales. The difference between digital marketing and traditional (or mainstream) marketing is the medium used to reach the audience or customer.
A digital marketer is responsible for all online channels, while a traditional marketer handles offline media.
Digital marketing methods
Traditional marketing methods

Search engine optimisation (SEO)
Search engine marketing (SEM)
Social media marketing
Email marketing
Digital display advertising
Content marketing

TV and radio advertising
Newspaper and magazine advertising
Outdoor billboards
Mailed postcards and flyers
Telemarketing
Why digital marketing is important
The beauty of online marketing is that it's much more targeted and therefore more effective in reaching your audience. You're able to really focus on the people most likely to make a purchase or take action.
If a particular message or ad format isn't working, the data will let you know! Here's the magical bit—you can change your approach in a matter of clicks, at a much lower cost than with traditional marketing. Imagine asking your chief marketing officer for a budget to reshoot a TV commercial.
We also spoke to an industry expert to weigh in.
"Whether it's the user experience onsite, a paid media campaign or SEO, digital marketing is helping brands solve business problems," says Candice Ayad, Performance Marketing Lead for the Bank of Queensland Group (which includes Virgin Money and ME Bank).
Is digital marketing in demand?
In short, heck yes. According to the National Skills Commission's 2021 report, marketing jobs in Australia are set to grow 11.4% by 2026. In Asia Pacific, digital marketing specialist is the number 2 most in-demand role.
Thinking about working even further afield? US companies are reporting an average marketing job growth of 12.2%.
How to be a good digital marketer
If you're able to juggle your organisation's business objectives while putting yourself in your audience's shoes, and you like the excitement of constant change, this could be your dream career.
"Businesses will define digital marketing differently, depending on what skillset they need. But some soft skills are universally appreciated—stakeholder management, communication, and proactivity," Candice tells us.
While much of this comes through experience (shout out to the career changers with transferable skills!), there are heaps of skills that you can pick up by doing a course.
Top digital marketer skills you'll want
In larger companies, you may work alongside specialists, for example, in analytics or SEO. But to be successful, you should learn what you can of these areas too.
Skills of a digital marketer that are invaluable include:
Email marketing
How do you define priority audience segments and personalise the content you serve to them?
Performance marketing
This includes programmatic advertising, affiliate marketing and social media advertising.
SEO and SEM
One is about making sure your site is user-friendly (SEO) and the other involves advertising that brings traffic to your site (SEM), but both need to work together if you want to convert a potential customer.
Content marketing
You may collaborate with an in-house content team or external creators. Either way, you'll need a strong content strategy to make sure it's all for a purpose.
Google Analytics and/or Adobe Analytics knowledge
Knowing the basics is essential to translate data into actionable learnings.
Curiosity to keep learning
The digital space never stops evolving. If you're a zeitgeist hunter, you'll do well. Metaverse, anyone?
However, Candice says, "Don't worry if you don't have every skill in the job ad. It's impossible to master every area of digital marketing. You can learn on the job, so throw your hat in the ring!"
What qualifications do I need to be a digital marketer?
Unlike engineering or medicine, there's no hard-and-fast rule about qualifications, and digital marketing certification comes in all sizes. Some job ads ask for a Bachelor of Marketing (load up on digital marketing units for your electives!).
If you already have your bachelor degree, you could consider a Master of Marketing, or at least a Graduate Certificate in Marketing. While these may seem to have commitment written on them, the reality is you usually only need to start with one or two subjects. For instance, you can take this Digital and Social Media Marketing unit solo if you're enrolled in this grad certificate.
What digital marketing short courses should I know about?
Maybe you're still in the somewhat-curious phase. If so, a short course or microcredential might be what you're looking for. Requiring only a couple of hours of your time, you'll get enough of a taste to decide whether digital marketing is something you want to pursue seriously.
If you are a career changer, digital marketing is an area where it's relatively easier to upskill and transition into.
What's a typical digital marketer salary?
The latest stats tell us that digital marketers earn an average base pay of $83,393 at the time of publishing. Entry level positions start at approximately $57,000. With experience, you could be earning as high as $120,000 or more. For up-to-date figures, check Payscale.
Of course, these are averages and will vary depending on the company you work for.
Ready to start learning? See what online digital marketing courses Open Universities Australia has for you.
Browse  thousands of courses from leading Australian universities.
Or complete the form on this page to chat to an advisor about study options.
Explore courses