Want to pick up a career in STEM or further your knowledge in a particular field? Learn more about online study options through Open Universities Australia and what career options may suit you.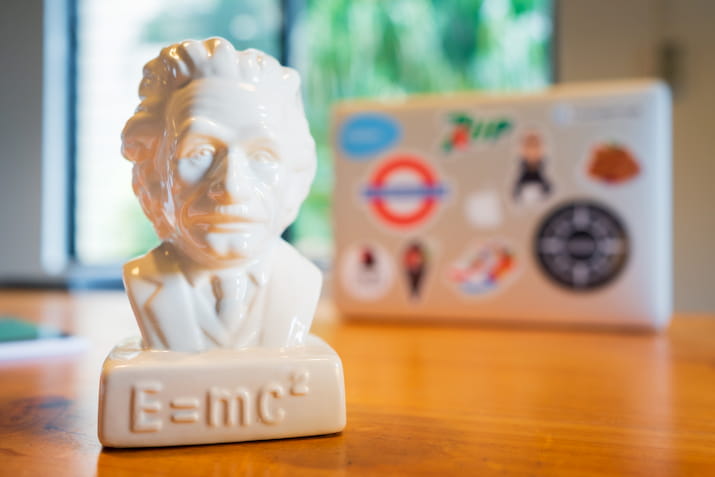 As the world continues to change around us, STEM has become a core part of our everyday lives. From the digital technology that drives conversions and sales to the scientists behind developing the life changing COVID-19 vaccine, workforces across the globe are actively hiring graduates in STEM.
If you're hoping to accelerate your career in STEM or test the waters and study a completely new subject area, Open Universities Australia (OUA) can help you achieve your goals. Explore courses below in STEM with leading universities and learn more about the career prospects you may have after graduation.
Courses in STEM through OUA
Australian government statistics show that in 2019, about 74% of people employed in STEM occupations worked in a job with a bachelor degree or higher, compared to just 21.6 % of people employed in non-STEM occupations. That being said, holding a bachelor degree or equivalent credential can set you apart from the competition when securing a job in STEM.
Through us, you can study with leading universities across Australia from the comfort of your own home. Whether you're looking to make a career change into STEM or are hoping to upskill with a postgraduate course that propels your career, we're here to help!
Check out the STEM courses below on offer through OUA with leading universities or browse the complete course list.
RMIT's Bachelor of Science (Applied Sciences)
As the search for a COVID-19 vaccine continues, explore living systems, biochemistry and microbiology. Solve real world problems and kickstart your career in bioscience, biotechnology or agriscience.
La Trobe's Bachelor of Applied Cloud Technology
Backed by Amazon web services, this world-first degree gives you the competitive edge you need in a fast-growing industry. Cover network engineering, information systems web development and more.
University of South Australia's Associate Degree in Engineering
From tradesperson to engineer, this degree allows you to enter the engineering industry or transition to a technical management role. Learn core engineering concepts and combine your skills with business management.
Murdoch University's Applied Mathematics
Use math models to solve complex problems in science, engineering, commerce and economics. From differential equations to calculus, this degree will help you build a foundation for higher level math subjects and a range of careers in the field.
Career outlooks in STEM
Australian government data shows that jobs in science, tech, engineering and mathematics are growing much faster than other occupations. Over the next 4 years, it's projected that STEM occupations will grow by 11.6%, but that the majority of employers have difficulty recruiting for STEM occupations as applicants often lack the technical qualifications and skills required for the job.
Reach industries across STEM and enrol in the courses you need to take your career to the next level. When you study through us with leading Australian universities, you can study online and gain valuable credentials that give you the opportunity to secure a job listed below, and other careers beyond this.
Science and engineering
Engineers Australia reports that science and engineering graduates have some of the most favourable outcomes for full-time employment than any other profession, with more than 80% finding work within four months of graduating.
Job opportunities include:
Aerospace Engineer
Biological Engineer
Biomedical Engineer
Quality Control Engineer
R&D Engineer
Biologist
Botanist
Medical Laboratory Scientist
Microbiologist
Neuroscientist
Technology
The information and technology sector is growing quickly and qualified candidates are highly sought after for a range of positions. IT jobs are high paying and cover a range of tech including computers, software and servers.
Job opportunities include:
Business Analyst
Computer Service Technician
Cyber Security Specialist
Data Analyst
Data Centre Technician
Database Administrator
Database Analyst
Cloud System Administrator
Cloud System Engineer
STEM online study FAQs
What courses are available through OUA for science and engineering?
From driving management strategies for the world's largest cities to cultivating the crop fields of regional Australia, wherever your interests lie in science or engineering, our expert student advisors can help you find the best suited course for you. Browse hundreds of courses with leading universities across the country and tailor your degree to align with your career aspirations.
Can I study information and technology online?
Of course! In a world that's gone digital, studying information and technology online is more accessible than ever. Want to study with top Australian universities from the comfort of your own home? Enrol online without stepping foot on campus!
How can I enrol to study STEM with leading universities through OUA?
Enrolling through OUA is simple. Just explore STEM degrees and subjects, compare different universities and courses to find the best fit and apply online through OUA. For most undergraduate subjects, there are also no entry requirements!
Browse  thousands of courses from leading Australian universities.
Or complete the form on this page to chat to an advisor about study options.
Explore courses