Don't want to return to the office? The roles on this list will give you the flexibility to keep working remotely.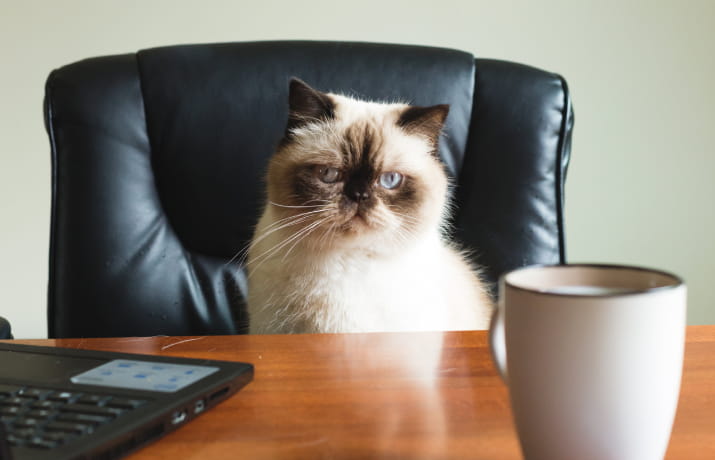 If you're looking to upskill or target a job that can be done from home, these are the industries worth looking into. Not only do they offer a better work-life balance, but they also provide more job security. Roles in these areas are projected to be in high demand over the next 5 years, according to the Australian Government's new NERO Dashboard.
Work from home jobs range across industries and aren't limited to IT work, although having computer literacy and access to reliable internet is a requirement for all positions.
The best jobs you can work from home
1. Human resource manager
If you have a background or interest in recruitment, workplace relations or policy, you're in safe hands. This industry's expected growth is very strong, with demand for human resource managers expected to rise 135% in the next 5 years!
Demand for human resource clerks is also set to increase by 79% in 5 years, while the projection for human resource professionals is 31%. These positions share many similarities, only differing in their levels of responsibility and experience.
With an increasing trend of companies having multiple workplaces—and even some operating as fully remote businesses—HR services have evolved to be performed from home. Human resource management software and online meeting sites make this possible.
Get into these in-demand jobs with studies in:
2. ICT support technician
Information and communications technology roles are also expected to grow significantly over the next 5 years. Our need for ICT support technicians and test engineers will increase the most, by 95%.
Meanwhile, demand for multimedia specialists and web developers will increase by 31%, software and applications programmers by 47%, and database and systems administrators by 78%.
All of these positions rely on internet access and remote communication tools, so they can be done from home. Specific software can even help engineers assess and work on client issues remotely.
Tap into the ICT employment boom by studying:
3. Artist and designer
This may surprise you: jobs for arts and crafts professionals are expected to grow up to 80% in the next 5 years! This includes professional painting, drawing, sculpting, multimedia, pottery, printmaking, metalwork and more.
Fashion, industrial and jewellery design is also projected to grow by 17% in the next 5 years, while graphic design and illustration is expected to increase by 16% in the next year.
It is common to be self-employed in these creative professions, and a perfect workspace or workshop at home is ideal for creative expression. Arts and crafts professionals can be commissioned to create specific works, and also create their own art to show in galleries and sell online.
These courses will help you excel in your career as an artist or fashion designer:
And these will kick-start your career in design and illustration:
4. Advertising, marketing or social media professional
Social media obviously presents many work from home opportunities, as does advertising and marketing. Many marketing professionals have been working in a hybrid home/workplace format since well before the pandemic, taking advantage of fewer distractions to conduct research and get writing done.
Demand for social media professionals is expected to grow by 19%, while the need for advertising and marketing professionals will increase by 26% over the next 5 years, making these savvy pathways to pursue.
Start your career with courses such as:
5. Healthcare professional
Many health-related careers can be done out of a home workspace, including counselling, occupational therapy and disability support, which is great for your lifestyle and for client accessibility. Being able to help others from your house means your practice is on your terms, and you can leave your commute behind forever. These fields have high projected growth in the next 5 years:
Chiropractor/Osteopath: up 32%
Counsellor: up 36%
Nutrition professional: up 21%
Podiatrist: up 46%
Psychiatrist: up 58%
Psychologist: up 25%
Study pathways for health professionals include:
6. Writer and editor
While demand isn't increasing for authors, editors or journalists, that doesn't mean your passion can't earn you an income. Writing and editing are specialist skills that business clients, agencies, websites, magazines and newspapers rely on to survive. In today's world, this work is generally performed by freelancers rather than on-staff writers. Writing is also one of the easiest jobs to set up at home, and you can take advantage of multiple revenue streams rather than chasing full-time work with one client.
Some courses that can enhance your options are:
How to find jobs where you can work from home
There are many work from home job listings on JobSearch, LinkedIn, Ethical Jobs, Indeed, and SEEK, where you can further search for your preferred industry and select full-time/part-time options.
In addition, some dedicated remote-work websites can help your job search, such as:
Freelancer, which posts jobs in all the above industries. If you become a member you can bid on the jobs you're interested in, and you can also upload your resume for employers to find you based on your skills and experience.
Flexjobs, which has hundreds of positions listed for Australian applicants, with options for freelancers and those who wish to be employed remotely.
Rachel's List, which is specifically for marketing, writing and graphic design-related freelance roles. Membership is required.
Joining career-specific groups on Facebook and LinkedIn can be a great way to find opportunities, too. Vacancies are often advertised there, and your network of colleagues or word-of-mouth can land you the job.
Please remember that if a position seems too good to be true, it probably is! Do your research on the company or individual you'll be working for, and take caution if they don't have a proper website, ABN, or other credentials. You should never have to pay to apply for a specific job, to get an interview, or to accept a position. You may have to outlay some money for an excellent resume and to create a profile on freelance websites, though.
Browse  thousands of courses from leading Australian universities.
Or complete the form on this page to chat to an advisor about study options.
Explore courses