Online study offers a flexible option for working professionals, new parents or those looking to jump into education part-time. We discuss the experience and benefits of studying online.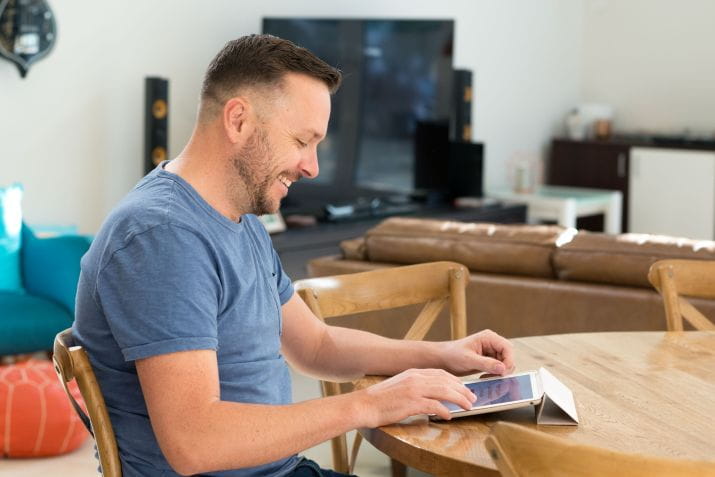 For some, studying may seem like more hassle than it's worth: the long commutes to and from campus, lugging heavy textbooks around, and getting lost on the way to class, only to find that your tutorial has been cancelled for the day. With the added effects of COVID-19, studying on-campus can become an even greater challenge. Once confined to four walls and leafy suburban campuses, studying has evolved to allow you to access an education from virtually anywhere in the world, at a time that suits you—all with an internet connection. We dive into what it's really like to study online, and some of the benefits of completing an online course through Open Universities Australia (OUA).
What can I expect when I study online?
Online study gives you flexible study options - and a lot of it. If your timetable changes regularly due to work, family or other commitments, studying online means that you can schedule your studies around your circumstances. Advances in technology make it easier than ever to access course content online, interact with your peers and attend virtual lectures. Expect to be supported, just as if you were attending an on-campus course! With COVID-19 prompting a shift to online learning environments, educators have adapted to finding new ways to teach and interact with students.
5 tips for studying online
1. Create your workspace
With libraries, campuses and other public spaces restricted due to COVID-19, you may need to get a bit creative with a study area at home. Find a space that works for you with minimal distractions. Be consistent with your study area - this can help you establish a routine, and improve your productivity. Experiment with different spaces to make sure you're feeling comfortable.
2. Equip yourself with the right tools
You'll need access to the internet, and a device such as a tablet, PC or laptop to access your course content. Find out if there are any textbooks or software required for your course, and ensure you order them well in advance so you'll be ready to go when your course commences. If you're a pen-and-paper type of person, make sure you've got them at the ready to jot down notes. Headphones are handy for listening to lectures - and vibing out to some study beats!
3. Engage in your studies
It can be easy to fall off the bandwagon when studying online, especially since there are no physical classes to attend. Most courses will have a forum set up where you can interact with your professors and other students. Actively participate in discussions, ask questions, and share insights into your own work. You'll find that this will be reciprocated. Don't be afraid to contact your professor for clarification, or if you find yourself falling behind - they're there to help!
4. Build your network
It can sometimes feel like you're on your own when you study online - but that's certainly not the case! Many online courses will have a component of group work, so you'll have the opportunity to collaborate with other students. Create a virtual study group, and leverage the knowledge of your peers - they'll be just as appreciative of the chance to connect.
5. Manage your time
Whether you're completing your course around work, parenting or other commitments, it's important to set aside time to study. Block out a couple of hours each week for some solid study, or use your commute into work to catch up on your course forum. Pencil in any important dates, such as assignment deadlines and exams, and stick to a schedule.
Online study FAQs
How can I enrol with leading universities through OUA?
We partner with leading universities across Australia, so whether you're in Broome or Bendigo, you'll have access to hundreds of online courses. Plus, our Open Door Policy means that there are no barriers to many of our undergraduate courses - no scores or prior experience required. You'll get your foot in the door, and may be able to use your completed open-access courses as credit towards a full degree later on.
What courses are available through OUA?
Through OUA, you can access courses in arts, education, law, science and more.
Are there postgraduate and undergraduate options available?
Of course! We partner with leading universities to offer a range of undergraduate and postgraduate courses. Whatever level you choose to study at, you can be confident that you'll have the flexibility, convenience and freedom that come with online study.
Embrace flexibility through OUA
Through OUA, you can access hundreds of undergraduate, postgraduate and short courses with leading universities across Australia. With flexible study options available, including part-time, you can complete your studies online alongside your job or other commitments. To find out more about studying through OUA, give our friendly student advisors a call on 13 OPEN or enquire online.