Business courses
Discover how you can get into a business course, no matter your academic history
Want to break into the corporate world, but don't have a strong study background? We can help you enrol in online business courses, even if you don't have the right ATAR or study experience. These study options are designed to ease you into university life, and cover essential topics like finance, marketing, leadership and technology. You'll earn the industry skills you need to explore entry-level jobs or enrol in a higher business degree.
All courses are delivered 100% online by universities from across Australia. This means that while you'll gain entry through us, you will study directly with the university of your choice.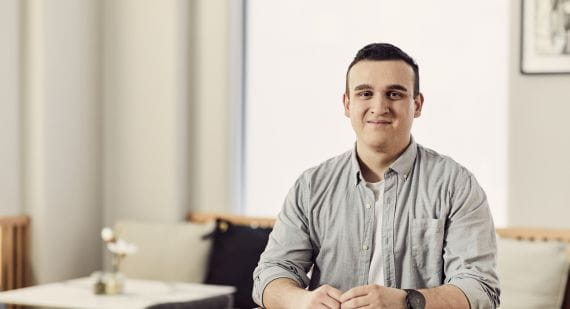 Why should you study business online?
Learn from the best: This is your chance to access some of Australia's best university business schools from the comfort of your own home. As an online student, you'll meet emerging professionals from all over the country and make connections that could pay off in the real world.
Enjoy flexibility and control: We'll help you study with your university in a way that suits your lifestyle. If you want to keep working full-time while studying in your spare time, you'll have the flexibility to do so. And if you don't meet the entry requirements for business elsewhere, we'll help you get into a qualification through subjects that are open to everyone.
Look to the future: These business courses can prepare you for roles in administration, office management or project management. You could even strike out on your own as an entrepreneur. With administrative and support jobs tipped to grow by 6.4% before 2026, it's a good time to choose this path.
Discover online business courses
Discover online business subjects
What you'll learn in a business course
These online business courses will give you the skills you need to thrive in a busy office environment.
You'll have the opportunity to build your knowledge in:
strategic thinking and problem solving
leadership and communication
digital technology
accounting and finance fundamentals
marketing fundamentals
project management
Once you've completed your studies, you'll know how businesses operate and where you can contribute your strengths. You'll also understand how to effectively lead teams, supervise projects and manage relationships. With well-rounded skills like these, you'll be free to establish yourself in any industry.
Business course FAQs
If you're not sure where to start, we recommend taking our 2-minute quiz. After you answer a few quick questions about your goals, interests and experience, we'll share a list of the most relevant course options.
Before starting an enrolment, it's important to read the entry requirements for your chosen course to ensure that you're eligible to apply. If you don't quite meet the requirements, we can help you find a pathway into your course through open entry subjects, which anyone can study. Chat with us to find out more.
Here at Open Universities Australia, we make enrolling online as straightforward as possible. To get started, find the course for you by browsing the options on this page. You can also compare different qualifications using our handy comparison tool, or request help from one of our student advisors.
When you've made your choice, click 'Apply now' on the relevant course page and follow the prompts to begin your enrolment. We'll ask you to supply some supporting documentation, including proof of your identity, your tax file number, and a unique student identifier (USI) during this process.
Your university will get in touch with you via email to confirm whether or not your application has been successful.
If you get stuck at any time, reach out to us and we'll talk you through it.
You can also take a look at our online self-service enrolling instructions.
Student stories and study advice
Get help every step of the way
Our student advisors can assist you with enrolment, help you plan your studies, and answer questions about how studying through Open Universities Australia can get you from where you are today, to where you want to be tomorrow.