Use your eye for beauty, your mind for function, and create innovative spaces that people adore.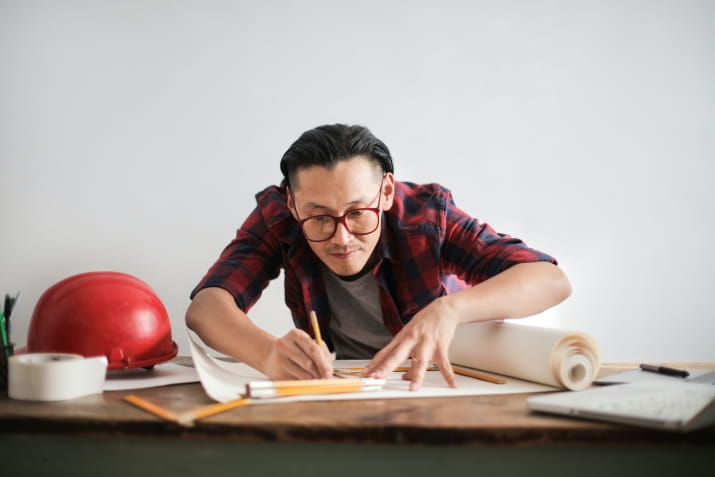 If you're looking for a career where your eye for beautiful design can be used to positively impact the future of our global society, then architecture is the perfect fit.
The Australian Institute of Architects says: "A career in architecture offers opportunities to shape, perhaps even transform the environment in which we live." An architect draws upon skills in design, environmental awareness, technology and science to influence the way people live and interact with the built environment.
Strong demand for architects in Australia
Professional architects are expected to be in high demand in Australia, according to figures from the Australian Government's Labour Market Insights research. They say that employment for architects to 2026 is expected to grow very strongly. Architects currently have a lower than average rate of unemployment. The government's figures also show that architecture is a large occupation, with 26,000 practitioners actively employed. This figure suggests that opportunities for architects should be available in most regions.
What they do
Architects are skilled professionals at the centre of Australia's built environment industry, say the Architects Accreditation Council of Australia. They can be involved with every stage of a building project, from conception right through to maintenance. The Australian Institute of Architects describes the usual phases of a project the architect could work on as:
Starting the project: the architect talks to the client about their project expectations and budget, and creates a design brief.
Design phase: the architect analyses the design brief and site conditions, and works through sketches and models to develop concept design drawings.
Design development, documentation and building approvals: the architect works with the project team to finalise the technical detail of the project and prepare detailed drawings for the builder. The drawings are lodged to obtain building approval, and a project builder is engaged.
Construction: the architect works closely with the builder and other project team members to ensure that the project goes ahead according to the drawings and specifications.
After construction: the architect follows up any issues or outstanding work with the client and the builder for the project's warranty period.
Architects will work with a number of other people on a project—such as tradespeople, engineers, lawyers and accountants—so good communication skills are vital. They also need experience in negotiation; in order to balance client's wishes with issues like complying with building codes, environmental requirements and budget to deliver the best outcome within the constraints of each project.
Where they work
Architecture graduates have a wide array of career opportunities, including work in private practice or government. Some will also specialise in heritage, sustainable design or commercial projects. There are many possibilities to pursue a passion outside of mainstream architecture practice—such as project management, urban planning, construction law, interior design, disaster relief.
Get qualified for a role in architecture
While in theory anyone can design a building, there is a restriction on using the title "architect", explains Steven Feast, who is the Online Coordinator for Architecture and Interior Architecture at Curtin University.
"You can't be an architect unless you've done a five year architecture course then a couple more years of work, and sat more exams at the end of that," he says.
Training starts with a three-year undergraduate architecture degree, such as the Bachelor of Applied Science (Architectural Science) from Curtin University through Open Universities Australia. We can help you enrol in the only undergraduate architecture degree in Australia that is entirely online, allowing for study around work and family commitments.
This course covers the design of buildings, the technical aspects of building construction, and how architecture relates to the way people live. Feast describes it as a broad-based degree where students work through increasingly complex projects each year. It leads to employability in architectural building design firms and development companies in areas such as: urban design, environmental research, building conservation, heritage matters or community development.
For those looking to study at postgraduate level, Curtin University also providers the Master of Architecture. It features two years of advanced studies in design project work, architectural history, theory and research, management, law and professional practice. The Master of Architecture is yet to be accredited, but Curtin University has commenced the process and is working with the accrediting body for a positive outcome.
Also, available completely online, students can be working in the industry while completing advanced design projects, analysing urban contexts and considering urban design and placemaking. Students are also able to develop research knowledge and skills before completing their own individual dissertation in architectural design.
Browse  thousands of courses from leading Australian universities.
Or complete the form on this page to chat to an advisor about study options.
Explore courses