It's as much a left-brain pursuit as it is a right-brain one. Learn about business considerations and finding grants. Plus, how to tap into the zeitgeist for success.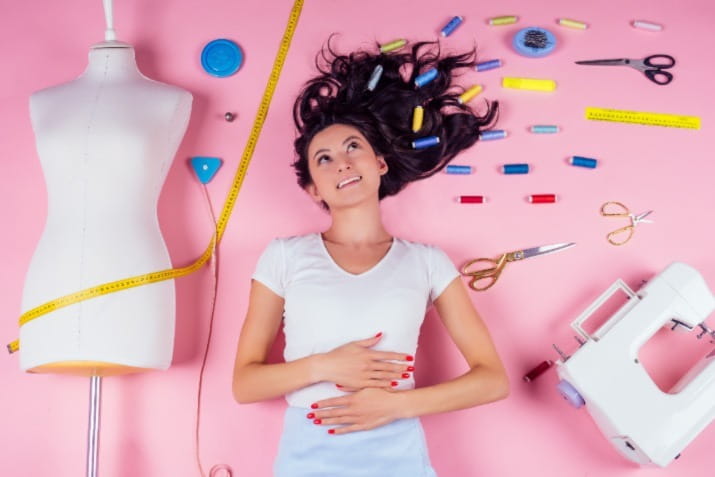 So, you're 99% sure you want to start your own clothing brand
Every page in your notebook is crammed to the edges with designs. Your dreams are made of silk and chiffon, tencel and cotton. All your friends know what you're going to name your future brand and can recite its origin story.
But you know it's going to take more than passion and needle skills to get this project off the ground.
Let's dive into your 1% of doubt and investigate the practicalities of how to start a clothing line!
Things to consider when starting a clothing line
Here's your homework—research where the market's headed, figure out what you want to (make and) sell and ask yourself how it will be different to what's available, then think about who your brand will appeal to and how you'll reach those customers.
Bess, co-founder of SNKR Project and graduate of Griffith University's Bachelor of Business through Open Universities Australia did just that.
"SNKR Project offers high-end, limited edition sneakers at an affordable price point," says Bess. She even moved to the U.S. to be closer to the epicentre of sneaker culture (this bit is optional!).
At this stage in your planning, you need to be objective! Any red flags that pop up in this process are your chance to change tack and avoid costly, heartbreaking missteps later on.
It's an interesting time to start a clothing line. Ethical consumption is a big concern that continues to grow (cue climate change anxiety). Customers are starting to turn away from fast fashion—it's the second biggest consumer of water on earth and is responsible for nearly 10% of global carbon emissions.
In response, brands are embracing circularity, taking back and recycling or repurposing clothes you've bought from them, or repairing wear and tear. If you don't already know of Patagonia and Nudie Jeans, or their planet-loving practices, go find out more!
Maybe yours could be a slow fashion brand. That's where you focus on creating well-made, trend-neutral pieces that will look just as good in 2043 as they do today. Slow fashion also values paying workers a decent wage, sourcing materials ethically and manufacturing in a way that doesn't harm the environment. Sure, your costs will be higher, but you'll also sell your clothes at a higher price point, and appeal to people who'd rather pay more for fewer things of long-lasting quality. The clearer conscience that comes along with it—priceless.
Re-commerce is another concept that's gaining momentum. According to Statista, the global market value of secondhand and resale clothing will reach US$218 billion by 2026. The Iconic partners with AirRobe to let you re-sell, rent or recycle your purchases on AirRobe's marketplace. Perhaps something to build into your business plan.
How much does it cost to start a clothing line?
Cardigang are two women who started selling knit-your-own jumper kits during the lockdown of 2020. While not a clothing brand in the traditional sense, they each contributed $4000 to launch their business.
The magic dollar amount for your business will depend on your cost per unit, which you can work out by calculating your variable and fixed costs. Variable costs are things like shipping, packaging and marketing. Fixed costs are your running costs like loan repayments, rent and utilities.
You'll also want to survey your competitors to see what they are charging for similar items. You don't need to copy their pricing outright, but you'll want to be in a roughly similar ballpark.
To get a quote from a manufacturer on your designs, you'll need to create a technical pack or specification sheet that includes:
A picture of your design with detailed measurements
The materials you want to use
A sizing chart
Your care label design
Graphics you'd like to add
Manufacturing locally costs more, but it's easier to make sure that your production partners follow ethical practices. You'll also save on shipping and import-related services. Getting your designs made overseas means navigating import rules and taxes along with potential language barriers.
How many pieces do I need to start a clothing line?
Jane Hammill, whose clothing designs have appeared on CNN, InStyle and NPR, says, "If you're selling online, you want to fill up a page so your online shop looks full…so nine or twelve looks is perfect. This can also be three styles in three fabrics or colours, making up nine items."
You could even grow your brand with a single product, made and marketed well. According to Jane, "I know one designer who makes girls' hair accessories—mostly bows—and that's it.
And she sells a truckload of them. You can make a great living with a small product assortment."
Where can I find grants for starting a clothing line?
The Australian Fashion Council has a toolkit listing grant opportunities at the national, state and local level. Alternatively, Frankie Magazine has one that doesn't require a subscription to access.
If you live in Victoria, you could apply for a Creative Victoria grant. Currently, it encourages and prioritises First Peoples, Deaf and Disabled, and CALD (culturally and linguistically diverse) creatives, as well as other under-represented groups such as LGBTIQ and regionally-based creatives.
If you're a female-founded brand, you could also apply for the Boosting Female Founders Initiative.
How hard is it to start a clothing line?
How terrifying is Anna Wintour's scowl? Jokes aside, nothing you want to do well is ever easy. But with the right knowledge, skills and education, you can be confident that you'll be able to meld your design ideas with the right business acumen. Bess from SNKR Project tell us that, "The most important skills I attained in my business degree were marketing, graphic design and people management skills."
Where can I study fashion design and business?
Torrens University currently offers a comprehensive range of fashion design and fashion business courses through Open Universities Australia.
Find diplomas in branded fashion design, fashion marketing and enterprise, and a generalist design option.
Their Associate Degree in Branded Fashion Design also gets you closer to your dream. Good to know—both diplomas and the associate degree pathway into a Bachelor in Branded Fashion Design or Bachelor of Fashion Marketing and Enterprise.
And, you'll even have the option to mix and match streams. For example, you could do the Diploma of Fashion Marketing and Enterprise, followed by the Bachelor in Branded Fashion Design. So many ways to cut this cloth! Explore fashion design and business courses at all levels now!
Browse  thousands of courses from leading Australian universities.
Or complete the form on this page to chat to an advisor about study options.
Explore courses