Thinking about getting your MBA, but not sure if you're up for the workload? Here are the main things to know before enrolling, from two students who've been there.
If you're weighing up whether or not investing in an MBA is worth it, congratulations! You have already demonstrated the initiative this course requires.
Before you dive headlong in a new direction, let's explore some common difficulties MBA students face, talk through the pros and cons of studying an online MBA, and help you decide whether an MBA can help you step into the next phase of your career.
Is an MBA difficult?
Anything worth achieving will involve a degree of difficulty. How hard you find your MBA will depend on several factors, like the subjects you choose and the existing professional experience that you bring to your coursework.
It's usually required that you have a certain amount of managerial experience to enrol in an MBA, so you can draw on your workplace experiences in your assessment tasks. As long as you're already familiar with business concepts like strategy, economics and leadership, you'll be in a good position to tackle the work.
The most common challenge
If there is one challenge that most MBA students share, it's finding the right balance between work, study, and family time, given each subject requires about 15 hours of study.
Fortunately, when you study online with leading Australian universities through us, you have the flexibility to achieve study-life balance. Michelle, who has a young family and a full-time management job, was able to complete her MBA with RMIT by taking one subject at a time. Her strategy was simple.
"I had to sit down every day and establish a routine," she explains. "I made a commitment to put in the time. I knew that I'd get to the end eventually, but I took it day by day. Four years later I graduated with a Distinction."
Michelle also leaned on her tutors for support when she found certain subjects challenging. A common misconception about MBAs is that some subjects are inherently harder than others, but the truth is learning anything without background knowledge can be difficult. A tutor can equip you with the right information when you need it most, so that you can study smarter, not harder.
How hard is an MBA online?
Studying an MBA online can be an ideal situation for some, and not quite right for others. Here are a few major things to consider when deciding if this mode of study is right for you.
You can still network with peers, but most of it will be remote
A lot of people choose to enrol in an MBA to network with other executives and industry leaders. And when you study your MBA from home, you'll collaborate with classmates and academic staff through group projects, virtual mentorships, class discussion forums and private social media groups. But there are often limited opportunities for face-to-face networking. Many in the business community still believe developing in-person relationships is vital, so look for a university that invites online students to real-life networking events.
You manage your own schedule, so self-discipline is a must
When you study online, you've got the freedom to set your hours around your other commitments. This can be particularly beneficial if you're trying to work and progress your career, but detrimental if you find it difficult to establish your own routines. Think carefully about whether working online gels with your schedule, self-discipline levels, and learning style.
Support is available as long as you seek it out
Your lecturers and tutors will give you plenty of opportunities to get help if you struggle with your MBA coursework. But when you study online, you will have to make an appointment for a digital meeting instead of just popping into their office. Once again, time management skills are a must for this course.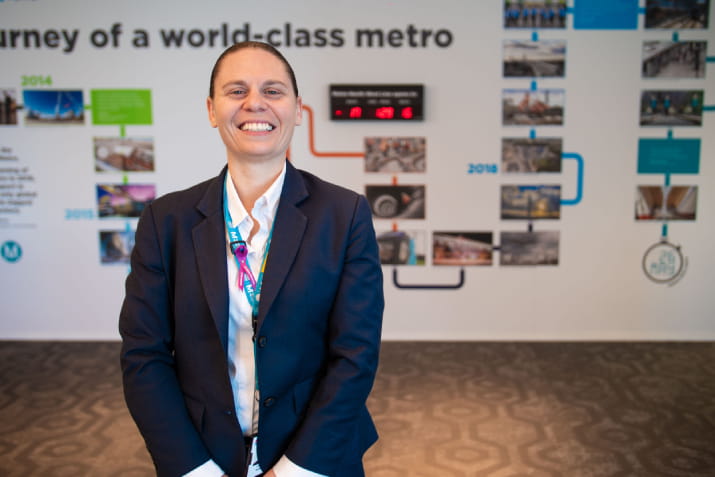 Louise landed her dream job at Sydney Metro after earning her MBA online.
Is an MBA worth it in Australia?
While Australia offers world-class MBA programs, Australian hiring decision makers don't always view the MBA as a prerequisite for many leadership roles. So is it worth getting an MBA? Ask yourself the following questions to find out if the payoff will elevate your career to the next floor.
Am I going to work overseas?
Australian MBAs are well-regarded in many countries, and a lot cheaper to obtain than many US or European MBAs. So if you plan to spend your career abroad, an Australian MBA could be a solid, relatively low-cost investment in your future earning potential.
Am I aiming for a management role?
While Australian hirers often give a lot of weight to experience and networks, they also recognise that an MBA offers specific leadership skills candidates without MBAs may not have. Louise, who completed her Executive MBA online through us after a decade in health and safety, says the course allowed her to fill gaps in her management knowledge and land her dream job.
"Leadership is a big one in work health and safety… the ability to influence people… That's what the Executive MBA at RMIT offered me," she says.
Am I going to earn more money with an MBA?
It depends on the direction you choose to go in.
According to PayScale, the average salary of an MBA graduate is $103,000 per year. An MBA can give you a competitive advantage when applying for executive leadership roles, which tend to attract an even higher salary (the average salary for a CEO in Australia is about $157,000 per year).
But there is no guarantee that your MBA will lead to more money; the qualification is ultimately what you make it. Consider this when deciding if studying an MBA in Australia makes financial sense for you.
MBA Discovery has published some thorough data on this topic if you'd like to research further.
How much does an MBA cost in Australia?
*Based on the study fees of an average Australian citizen. FEE-HELP student loans may be available for eligible students. Check with your institution of choice for up-to-date pricing. All fees were correct as of April 2022.
Where to get started
Instead of asking yourself, "How hard is an MBA?", why not ask, "How hard will it be to reach my goals without an MBA?" At Open Universities Australia, we can help you find and enrol in online MBAs and business degrees with a number of leading Australian universities.
Find out more about what an MBA can do for you today and explore your study options.