New to uni and online study? Check out this handy resource, which answers questions most of us feel too silly to ask.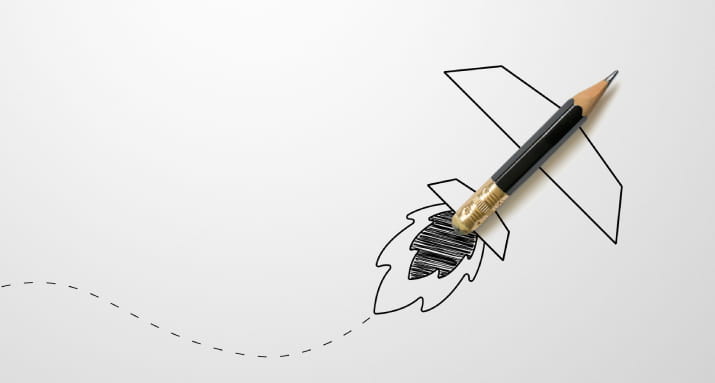 It doesn't matter if you're fresh out of high school or a mature-aged student—starting uni for the first time can be daunting! It can feel even more intimidating when you're studying online and kicking off the whole experience from home. How does everything work? What does all the uni lingo even mean?
To help you ease into uni life, we've collected your most-asked questions, so we can answer them in one place. Feel free to read everything or just scroll to the section that you want to know about.
You can also visit our glossary for an explanation of different academic terms. Let's get into it!
The different levels of study
If you've never studied at uni before, then the terms 'undergraduate' and 'postgraduate' might be completely new to you. This is how universities categorise what kind of student you are.
What is an undergraduate student?
An undergraduate student is someone who is working towards a foundational university qualification. This means they're enrolled in an Undergraduate Certificate, Diploma, Associate Degree or Bachelor Degree.
You should enrol in this type of course if you want to become qualified in a new career field.
What is a postgraduate student?
A postgraduate student is someone who is studying towards a more advanced qualification like a Graduate Certificate, Graduate Diploma or Masters Degree. They need to have an undergraduate qualification get into their course, or several years of professional work experience behind them.
You should enrol in this type of course if you want to build on skills you already have.
Course enrolments
We can help you find a course that will get you from where you are to where you want to be.
But once you're ready to enrol, we can help with that too. Here are the main questions students ask us about taking this step.
What are entry requirements?
Before you even think about enrolling in a course, you should look at its entry requirements.
Entry requirements are eligibility criteria that you need to satisfy to be accepted into the course. These entry requirements will vary depending on what you're studying. But they might ask you to demonstrate your English language proficiency, provide a minimum ATAR score, or show that you have already completed prerequisite study.
Don't panic if you don't meet the entry requirements for the course that you want to do. Universities know that everyone has a different study background, and you can speak to them about other ways to get in. In fact, you can skip entry requirements altogether when you study online through us. Here's how it works.
How many subjects will I need to choose when enrolling?
Look up your course on our website, or on your university's website. There will be a breakdown that highlights how many subjects you need to take in order to successfully complete that course. When you start the enrolment process through our website, you will also be instructed on the number of subjects you need to choose.
If you have any doubts, you can always reach out to a student advisor for guidance.
What are core units or subjects?
Core subjects are compulsory subjects that you need to complete to meet the requirements of your course. They are usually foundational subjects that teach you industry basics.
What's a major?
In addition to your core subjects, you may be required to choose a major.
Think of your major as the primary focus of your degree. For example, a Bachelor of Arts student could choose to major in something like journalism, international relations or modern history, which means they will be most qualified in that area. They would then need to complete a certain number of subjects related to that topic for it to count as their major.
What's an elective unit or subject?
On top of your other subjects, you'll usually also have the freedom to pick a few elective units.
Elective units or subjects are designed to complement your main studies. You'll need to complete a certain number of them to finish your degree. When you enrol, you'll be able to see which electives are available for your course and pick the ones that interest you the most.
Course delivery
Wondering how your course will be delivered? In today's world, most university courses are available online or on-campus—or even as a mix between the two. What our students most often want to know is, how does online study work?
What makes online study different to on-campus study?
When you study online, you study exactly the same material you would have studied on campus. The main difference is that you'll do everything from home. You'll view your lectures as videos and participate in tutorials through discussion forums or webinars. And you won't have a set timetable to follow. Instead, you can complete your coursework when and where it suits you—as long as you meet the deadlines set by your tutor.
How is the university year structured when you study online?
It depends on your university and how your course is set up. Most universities follow a traditional calendar and divide the year into two semesters, before taking a lengthy break over summer.
Things work a bit differently when you study online through Open Universities Australia. Our calendar is separated into four study periods, which run for 13 weeks each. We do this so you have the flexibility to start a course in February, May, August or November instead of waiting, because we know not everyone is ready at the start or middle of the year.
Where do I go to get started as an online student?
Once you're enrolled in your course, you'll be given access to your university's Learning Management System (LMS). This is an online portal that houses all the learning resources you'll need to complete your studies, as well as online communication tools.
If you're studying through us, there will be a link to your LMS in your Student Hub account. We suggest logging into your LMS as early as possible and taking some time to find out how everything works, and where everything lives.
Coursework
In the lead up to your first week of classes, you might be wondering how uni classes work compared to high school classes. And how exactly do you study from a distance? Let's go over the essentials.
What is a lecture at uni?
Every university subject has lectures, where a staff member (called a lecturer) gives a weekly presentation on a topic. On campus, lectures take place in lecture theatres and can involve hundreds of people listening and taking notes. Online, you'll view lectures as video and slideshow presentations in your own time.
What is a tutorial at uni?
In a tutorial, you will analyse and discuss the lecture material in more detail, under the guidance of a tutor. You might also do small individual or group exercises to help improve your understanding. On campus, tutorials take place in small classrooms. Online, you respond to class conversations and complete exercises via discussion forums.
How will I know what to do every week?
In your first week, your tutor or lecturer will give you an outline of how each subject will run. These guides can have different names: a Study Guide, Unit Guide, Unit Handbook, etc. They'll typically tell you everything you need to know as a student.
Each guide covers off:
Your role and responsibilities as a student
The rules for the subject
Contact details for your tutors
An outline of which activities, readings or homework you need to do each week to stay on track
What your assessment tasks are, and when they're due
If you have any questions about what to do and when, we'd suggest using the online forums within the LMS to get in touch with your tutors or other students for assistance.
Do I need textbooks?
It can depend on your subjects, but you will be told if you need to purchase textbooks before classes start. To find out more, read our textbook explainer.
Exams and assignments
When it comes to uni assessments, the best advice we can give you is that organisation will take you far. Just get your head around these basics, and know you can access free tutoring through us if you get stuck.
How am I assessed at uni?
Every subject that you take will be assessed in a different way, and there are normally several major assessments that contribute to your final grade. Check out our assessments explainer to understand the different assessment types, but this can include anything from essays and oral presentations to exams.
Most universities will grade your work on this scale:
High Distinction (equivalent to an 'A')
Distinction (equivalent to a 'B')
Credit (equivalent to a 'C')
Pass (equivalent to a 'D')
Fail (equivalent to an 'F')
Just remember that these grades are designed to tell you how well you're grasping the material, and they don't reflect on you personally. While it can be great to challenge yourself and aim high, think about what you can manage and whether grades will impact your future plans. You only need to meet the minimum requirements to pass your subjects.
How do exams work?
Many subjects require a supervised exam as the final assessment task. Exams are held at specific times of the year—typically during the fortnight after the end of a study period, semester or session. Here are the most current exam dates for our university partners.
Open Universities Australia's exam services team is responsible for organising an exam venue as close to where you live as possible. You'll usually receive a notification between Weeks 8 and 10 of a study term that you need to book your exam date and venue.
Support
Finally, know that you're not alone when you study, either on campus or online! There are plenty of friendly faces out there ready to support you.
Where do I meet other students?
The best way to find other students who are studying your course is to log in to your LMS, and find the online discussion forums. Here, you'll be able to chat with all the students doing your subject, and the tutors in charge. Usually your first week is all about introducing yourself and getting acquainted, so jump in!
We also have plenty of tips on how to make friends as an online student outside of your course.
Who is available to help me?
Regardless of what type of help you need, you've always got supporters ready to save the day.
Your first port of call should be your tutors, who are accessible via your LMS. Your tutors and lecturers are able to answer questions about your subject, how it will be run, the learning material, and the assessment tasks.
If you're having trouble with administrative matters like enrolment, booking exams, ordering textbooks, or making plans, you can reach out to our student advisors. If you'd like information about disability support services, we can help with that too.
Good luck, and happy studying!
Browse  thousands of courses from leading Australian universities.
Or complete the form on this page to chat to an advisor about study options.
Explore courses