If you want to study now rather than later, you're in luck, because some midyear courses are still open for online students. Here's everything you need to know about the midyear uni intake in 2022.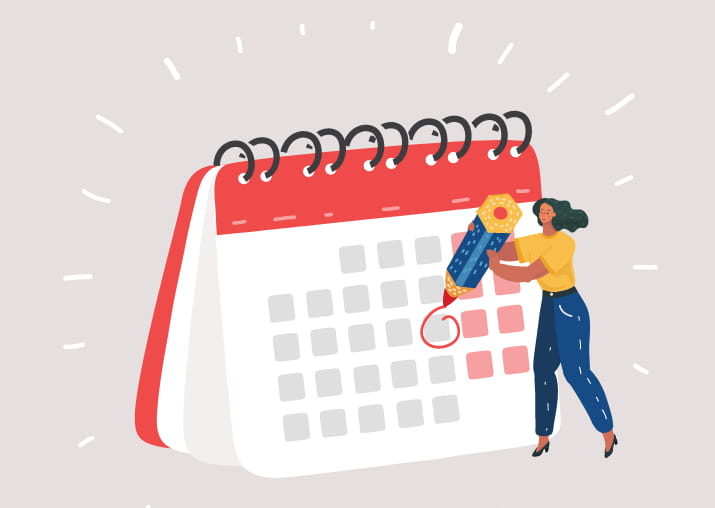 Starting a uni course in the middle of the year can be a smart move if you:
weren't ready in February
want to transfer into course that's a better fit for you
don't want to put your study plans on hold until 2023
But how do midyear enrolments work, especially when you want to study online? Here are your questions answered.
What is midyear entry?
Midyear entry is the second biggest university enrolment period of the year. Universities allow you to apply for online or on-campus courses at all levels during this time. You can then start studying in the middle of the year.
Who's eligible for midyear entry?
Everyone can apply for midyear study, including recent high school graduates and mature-age workers who want to further their education.
We find a lot of school leavers who took a break after Year 12 like to enrol at midyear because they feel refreshed enough to take on study now. We also get a lot of applications from professionals who've had a light bulb moment in their careers and want to change direction before the year is out.
While it's important to know that not all courses will be available at midyear, it is an option worth investigating if you don't want to wait until next year to study.
When do midyear uni applications open and close?
Universities typically start accepting midyear course applications in May or June, for a July or August start date.
But you get a bit of extra time if you apply for midyear study through Open Universities Australia. We have agreements in place with our partner universities that allow you to apply for some midyear courses until 14 August in 2022, for classes starting on 29 August.
Closing dates do vary from university to university, so it's best to check our list of key application dates carefully to avoid missing a deadline.
How do you apply for midyear entry?
Many on-campus midyear courses require students to enrol through their state or territory's universities admissions centre. However, this application option has closed for 2022.
The easiest way to apply for an online course at this point in the year is to apply directly with the institution, or through Open Universities Australia.
To apply through us, search for your course, hit the 'apply' button, and follow our simplified enrolment steps. We'll get in touch with the university on your behalf.
Before you get started, we recommend you follow the below advice.
Read the course entry requirements carefully
All courses have different entry requirements listed. You'll want to make sure you meet these criteria before you apply, or the university won't accept your application.
If you don't quite meet the requirements (for example you don't have the right ATAR or you haven't completed the prerequisite subjects), we can still help you enrol. Please give us a call. We have a unique open-door policy in place that makes it possible to get into university degrees through pathway subjects.
Get your supporting documents ready
There are some key pieces of information you'll need to provide with your application, such as:
Proof of identity documents (a birth certificate, passport or citizenship certificate)
Your Unique Student Identifier (USI)
Your tax file number
Proof of prior study (if relevant), like an academic transcript from TAFE or another uni
Proof of work experience (if relevant), like a letter from a current employer on a company letterhead
We'll let you know what you need to submit as you enrol, but it's a good idea to have the essentials listed above saved in a PDF format so you don't have to delay your application
Get your questions answered by a student advisor
If you're confused about anything, including choosing subjects, setting up a flexible study plan, paying course fees or meeting entry requirements, you can reach out to our friendly student advisors for help.
They can even sit with you on the phone and walk you through your enrolment step-by-step.
What happens once your application is submitted?
We'll lodge the application with your chosen university for you, along with all your supporting documents. If you're only taking a short course, your enrolment should be accepted instantly.
If you're applying for a degree, the uni will respond to you via email to let you know if you've been accepted into the course.
Once you're enrolled, you'll be an online student with that university, and you'll access all your lectures and assessments through their learning portal. We'll be here in the background to help you enrol in new subjects at the start of each study term, adjust the flexibility of your studies, organise exams, or access tutoring support, if you need it.
Can you transfer uni midyear?
Yes, you can! In fact, many students decide to transfer to an online course at midyear when they realise that on-campus study isn't flexible enough for their needs. We can help you transfer into an online place with your current university, or with a different university altogether.
If you're moving into a course within the same study area, you may even be able to apply for recognition of prior learning to gain credit for the material you've already covered.
To avoid any confusion, we recommend giving us a call to chat more about transferring into an online course.
What midyear courses are available online?
You can explore hundreds of midyear courses offered by our partner universities right here.
You'll find undergraduate, postgraduate and short courses available across study areas including architecture, business, education, health, IT and science.
These courses have been especially popular during our 2022 midyear intake and are still accepting enrolments:
Popular midyear short courses
Popular midyear undergraduate courses
Popular midyear postgraduate courses
Want to take a course that isn't available during the midyear intake? It may be offered during another study period in 2022. You can sign up for a free Student Hub account and create a shortlist of favourite courses to keep an eye on new start dates.
Ready to make your goals happen now through midyear study? Find an upcoming course.