Open University Australia's Agile Lead, James Pulling, reveals how the organisation adapted in the challenging times brought about by COVID-19. 6 minute read.
COVID-19 forced many organisations to radically shift how they operated – in some cases almost overnight. Like many organisations, Open Universities Australia (OUA) had to adjust.

Using agile and adaptive methods, deemed by the business' Agile Continuous Improvement Lead, James Pulling, as "not just frameworks, tools and certifications – but the ability to move quickly and easily", OUA managed to stay focused on delivering goals and helping students succeed, despite losing the benefits of face-to-face interactions.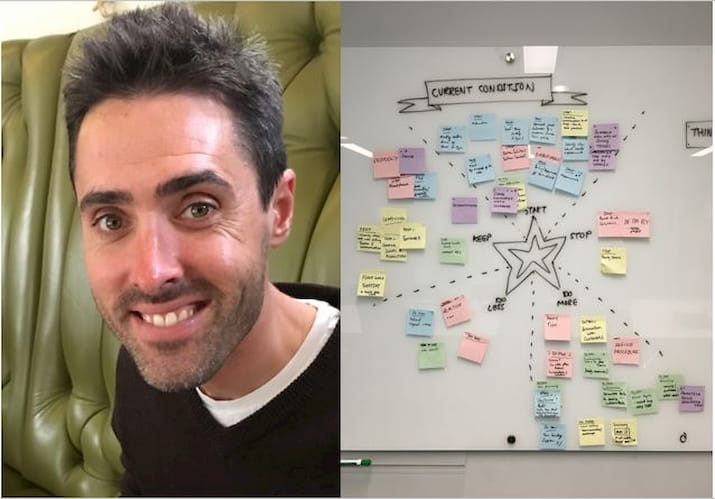 James Pulling, Agile Lead at Open Universities Australia
James shares his thoughts on how the organisation approached the "new normal":
The human immune system is defined as 'the organs and processes of the body that provide resistance to infection and toxins'. Use this definition when considering the health of a business, and it becomes "the people and behaviours of the organisation that provide resistance to volatility, uncertainty, complexity and ambiguity."

Organisations are continually relying on their "immune systems" to guide them through uncertain times. Think about it: if an organisational immune system is bogged down in old ways of working and thinking - bureaucracy, department silos and top-down command and control structures - it will be slow to adapt, quickly overwhelmed… and well, we know what happens next!
Here at OUA, we've been working hard over the past few years to focus our people and behaviours on these adaptive challenges. In doing so, we were building up our immune system to allow us to respond to the coronavirus pandemic.
Here are a few specific methods that allowed us to adapt quickly and easily.
1. Staying on track with Obeya
Obeya (Japanese for "big room") is a visual management strategy that grew out of Toyota's workplace in the 1990s. It's a place where colleagues can meet away from their desks to discuss progress, tasks and solve problems.
At OUA, the Obeya is a physical wall where we keep track of goals and tasks to improve coordination across different teams and groups, ensure transparency and enable quick, clear decision-making.
We've used this method of staying connected and focused for the past three years, and it's now firmly part of the OUA heartbeat. When we shifted to working from home, we were able to smoothly transfer everything that made the Obeya wall a valuable tool to a digital format.
While we can no longer meet in person, technology let us stay on track. It wasn't hard for the teams to adapt to a remote version of the wall, and it allowed us to have the same kinds of conversations we would have had in the office. This seamless transition is just one example of our healthy adaptive immune system in full swing.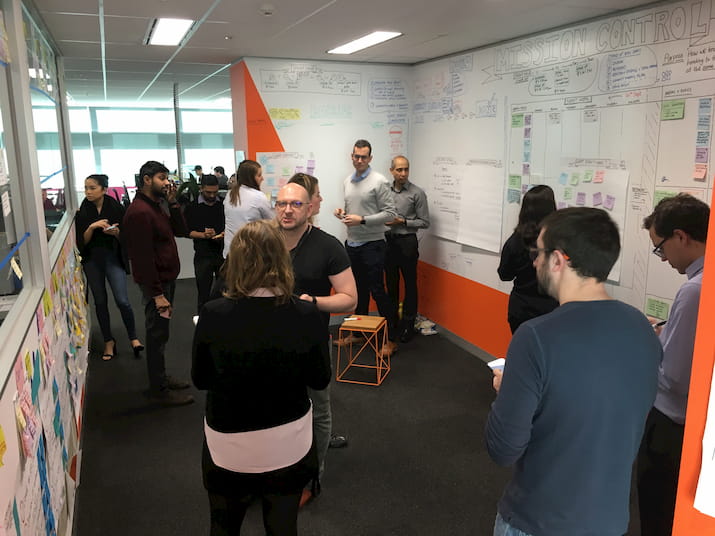 OUA staff at the organisation's obeya wall, known as 'Mission Control', before COVID-19. This has since been transformed to the digital environment.
2. Staying connected by living our value of 'care for each other'
Our teams have worked hard to remain socially connected while we're physically distant. A large part of our dedication to doing so has been driven by a key message from our CEO, Stuart Elmslie, who says, "working remotely has to work for everyone." It's a sentiment with which I couldn't agree more.
It's easy to fall back and only focus on your immediate team, but Stuart's openness and leadership in our weekly all-hands virtual gatherings has allowed us to maintain a sense of togetherness. In these sessions, no question, concern or issue is off the table.
There's also been great emphasis and investment on employees' wellbeing, with options to check-in with others, learn how to focus on ensuring you're OK, and even move together through virtual yoga classes.
3. Living the philosophy of 'constant improvement'
One of OUA values is to continually improve what we do. You never hear "It's always been done like that around here" in our organisation. Instead, you might hear things like "I like that…", or "I wish that…" or "I wonder if…"
To bring this to life, we practice retrospectives regularly - the formal process of setting aside time to reflect and adjust.
Through these, our teams have been improving their work from all angles for the last few years – which has lead to a massive number of experiments being run by our teams. In turn, this has allowed us to benefit from a lot of learning - which is something that doesn't happen unless you prioritise the time to reflect and identify things to improve!
With a habit of retrospectives firmly in place before the pandemic, we were able to continue reflecting and adjusting to new ways of working when COVID-19 hit.

In closing, James reflects on OUA's belief that "access to quality education has the power to transform lives." It's this mission that the Agile Lead returns to regularly when reflecting on, and adapting to, new ways of working.
"The coronavirus has tried to throw a spanner in the works" he says. "But we've adapted and, in spite of the challenges, we've continued to make transformative, accessible education a reality for thousands of Australians."