Have a knack for numbers? A mathematics degree will take you far—and maybe somewhere unexpected.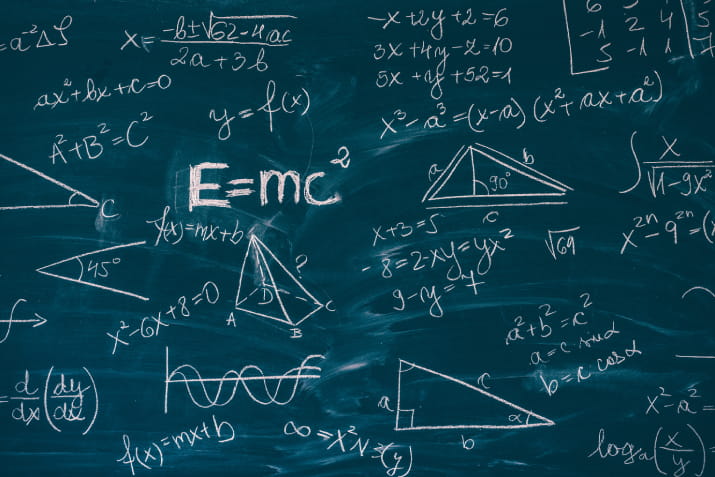 Jobs that involve maths
If you're great with stats or you love interpreting data, you might be considering a career that involves maths. Luckily for you there are plenty of interesting, highly paid opportunities for maths graduates in Australia.
Let's take a look at the kinds of career paths you can take after completing your mathematics degree. Some of them may surprise you…
Data analyst
These days, almost every industry uses data to understand and solve problems, so you'll find plenty of opportunities as a data analyst.
In this role, you'll use your solid grasp of statistics to interpret and explain complex data sets and communicate how this information can help your organisation. For example, you might investigate data on your company's customer base, market trends, or even environmental impacts.
Alongside your technical and mathematical knowledge, you'll succeed as a data analyst if you have great communication skills. Part of your role involves presenting your findings to the leadership team of your organisation.
Software engineer
Your maths expertise will come in handy as a software engineer who builds new computer programs or mobile apps. In this role, you'll analyse user behaviour and then brainstorm, design, test, and launch software that meets their needs. You could land a gig at a big tech company like Apple or Google or work in the development team at a startup.
Your maths background will be useful for tasks such as understanding the logic of code, analysing A/B split testing, working with algorithms, and general problem solving. You'll also need a good grasp of programming languages to succeed as a software engineer.
Game designer
This one may surprise you. Did you know your maths degree could help you end up in the gaming industry?
As a game designer, you'll make use of your advanced mathematical knowledge—in areas such as geometry, trigonometry, and algebra—and work alongside producers, software engineers and other creatives to produce beautiful graphics and absorbing game play.
Statistician
Statisticians use and develop statistical models and theories to solve complex problems. While their work has similarities with that of a data analyst, statisticians are also involved in the collection of data, as well as its interpretation, and need to be confident using highly complex mathematical equations.
As a statistician, you can find work in a wide range of industries—from business to health to engineering and environmental science—or within government. You may design surveys, experiments, or polls to collect data, and then analyse and interpret trends within it.
Animator
You could use your maths knowledge to help bring beautiful, fully realised worlds to life in animated films.
Animators need to understand a fair bit of maths—and physics—to produce convincing graphics. Big studios like Pixar invest in maths research and so they can continue to evolve their animation capability and make computational models that can create realistic seeming features—think shimmery water or individual strands of hair.
You may need to complete additional study in animation before taking on a role in the industry, but your maths degree will provide a great foundation.
Actuary
As an actuary, you'll use maths, statistics and financial theory to help businesses or individual clients better understand risk and uncertainty. Your mathematics knowledge will help you perform complex equations and use computer software to generate and analyse predictions.
For example, you might be asked to predict the impact of potential natural disasters. The information you generate might then be used by your company to develop policies that mitigate risk.
As an actuary, you may find work in the insurance, superannuation, or investment industries, or perhaps within a government department. You'll enjoy putting your problem-solving and analytical skills to the test and be remunerated handsomely for your expertise.
Degrees with maths
If you are interested in a degree in mathematics, what are your options? You'll most likely start with an undergraduate degree, such as a Bachelor of Mathematics or Bachelor of Mathematical Science.
If you've already completed undergraduate study and are looking to further your career, a postgraduate option like a Graduate Certificate of Mathematics or Master of Data Science might suit you best.
Through Open Universities Australia, you can even test the waters before making a longer commitment by trying a single mathematics subject or two, such as Calculus or Fundamentals of Mathematics.
Explore online mathematics courses that are available to study now and discover where your passion could take you.