Can't decide between two different study paths? You might not have to. Find out how a double degree can double your knowledge for the workforce.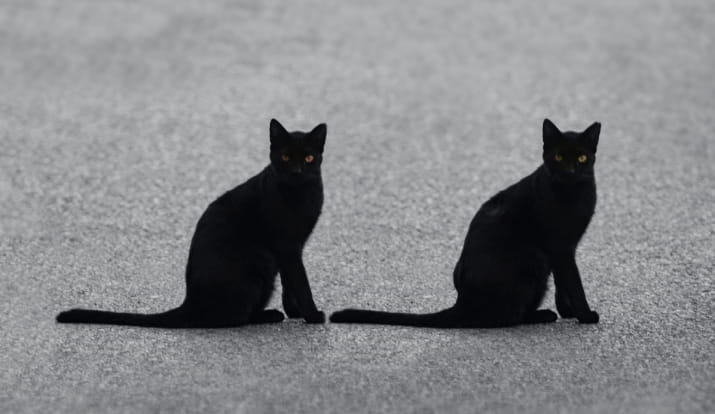 When you study a double degree, you earn two university qualifications at the same time.
Those two degrees can be in areas that complement each other (like business and psychology), or areas that completely differ from each another (like arts and science). Whichever way you go, your double degree can be a huge advantage to you, because you will either graduate as a more specialised job candidate, or have the freedom to pursue twice the career opportunities.
Double degrees aren't just for undergraduates, either. You can complete a double bachelor degree or a double masters degree.
How long does a double degree take?
It depends on the double degree you choose and how you study. In most cases, you can expect to tack on an extra year or two of full-time study.
In other words, it'll take you about four years to complete a double bachelor degree, and three years to complete a double masters degree. That isn't bad when you consider how long it would take to complete two entirely separate degrees.
How does a double degree work?
You're probably wondering how it's possible to finish two degrees at this pace, and here's your answer: you'll study fewer electives.
In a single degree, you complete core subjects, subjects from your major, and electives.
But in a double degree, you mostly only study core subjects and major subjects for each qualification. You'll study few, if any, electives. Cutting these out allows you to complete the two degrees in less time.
Here's an example of how a double degree vs a single degree could be structured, so you can see what we mean: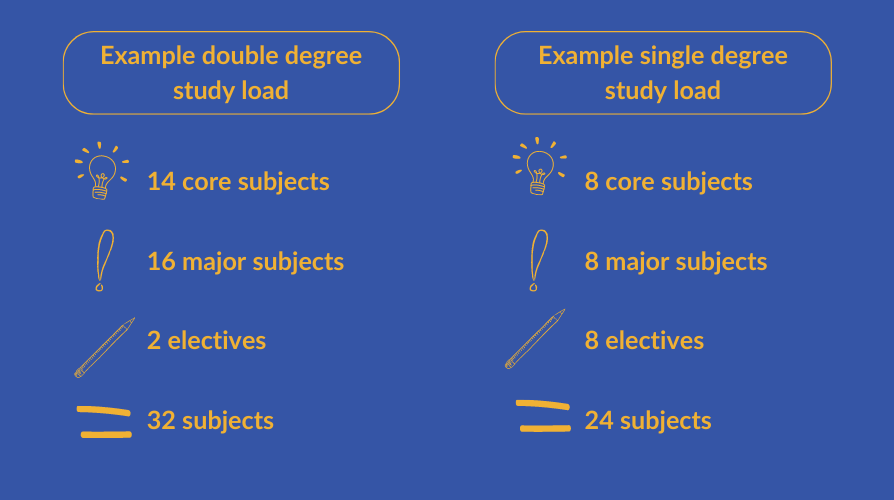 Electives are optional subjects that you choose to study based on your interests. They aren't required knowledge, so you won't be any less qualified if they aren't part of your uni experience. Some students like studying electives because they're free to explore topics they wouldn't normally learn about. But other students see ditching electives as a good thing, because they prefer to just focus on the essentials. It's really up to you whether this is a dealbreaker.
Is a double degree harder?
If all of this makes it sound like a double degree is harder, rest assured, it's not.
You complete the same number of subjects per semester as you would in a single degree, so your workload remains the same. You just have more subjects to complete overall, meaning it takes longer to graduate.
Your subjects will also be more diverse than those of a student studying a single degree. For example, if you were studying a Bachelor of Business and Bachelor of Science double degree, you might take a management subject and a sustainability subject at the same time. This variety can be great for keeping your mind sharp because you get to exercise different parts of your brain.
Is a double degree worth it?
A double degree is absolutely worth the extra study time if you have a reason for getting qualified in two areas. Here are three major benefits to this study path:
You'll double your knowledge, faster: Have your eye on a career that combines two different fields, like cyber security lawyer? It takes less time to complete a double degree in cyber security and law than it does to earn two separate degrees in those areas. That applies no matter what you study.
You'll save on study fees: It costs less, too. While a double degree will require a larger HELP loan than a single degree alone, it's more cost effective than studying two individual degrees back-to-back. This is because your fees are calculated per subject that you complete. On average, a double degree is about 32 subjects, while two separate degrees could add up to 48 subjects.
Your employment prospects will go up: In a recent Monash University study, it was found that double degree graduates had up to 40% more success at finding a job than single degree graduates. This makes sense, since double degree graduates can often go after twice as many roles!
Can you complete a double degree online?
You sure can. If you're looking for a more flexible double degree, then you should consider an online option. You'll study exactly the same material as the on-campus version of the course, but you'll have more control over your study experience.
For a start, you can dictate how many subjects you take on at once. This makes it possible to graduate faster, or slow down your study pace, so you're only tackling a subject at a time.
What double degrees can you study online?
Here are some of the most popular double degrees study combinations available through Open Universities Australia.
When you study online through us, you're still a student with your chosen university, but we handle the enrolment side of things for you. We can even help you get into undergraduate double degrees without entry requirements.
Business and communications
This bachelor degree allows you to combine a business major like small business management with a communications major like social media, and graduate with two very sought-after specialisations.
Study it with: University of the Sunshine Coast
Business and psychological science
A lot of business graduates end up going back to uni to study psychology because they want to understand how their customers (and employees) think. Graduating with a double degree in these areas will help you stand apart from the start.
Study it with: University of Tasmania
Business and science
Can't decide between business and science? Why not do both? With the business acumen you learn in this double bachelor degree, you could become a leader in sustainability or environmental management.
Study it with: University of Tasmania
Physiotherapy and high performance sport
This double masters degree is designed for physiotherapists who want to work with professional athletes. It's a chance to upskill in sports-related illnesses and injuries, while also exploring the high performance sports industry more broadly.
Study it with: Australian Catholic University
Psychological science and justice
Understand the intricacies of human behaviour and the criminal justice system. This double bachelor degree will give you the flexibility to go after all sorts of careers in counselling and health services, or criminal justice and corrections.
Study it with: University of Tasmania
Public health and business administration
This double masters degree is ideal for public health workers who are ready for senior management. You'll gain executive leadership skills in the MBA, and health-specific leadership skills in the public health degree.
Study it with: Torrens University
If you have any questions about studying a double degree, just let us know. Our student advisors are only a phone call away, and ready to help with whatever you need.
Browse  thousands of courses from leading Australian universities.
Or complete the form on this page to chat to an advisor about study options.
Explore courses