A bachelor degree is the 'mothership' of university degrees. Learn all about this three-to-five-year qualification, and why it's a must in the job market (hint: it's well worth the investment).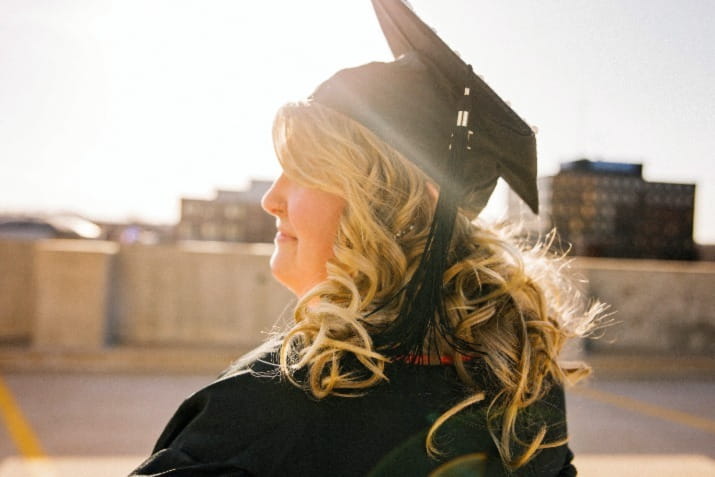 Define it for me first: What is a bachelor degree?
Whether you're a high school leaver or mature-age student, a bachelor degree can open the door to plenty of professions (and higher salaries, too). It takes between 3 to 5 years to earn this undergraduate qualification if you study full-time.
Why is it called a bachelor degree?
No, it's not because married men can't study. The term bachelor degree actually comes from the Latin word 'baccalārius', which originally referred to people of low rank in the feudal hierarchy. Over time, the word evolved to refer to those who had passed the baccalaureate exam (and thus those who were, in fact, rising up the ranks of society! Don't you just love the transformative power of education?).
What is a bachelor degree with honours?
An honours degree gives you the chance to contribute new arguments and research in your chosen field of study, plus it allows you to signal your expertise in a field to future employers. It also places you in the top 2% of Most Interesting People In The Room (this may or may not be scientifically proven).
Really though, a bachelor degree with honours simply means a regular bachelor degree plus an extra 12 months of study, which typically includes additional honours or coursework units, delving into research design, and of course, your independent, supervised research project (AKA your 'thesis' or 'dissertation'). You produce this under the guidance of an academic supervisor. Your thesis or dissertation is basically your chance to go hyper-niche on a topic you're interested in. Here are two actual thesis topics to prove it: Ovulation: A Lap Dancer's Secret Weapon and Even Chickens Prefer Beautiful People.
Studying an honours degree gives you an honours-level award. But it does so much more than just that. It shows that you're intelligent, persistent, and can tackle complex tasks. Plus, if you're academically inclined, honours can also lead to your masters or a career in research via a PhD.
What can you do with a bachelor degree?
You can do so much with a bachelor degree—from aerospace engineer through to start-up skincare founder, a bachelor degree can open the door to a plethora of stimulating careers.
At its core, a bachelor degree is really about preparing you for a rewarding professional career. The qualification is important because it:
helps you develop your creativity, critical thinking, problem-solving and analytical skills
provides networking opportunities
boosts your confidence
prepares you for your career
makes you more competitive in the career market
leads to better employment and earning outcomes. According to a recent report from the Department of Education, Skills and Employment (DESE), immediately upon graduation bachelor degree graduates earn a comfy 34% more in a single year than those without a bachelor degree. Over a decade, that earning capacity gap widens to a whopping 88%.
allows you to pursue your passions.
Plus, many bachelor courses now embed 'Work Integrated Learning'. Work Integrated Learning combines academic study with practical application. It's designed to connect you with real industry professionals and arms so you get industry experience on your resume before you graduate. (Not to mention those indispensable professional connections you can draw upon when you're ready to transition into your career.)
How much does a bachelor degree cost?
How much a bachelor degree costs depends on where and what you choose to study—and if you're an international student or a local 'domestic' student. Australian students can expect to pay a total of between $20,000 and $60,000 for a bachelor degree (your fees are higher if you're an international student).
Fees are generally calculated and charged by unit of study. At Open Universities Australia, you pay for your studies on a subject-by-subject basis, allowing you to secure government funding (if you're eligible) one subject at a time and take breaks when it suits you.
As a guide, Australian students can expect to pay around $2,000 per subject, which can be more or less depending on the coursework, university and level of study. You can see pricing information using the Open Universities Australia marketplace on each subject page, plus an indication of any upfront costs.
Remember, if you're eligible for financial assistance via government funding, you may not need to pay this back until you are earning a professional wage as stipulated by the government. Find out how much your course will cost, and how to pay your fees.
There are some extra study costs (not covered by your fees) that you'll also want to consider, like:
Your Student Services and Amenities Fee (this is generally no more than around $320 a year).
Course-specific materials (like textbooks or art supplies) and equipment.
Accommodation and travel costs (but not if you choose to study online).
In good news, there are ways to reduce or defer how much it will cost to complete your bachelor degree. From scholarships to student loans, Commonwealth Supported Places (CSPs) and HECS-HELP. Learn more about all of your financial options.
Hint: Studying your bachelor degree online through Open Universities Australia means you're in control of when, where, and how you learn. This means you can fit study around your lifestyle (and maintain your current earning capacity). Plus, you also save on travel, relocation, and accommodation—it's win-win–win.
How to get a bachelor degree
With the help of Open Universities Australia, taking steps towards a bachelor degree can be (relatively!) straightforward.
1.

Explore your options
Use our Help Me Choose tool to get instant course recommendations based on your interests, goals and lifestyle. In just minutes you'll be shown a list of courses that fit your personal needs—all available to study online with leading Australian universities through Open Universities Australia.
2.
Compare universities and course content

Do your homework on which university will offer you the most relevant coursework for your goals. Use our compare tool to see different university offerings side-by-side. We also recommend using the Good Universities Guide to see how universities compare academically in your chosen field of study.
3.
Navigate the entry requirements

If you don't meet the entry requirements for a bachelor degree on your list, Open Universities Australia makes it possible to get in anyway. Through our open enrolment subjects, you can enrol in select subjects to begin with before using your passing grades to gain entry into the degree of your dreams. Speak with our friendly student advisors about getting started today.
4. Get recognised for past study or experience
If you have relevant work experience or previous study, you could be eligible for credits or recognition of prior learning (RPL), which could wipe time off how long it takes you to complete your bachelor degree. So, make sure you ask us about it.
What comes after a bachelor degree?
What comes after a bachelor degree is entirely up to you. Here are some of the things that could come next:
Your dream job
With your qualification in hand, go out and chase that coveted career!
Further studies
You might choose to obtain your honours or a postgraduate qualification like a masters degree or doctorate.
A whimsical European vacation
Go on then, you've earned it.
Browse  thousands of courses from leading Australian universities.
Or complete the form on this page to chat to an advisor about study options.
Explore courses