James is our Head of Organisational Agility & Effectiveness at Open Universities Australia. Find out what that actually means, along with three other key themes he swears by in his life.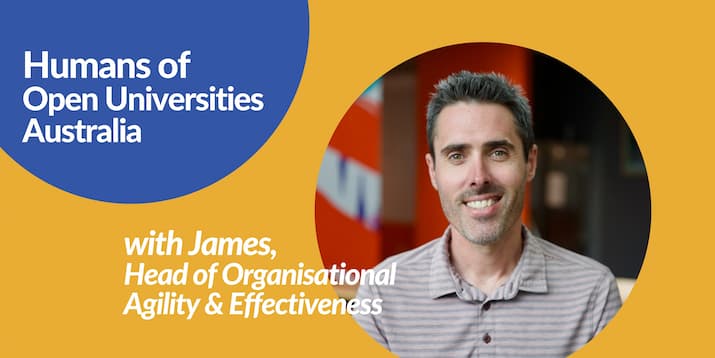 1.
Tell us your name and your role at Open Universities Australia?

Hello everyone, my name is James Pulling and I'm the Head of Organisational Agility & Effectiveness.
2.
What was your role when you started and how has it changed?

I started off as a consultant at Open Universities Australia way back in 2012! I worked as an Agile Business Analyst and SCRUM Master for one of the IT development teams. It terms of change… wow, where do I start?!

For one, if what I was working on hadn't changed in that time, I'd be very worried. However, through the success that we saw in working in more agile and customer-focused ways during my consulting days, I was lucky enough to join the organisation permanently in 2014 to help guide the business to discover different mindsets, principles and ways of working which are aimed at helping deliver more value, more quickly to our customers and ourselves. This discovery is never over as one of our values states, we are always looking for ways to "continually improve".
3.
What led you to working at Open Universities Australia and why?

As with most things, fate played a role and as opportunities presented themselves, I grabbed them more so than simply going after them.

When I was asked to join the organisation permanently, I already knew a lot of the great people who worked here and I was aware of the amazing role Open Universities Australia plays within the Australian education sector. To this day I still feel that it's great to be part of a company that helps open up access to high education that ultimately results in changing people's lives!
4.
What do you do every day to transform lives through education?

My personal mission is to help people and organisations find and create better ways of working. The key to this is to focus on your customers, work at keeping things simple and small, have short feedback loops and foster, inspect and adapt behaviours.

I'm lucky enough to work at all levels within Open Universities Australia (company, team and individual) to help us all be more effective at what we do. This might be how we align our teams, how a team might visualise their work or how someone might reflect on how they tackle a problem and work through different approaches.

If everything and everyone is working better together, we are then able to support and guide our customers – both students and universities - better.

Most of all the things I love looking around and seeing are the number of experiments our teams are running, the amount of effort and benefit that comes from understanding our customers better, and the relentless process of continuous improvement.


5.
What is your favourite part of your role?

It has to be the diversity of my work.

One of my days might involve grabbing a coffee with someone, trying to understand how to improve the way they track work and how it flows through their team. Followed by sitting in with the Senior Leadership Team to work out better ways of sharing key company information. Then I'll wrap the day up by heading off to help run a team workshop so that all team members can participate in the discussion. It's great!
6.
What is your proudest moment or career highlight during your time at Open Universities Australia?

I'm really proud of the work I did to help bring Open2Study to life. Open2Study was Australia's first Massive Open Online Course (MOOC) provider, offering free online courses from leading universities and organisations to help anyone around the world gain knowledge and access to new skills. The speed at which we were innovating, the focus we had on the goal and the number of people who took and benefited from the short courses was amazing. It really felt like we were creating the Australian version of Coursera and making a difference!

I'm going to be greedy and give two! Thinking about the work I do across the company in changing mindsets, setting principles and finding better ways to work together is another major highlight for me. I'm super proud of the impact this has directly had on employees. I know many factors play a part, but it's awesome to see that creating new and better ways to work together has increased our employee satisfaction and engagement over the years.
7.
What would you say to students thinking about taking the leap into online study?

We know taking that leap isn't a simple decision. Why not make things easier on yourself by letting Open Universities Australia guide you with impartial advice to help you find the right option for you? I'd also suggest reading some of our student testimonials. You never know, it could be you in the future!
8.
What would you say to someone thinking about working for Open Universities Australia?

This is so unlike our impartial advice to our students, yes, I'm biased, but I love working here! I guess the fact that I've worked at the organisation for over eight years is a bit of a giveaway! There is just such a great mix of people, opportunities and scale that allows you to do great things, with great people for a great purpose. So what are you waiting for, come and join us the next time we have an opportunity available!
9.
What do you do when you're not working behind the scenes at Open Universities Australia? How does this make you a better employee?

I have four big things in my life… family, cycling, coffee and agile. I love spending time with my wife and kids, especially during the summer where you will find us camping or on the beach at our local surf club. Somehow, I also manage to fit in around 200-400 km per week of road cycling, which helps me stay super fit. I've already spoken about agile and how that supports my professional mission, and without great coffee everything just grinds to a halt!
10.
Finally, tell us a fun fact about you!

I don't know if this is a fun fact, but I'm weirdly ambidextrous. I'm left-handed when things involve mainly one hand (writing, tennis, badminton and snooker/pool). But when I need to use both hands, I switch to right-handed (golf, cricket and baseball for example). It's crazy how the brain works!
Browse  thousands of courses from leading Australian universities.
Or complete the form on this page to chat to an advisor about study options.
Explore courses