Online crime is more widespread than ever due to our increasing reliance on the internet. Learn how you can help stop cybercrime by studying cyber security.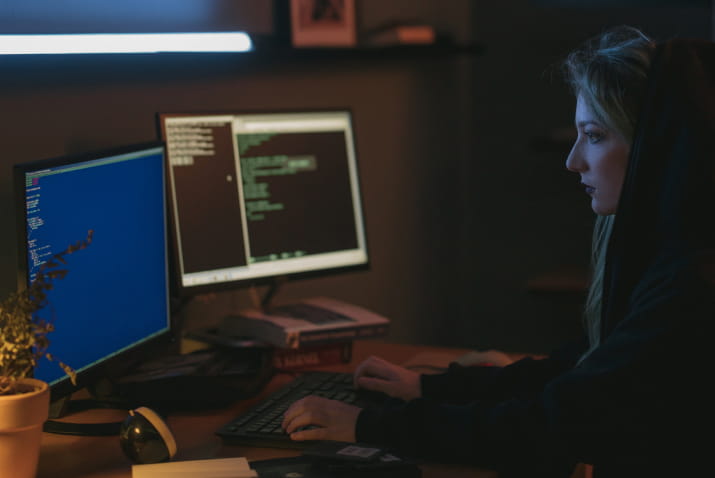 The internet plays such a fundamental role in our daily lives by simplifying even the most mundane of tasks ("Alexa, lights off!") that we often fail to see the negatives behind it. Nestled within flashy e-commerce sites, lightning-fast messaging apps and cat memes is a world full of malware, identity theft and online fraud—also known as the world of cybercrime. While it can be easy to turn a blind eye to it, many don't stop to consider the effects of cybercrime until they're a victim.
There's no particular profile when it comes to targets of cybercrime. Individuals, businesses, educational institutions and government agencies are all on the hit-list. According to the Australian Cyber Security Centre (ACSC), 160 cybercrimes are reported each day in Australia—that's one crime every ten minutes. Cybercrime can take many forms, including but not limited to online bullying, romance fraud, email compromise, ransomware and online image abuse.
With cybercrime on the rise, there's a demand for cyber security professionals. Let's look at some online courses that will qualify you to tackle one of Australia's largest threats.
RMIT University's Bachelor of Information Technology
With the basics of IT under your belt, you could work in a range of areas to streamline the user experience and create a safe online environment.
You'll learn how to:
critically analyse computer science and IT topics, evidence and situations
develop and implement software solutions based on requirements and specifications
navigate important ethical standards and legal and privacy issues.
Some roles this course may prepare you for include:
network administrator
IT security officer
desktop analyst
Find out more about RMIT's IT degree
The University of Tasmania's Associate Degree in Applied Technologies (Cyber Security)
Launch your career in cyber security with this hands-on degree, designed to provide you with practical skills to effectively deal with cybercrime.
You'll learn how to:
apply various methodologies to identify and provide innovative solutions to complex IT issues
identify and select relevant technologies and tools to generate, manage and share information
understand programming principles and data analytics for cyber security.
Some roles this course may prepare you for include:
cyber security technologist
IT consultant
cyber defence manager
Find out more about UTAS' cyber security Associate Degree
Macquarie University's Cyber Security in Practice
This short course dives into the practical elements of cybercrime, including perpetrator motives and the threats faced by people, infrastructure and computer systems.
You'll learn how to:
understand the key crime types and criminological issues related to cybercrime
understand the different threats that impact computer networks and physical infrastructure
critique and evaluate key data storage and professional security vulnerabilities.
Some roles this course may prepare you for include:
network security officer
information security analyst
penetration tester
Find out more about Macquarie's cyber security short course
The University of Tasmania's Data Analysis for Cyber Security
Data analytics, or the interpretation of data, is on the rise. In this short course, you'll learn about how data is analysed in relation to cyber security, and how they operate hand-in-hand to create a safe online environment.
You'll learn how to:
collect, analyse and present data for cyber security
understand the quality of data required for cyber security
develop and justify recommendations for cyber security measures.
Some roles this course may prepare you for include:
data analyst
security systems administrator
cyber security analyst
Find out more about UTAS' short course in data
Studying cyber security FAQs
Is there a demand for cyber security jobs?
There certainly is. According to the ACSC, Australians lost $634 million to online scams in 2019. That's a lot of money for individuals, businesses and governments. There's a demand for cyber security professionals to create safe networks, update software and maintain information technology systems in order to prevent a cyber security attack.
I don't have an IT background—can I still study cyber security?
We offer a range of cyber security courses at all levels: single subjects, undergraduate degrees and postgraduate degrees. If you're not sure if cyber security is the right field for you, or you're simply looking to upskill, why not try one of our short courses? Many of our short courses are open entry, which means you don't need any previous qualifications to get started. Plus, if you decide to pursue a full degree later on, you may be eligible to use a completed short course as credit towards your degree.
Is funding available if I study cyber security?
Here at Open Universities Australia (OUA), we have a range of financial options available. You may be eligible for funding support depending on your chosen course and your personal circumstances.
Study cyber security through OUA
Through us, you'll have access to hundreds of online short courses, undergraduate courses and postgraduate courses to kick-start your career in cyber security. Plus, the flexibility of online study means that you don't have to give up your existing commitments.
To find out more about studying online through OUA with leading universities across Australia, our expert student advisors are just a message away. Whether you need assistance with deciding on your study goals or want to fast track your way to graduation, it's our goal to help you get there.
Our student advisors are available 24/7 via these platforms: