Are you fascinated by the inner workings of the human mind? Do you want to help people understand their emotions and behaviour? Find out if you're made for a career in counselling or psychology.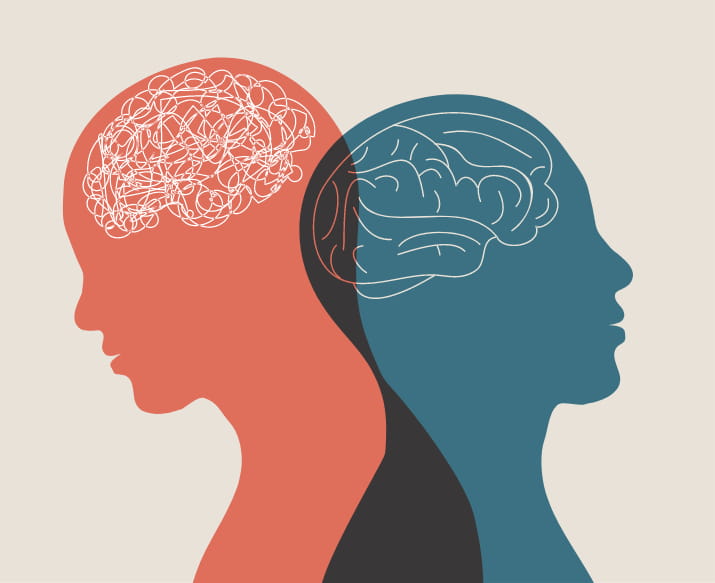 A career in mental health can be incredibly rewarding. Depending on the path you choose, you can spend your days providing therapy to clients, helping couples overcome their challenges, or facilitating change within organisations.
Two common career paths that you can take involve becoming a psychologist or a counsellor. But while these terms are often used interchangeably, they are very different roles. Let's look at the two professions so you can decide which choice is right for you.
What is counselling?
Counselling is considered to be "talk therapy". During a session, a trained counsellor will listen to a client talk about their problems and feelings in a safe and confidential space. In general, counselling is a short-term way of addressing practical issues like coping with grief or building better communication skills.
When undergoing counselling, clients won't be put on a mental health treatment plan or diagnosed with a mental health condition—instead, a counsellor provides the space a client needs to talk about and process their issues.
What is psychology?
Psychology deals with more complex mental health issues such as bipolar disorder, panic disorders and post-traumatic stress disorder (PTSD). It focuses on the science behind human emotions and behaviours, and is used to diagnose and treat issues that prevent clients from having a high quality of life. Psychology is a long-term process that can last for months and even years.
Psychology uses psychometric testing and other methods to identify the root cause of problems before prescribing treatment. These problems, which can be physical, psychological or neurological in nature, are treated with evidence-based methods like cognitive behavioural therapy (CBT) or interpersonal psychotherapy (IPT).
What is a counsellor?
Counsellors help people understand their own thoughts and behaviours. They encourage their clients to talk openly so they can explore aspects of their lives and how they felt in specific situations.
Rather than using a strict treatment plan, a counsellor may encourage overall wellbeing. They work with clients to manage anxiety, stress or anger, and educate them on strategies that will help them overcome their problems.
Counsellors tend to work in areas such as:
Marriage counselling
Family counselling
Career counselling
School counselling
General mental health counselling
Drug and alcohol addiction counselling
Day-to-day responsibilities of a counsellor
Counsellors are expected to cater their sessions to suit their clients and meet their expectations. That means that no session will be the same, which can make it a very varied career.
That said, there are core responsibilities that you will likely carry out day-to-day. These include:
Delivering ongoing counselling sessions in person or over the phone
Maintaining client records and taking case notes
Offering continuous guidance, support and advice
What does a psychologist do?
Psychologists focus on human behaviour to better understand the inner workings of the mind. They are trained to diagnose clients with mental, physical or behavioural health issues and then develop relevant treatment plans.
Psychologists also work to identify both conscious and subconscious issues that affect a client's mental health and tend to work with clients for a long period of time.
Day-to-day responsibilities of a psychologist
Psychologists are expected to stay on top of the latest research to inform their treatments. Like a counsellor, the majority of their time is spent addressing client needs.
A psychologist's daily responsibilities include:
Completing research
Writing reports
Taking part in observational sessions
Planning treatment strategies
Conducting sessions with clients
Consulting with medical staff on patient care
Can a psychologist diagnose?
Psychologists are trained to assess and diagnose mental health conditions. However, because they're not medical professionals, they cannot prescribe medications—this is reserved for psychiatrists.
What are the main differences between a counsellor and a psychologist?
The main difference between a counsellor and a psychologist is their ability to diagnose, and their methodology. Psychologists use methods such as CBT to help people better manage their mental health. Some counsellors may use these methods too, but more often encourage clients to find their own methods for managing their emotions, while providing the support they need.

Another difference is the settings that both professions work in. As a counsellor, you'll often work in community health, schools, universities and not-for-profit organisations. Psychologists tend to work in public hospitals, community mental health services, private practices and non-government mental health services.
How to start your career as a counsellor
To become a counsellor, you will need to:
Once you have completed your registration, you can start applying for jobs in an industry or area that interests you.
Depending on the field you enter, there may also be other requirements. In school counselling, for example, some institutions will require you to join your state's teacher registration board before you can be employed as a counsellor.
What do you need to study to become a psychologist?
In Australia, psychologists are regulated and must be registered with the Psychology Board of Australia. They must also be listed with the Australian Health Practitioner Regulation Agency (AHPRA).
To be eligible for registration, psychologists must undertake a minimum of six years of university study and supervised experience. Psychologist training is generally broken up into:
You will then need to apply for a provisional registration before completing a further two-year registrar program, which involves supervised professional practice.
What are the differences between a counsellor's salary and a psychologist's salary?
Generally, a psychologist is paid a higher salary than a counsellor due to their level of education. According to SEEK (as at July 2022), a counsellor salary sits at around $80,000 a year, whereas a psychologist's salary averages just over $93,000 a year. However, this can vary depending on your experience level and area of expertise.
No matter the path you choose, a career in mental health can be a fulfilling challenge for those who are passionate about helping others lead better lives.
Discover upcoming courses in counselling or psychology, and start working towards your dream role today.