With her Bachelor of Food and Nutrition, Adriana educates others about the impact food can have on the body.
Food has always been important in Adriana's life. When she was growing up, big, joyful Mediterranean meals were a family event, and excitement about the latest seasonal produce dominated conversations.
But with her heart set on a health science degree, it never occurred to Adriana that food could play a role in her career. It was only after she took an elective in nutrition and learnt more about the impact diet has on our health that everything changed.
"I wanted a career that was inspiring and where I could help people, but also where I would be challenged," she says. "When I started the elective, I was immediately fascinated by the subject. It became clear to me that nutrition and dietetics was what I wanted to do."
Following a new path
Adriana decided to switch from her on-campus health science degree into a more specialised course—a Bachelor of Food and Nutrition with La Trobe University, which was available online through Open Universities Australia.
Not only did the move make sense from a career point of view, but it also made more sense for her lifestyle. She was a mature-aged student already working full-time in healthcare administration and found attending classes in person a strain.
"I needed flexibility and a work-life balance," she recalls, adding that she craved the freedom to spend more time with her close ones. "It was amazing to be able to watch lectures when I wanted to, and fit study in with my work and family."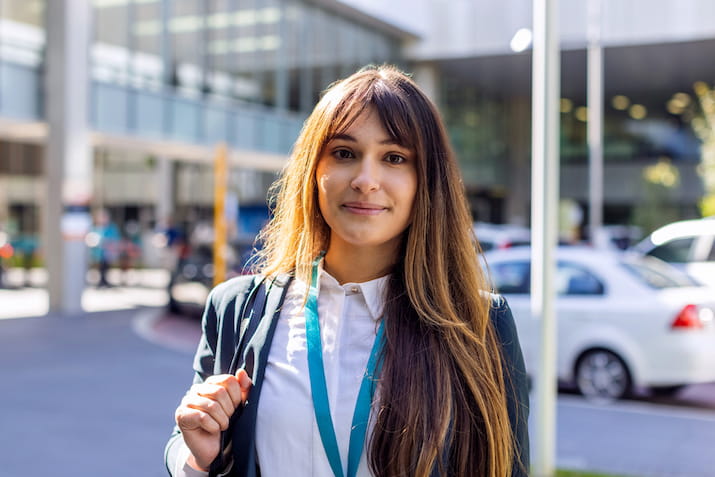 As another bonus, studying online allowed Adriana to access a course that wasn't offered in her home city of Perth. The Bachelor of Food and Nutrition is delivered by Melbourne-based La Trobe. It's also the only fully online undergraduate nutrition degree in Australia that students can access without prior study.
"I found the assessments really practical," Adriana says, adding that she particularly enjoyed exploring epidemiology, statistics and the relationship between diet and disease. "You always felt like you were involved in what was happening in nutrition. When I finally finished my degree, I felt that I could step out into the workforce and take on anything."
Putting it all into practice
Since graduating, Adriana has shifted into roles where she helps influence the public health system, just like she'd hoped.
She currently works as a senior project officer in the South Metropolitan Health Service's Clinical Services Planning Unit. There, she and the team use their knowledge about health services, emerging health issues and data analysis to improve how clinical services are delivered. It's their mission to ensure that all patients and families have access to quality, cost-effective healthcare.
After Adriana's degree introduced her to the diversity of pathways within the health industry, she enrolled in a Master of Dietetics and has also discovered an unexpected passion for research. She is even working to have a few papers published.
But though she's achieved some important milestones in her career already, Adriana has nothing but praise for the course that helped her get there. It's why she's joined the casual academic staff at La Trobe University, where she teaches (online, of course) in the same department where she earned her degree. "I wanted to give back to the course and help future students through their journey," she explains.
"I just think, food is a pivotal part of your identity and affects who you are throughout your lifetime. How could you not want to develop a career out of that!"
Make a shift in your own career
If you'd like to go after a career that you're truly passionate about, then online study is a fantastic way to get there. For a start, you don't have to give up your day job to enrol.
Through Open Universities Australia, you can:
Find the right course – Choose from hundreds of degrees and thousands of subjects, all delivered by top Australian universities.
Earn the same degree as an on-campus student – When you enrol through us, you study online with your chosen uni (and graduate with them too).
Study, regardless of your history – If you don't have a strong academic background, we can help you access subjects without entry requirements.
Gain credit towards your degree – With the right work or study experience, you can finish faster.
Feel supported from start to finish – Get help from a local expert student advisor right through to graduation.
Explore related courses
Bachelor of Food and Nutrition – La Trobe University
Bachelor of Health Science (Nutrition and Exercise) – University of South Australia
Graduate Certificate in Health Sciences – The University of Notre Dame Australia
Bachelor of Community Health – University of South Australia
Browse  thousands of courses from leading Australian universities.
Or complete the form on this page to chat to an advisor about study options.
Explore courses