Trust the leaders in online higher education
Whether you're looking for complete support with your enrolments, or help attracting more student leads, Open Universities Australia is here for you.
Our partner products
Explore our partner products and choose the one that's right for your university. With three decades of experience behind us, we know higher education. We'll use our seasoned knowledge to get you results.
List all of your study options on our marketplace
You can list as many programs as you like including:
Diplomas
Associate Degrees
Bachelor Degrees
Undergraduate Certificates
Graduate Certificates
Graduate Diplomas
Masters Degrees
Short courses
Single subjects
Pre-university and English test preparation courses
Our full service offering
Enjoy end-to-end enrolment management.
This is our flagship service. Our team will manage all enrolments generated through the Open Universities Australia marketplace.
This means we handle:
All sales and marketing campaigns.
Student enrolment queries through our student advisor team.
Student administration and government reporting.
We will also provide you with full access to our Partner Hub platform, where you can manage your catalogue and monitor student enrolment data.
Our lead referral service
Receive high-quality leads in real time.
If you prefer a more hands-off option, choose our lead referral service. We'll use our channels to attract quality leads, which we then pass on to your university to complete the enrolment.
This service allows you to:
Gain high-quality student leads without any marketing effort.
Handle all student queries and enrolments.
Add new programs to the marketplace quickly.
Our lead referral service is a non-exclusive agreement. You have full control over your pricing, and you're free to add as many new programs to the marketplace as you need.
Need help deciding which product is right for your university?
Contact our partner team to discuss your options.
How our marketing approach will benefit your university
Connecting you with a national audience
We attract national attention through our multi-channel, always-on marketing campaigns, which showcase the breadth of choice available to prospective students.
Partnering with us is a surefire way to extend your university's reach.
Access new student markets
Thanks to our flexible enrolment options, we attract students who wouldn't normally consider university. You can gain unique access to this market.
Share our engaged audience
A significant 70% of our traffic comes from our owned and earned channels, which means we attract highly receptive leads.
Extend your reach across the country
With our national reach, you can establish a presence in all key Australian markets. Attract students from other states who haven't yet decided on a university.
Leverage our brand awareness
Our brand attracts millions of impressions and product page views. Take advantage of our position as the country's most recognised brand in online higher education.
Attracting new students
We're Australia's most recognised online education brand—visible on tv, streaming, radio, online, and social media.
When we market your programs, we're extending your brand's reach to attract new students.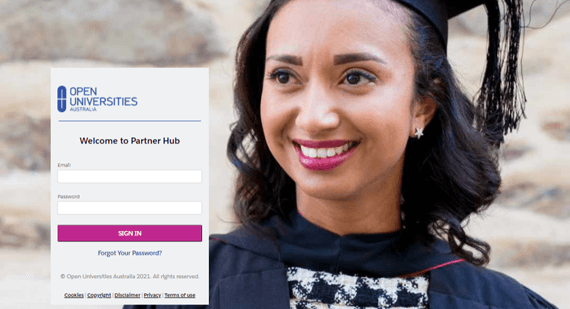 Discover Partner Hub: a full service solution for administrators
When you become a university partner, you'll gain access to Partner Hub — a custom-built Open Universities Australia platform.
Partner Hub makes it quick and easy for program managers and student administrators to manage catalogue listings and student data.
"[Partner Hub] is so much easier. Way less room for error... The system helps me know I've got it right."—Partner Hub user, Murdoch University.
"I'm not tech savvy... [Partner Hub] is brilliant. It's easy to follow and absolutely what we need." —Partner Hub user, RMIT University.
Join our marketplace
Let's work together to promote your programs and grow your student community.
Chat with our expert partner team about:
How our services work.
What we will do to help your university grow student enrolments.
The ideal product and service for you.
Other ways we can add value.
Ready to sign up?
Complete the application for new providers (PDF).
About Open Universities Australia
Open Universities Australia is the country's number one destination for online tertiary education. We help students explore, choose and enrol in thousands of online courses from leading universities.
As a not-for-profit organisation, we have our students' best interests at heart. We're here to champion everyone who wants to learn.
This approach has allowed us to become the most recognised online education brand in Australia.