Why partner with us?
We are the only online education marketplace in Australia that makes tertiary study accessible to everyone. When you join our partner program, we will help your university reach a diverse new cohort of students from across the country.
How we support our university partners
We'll help you attract new students and increase revenue through our national marketing campaigns and flexible enrolment options.
With our backing, you can also access funding to develop appealing new programs.
Awareness
Every program that you list on our marketplace will benefit from our national marketing reach.
We leverage:
Our status as Australia's most recognised online higher education brand
The fact that 74% of our students study at universities outside their home state
Business results
Students are drawn to our flexible enrolment options, which will help you reach enrolment targets faster.
We deliver:
More than 110,000 enrolments every year
High-quality student leads in real time
Capability
With our administrative support and rapid development funding, you can bring more of your programs online.
We provide:
Grants that allow you to develop new online degrees and microcredentials
Dashboards for tracking student data and managing content
How we deliver success
Since our inception, we have helped our university partners reach new student audiences in a constantly evolving higher education landscape. But we'll let the numbers speak for themselves.
#1
most recognised online education brand
463,000
student enrolments
6 million
program page views
Why our partners choose us
Our partner program continues to grow every year.
Today, 22 universities list more than 430 programs on our marketplace. Together we're helping more students achieve their study goals.
But don't just take our word for it. Discover how the University of Tasmania increased enrolments by partnering with us.
Partner benefits
Spend less on marketing
Leverage our marketing to attract new students, promote new programs and extend your brand reach.
Get noticed
Our marketing experts will work with you to bring your programs to life, increasing your brand's visibility on a national scale.
Drive business results
Our student enrolment team will make it their mission to help your university reach new students and grow enrolments.
Stay in control
We're here to deliver high-quality student leads and new enrolments, but you maintain control over your programs.
Receive ongoing support
Access funding for online program development, market insights and student enrolment support, which will ease your internal workload.
Enjoy total transparency
Successful partnerships are a two-way street. That's why we're always transparent when sharing your student data and providing administrative support.
Your value-add partner
Partner with us, and know we're in it for the long haul. We have supported universities like Griffith University, Curtin University and Macquarie University for over 20 years.
Here, they explain how we have added value through our national marketing reach, program funding and unique market insights.
"We've grown our enrolment significantly working with Open University Australia... we've been able to expand our reach to students all over Australia." — Curtin University
"At a unit level, we now have more students than ever before... for us to achieve this on our own, we would have to double our marketing budget." — University of New England
"Without Rapid Development Funding (RDF) we wouldn't have been able to bring as many programs online." — Curtin University
Featured case study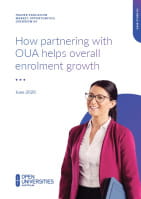 How partnering with OUA helps overall enrolment growth
Case study: University of New England increased their profile nationally to attract new students located outside of New South Wales.
September 2021, 10 pages.
Download case study
Join our marketplace
Let's work together to promote your programs and grow your student community.
Chat with our expert partner team about:
How our services work.
What we will do to help your university grow student enrolments.
The ideal product and service for you.
Other ways we can add value.
Ready to sign up?
Complete the application for new providers (PDF).
About Open Universities Australia
Open Universities Australia is the country's number one destination for online tertiary education. We help students explore, choose and enrol in thousands of online courses from leading universities.
As a not-for-profit organisation, we have our students' best interests at heart. We're here to champion everyone who wants to learn.
This approach has allowed us to become the most recognised online education brand in Australia.