Online study is a great option if your ATAR marks don't quite meet the entry requirements of your preferred course. Find out more about what's involved in this blog from Open Universities Australia.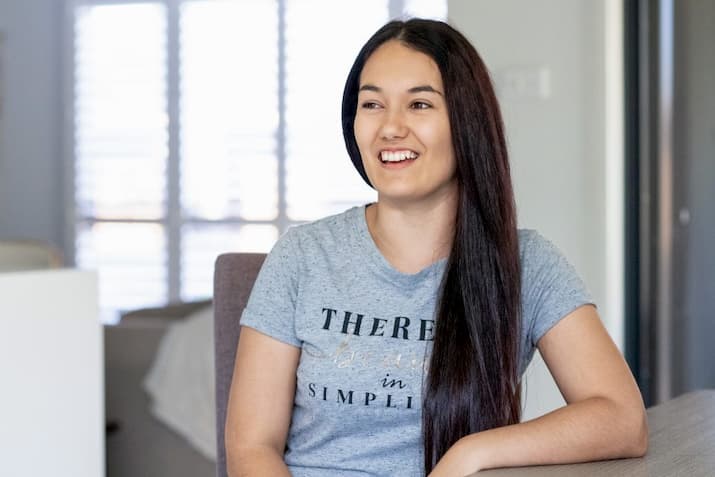 Don't have the marks to get into your dream course? Don't worry, because you can still land on your feet and enrol in a degree that makes sense for you. With online study, students of all ages can earn the skills and qualifications they need without the red tape. Check out this blog from Open Universities Australia (OUA) to find out more.
Let's start with the basics!
What is ATAR?
As you may know, the Australian Tertiary Admission Rank (ATAR) is a scoring system that ranks students based on their academic performance. It measures every year 12 participant across the country, indicating a student's position relative to all others. Individuals are given a score from 0.00 to 99.95 and this acts as the primary criterion for student entry into undergraduate courses in public universities. In other words, to be eligible for enrollment in a certain degree, you need to meet the minimum ATAR rank.
So what happens if your marks aren't quite up to scratch? That's where online learning comes in.
Online learning
Online learning is an alternative pathway that many students choose to take following school. Basically, instead of attending lectures and tutorials in-person, it involves learning remotely or 'off-campus'. These courses are accessible to everyone and offer the same level of teaching you would find in any university classroom. Upon completion, you'll walk away with an internationally recognised degree that opens up a world of opportunities.
Why study online?
The best part about online study is you don't have to stress about meeting the same ATAR entry requirements as you would when applying for an on-campus spot at a traditional university. The courses offered through OUA, for instance, have no entry requirements for most undergraduate subjects. This means there's no limit to what you can study or which career direction you choose to move in.
But how does it actually work?
Our approach to study
OUA is a not-for-profit organisation that helps students to navigate the process of leaving school and moving into tertiary study. In basic terms, we help people to explore thousands of different degrees from leading institutions across the country. We also make enrollment quick, easy and stress-free by simplifying the registration process. It's all about supporting people so they can access quality education in a way that works for them.
Our process
EXPLORE: We bring together courses from universities across Australia, all in one place.
COMPARE: We make it easier to compare your options – use our comparison tool, or get help from a knowledgeable student advisor.
ENROL: Once you've decided what to study, we'll get you enrolled with the university that provides your course.
MANAGE: While you study online with your university, we'll be here to help you manage admin tasks, like payments, results and re-enrolment.
Customise your study experience
When you choose to study through OUA, you have complete control over what subjects you take, how you take them and how much you want to tailor your learning.
Design your own degree
When you choose a degree to study, you may have the freedom to pick elective subjects from other study areas, or other universities. This way, you're free to study exactly what interests you.
To find out whether this applies, check the degree details section on the webpage of your desired degree, or chat to a student advisor for more info.
Control your study time-span
Want credit for prior study? We can help you skip subjects in which you're already competent, and complete your degree faster. You can also move faster with flexible course arrangements that let you study more subjects at once.
If instead, you're looking to complete your degree slowly, you're free to take only one subject per study period, or put your studies on hold until you're ready to resume.
Get personalised advice
When you're in need of personalised guidance, there's simply no substitute for human conversation. We've got a team of student advisors, who can tailor their advice to suit your goals and lifestyle.
A student advisor can help you with:
Choosing a course that best suits your goals.
Enrolling or re-enrolling in a course.
Managing the administration of your studies, from enrolment right through to graduation.
Understanding study loans, and whether they're right for you.
Open door policy
We make studying at leading Australian unis possible for everyone—when you enrol through us there are no entry requirements for most undergraduate subjects.
Explore hundreds of subjects. Choose from arts, business, education, health, IT, law, or science. And enrol online with access to full government funding (subject to eligibility).
Through OUA, you can sign up to an undergraduate subject and start studying straight away. There's no need to visit a uni campus, and no waiting for uni approval.
You can get into uni, no matter what your education history might be. At Open Universities Australia, our door is always open.
Define your future today
Want to define your future by studying online? There's never been a better time.
Enrol through us or contact our friendly team to find out more. We have a range of support services available including an advice section, FAQs and glossary plus tips and insights.
To express your interest in any of the courses on offer through OUA, fill out the form on this page and an expert student advisor will get in contact. Otherwise, start browsing thousands of courses from leading Australian universities right now.