We quizzed the Artistic Director of the Sydney Writers' Festival on the gargantuan task of planning, her team and reading for necessity.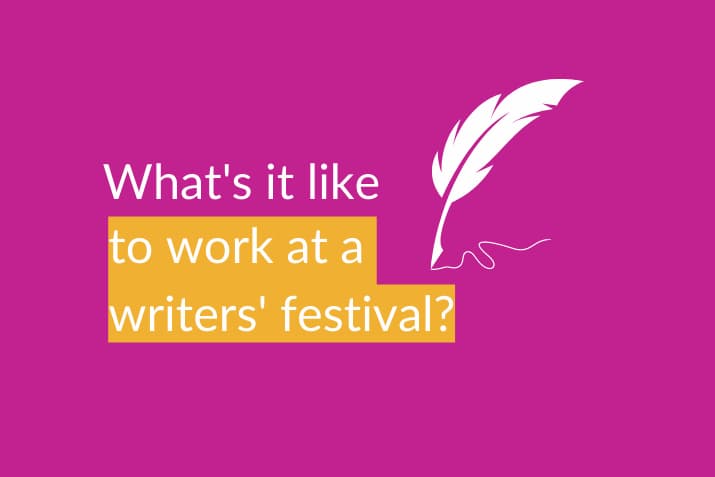 "This year we've got around 220 events, and that's actually quite small for this festival," says Ann Mossop, Artistic Director of the Sydney Writers' Festival.
But with close to 300 writers and thinkers, an army of 370 volunteers and over 80,000 visitors expected—across Sydney, its suburbs and regional New South Wales—organising this pilgrimage to the arts is nothing to sneeze at. And then there's the Live and Local streaming program, beaming the festival to 50 locations in regional and rural Australia.
Which comes first, the theme or the speaker list?
As Artistic Director, Ann is the festival whisperer, deciding what's important and engaging enough to put on show. Who's in, who's out, what they should talk about, will the audience be ambivalent (out), fascinated (in) or challenged (in).
She also selects guest curators and subject matter experts to round out the list of speakers. The form an event takes is also considered—would a solo talk or panel with contrasting points of view suit better?
"What mix of writers should we have? It shouldn't only be prize-winning novelists, or just people who write novels, for that matter, but people of all different career stages from all different kinds of cultures," says Ann. "I'm looking for texture and variation… layers of interest… some kind of reflection of the diversity of the writing world."
Basically, all the clever people you'd want at your dinner party.
But the first step in planning any party or festival, is reaching out to guests whose diaries fill up one or two years in advance. In this case, headlining writers, both Australian and international.
"Before you start thinking about the bigger questions like the shape of the program, you're really thinking, who are the people we really want to include?"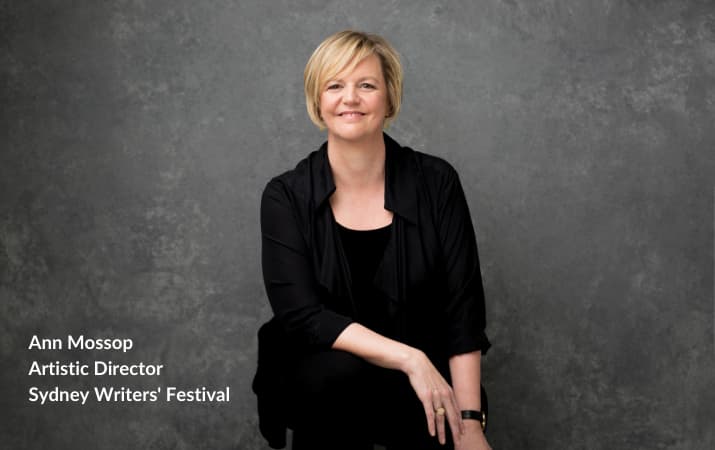 Can reading be an occupational hazard?
Potentially, even if you love books. "At one point in the Festival cycle, I would take home three books to read at night, and only get to read one third of each—it's completely different to being on holiday and immersing myself in one book," says Ann.
The reading is essential. "You don't want to invite someone without reading their work. Through that, you see the connections between different people's work, which brings up a whole lot of thinking about the program and what ideas are interesting to talk about."
Almost everyone in her team is a reader as well, so she does receive informal assistance.
"Someone will say 'I just read this, you should look at it' or 'That's terrible, you don't need to read it'."
A writer RSVPs yes. Who does what next?
It's also the Artistic Director's job to officially invite writers to appear. Once they accept, Lauren Bennett, Festival Producer, springs into action, securing agreements with the writers, booking travel and putting into motion the logistics needed to move 300 speakers around Australia. Extra team members come on board at festival time to provide support too.
What many don't know is that the Sydney Writers' Festival runs on a lean year-round team that scales up massively for the compressed frenzy of the festival period.
"For example, Iain Shand, Ticketing and Customer Service Manager, is the only ongoing staff member looking after our database and ticketing. But while the Festival's on sale, we have a whole room of people answering phones," says Ann.
The Festival also relies on volunteers, who return year after year—some have done so for ten or 20 consecutive Festivals. "You'll be standing in the foyer for about a minute before somebody tries to help you find where you're going," she continues.
Misty McPhail, Volunteers and Interns Manager, works part-time outside the Festival. "But because she's been in the role for so long, she has incredible systems and relationships with people… we really have an amazing team," states Ann.
For anyone keen to experience the inner workings of the Sydney Writers' Festival, there are also internship opportunities with each of its different departments.
Ann summarises the planning cycle most succinctly. "Put on a festival at the end of May, collapse briefly and start work on the next one immediately."
What does the development team do?
This team develops funding opportunities for the Festival, building relationships with donors, sponsors and partners—the City of Sydney, the New South Wales State Government, media partners as well as private donors.
According to Ann, "The Sydney Writers' Festival is pretty unique because more than a third of our income comes from sponsors and donors. We've managed to diversify our income from government funding, thanks to the development team's very successful efforts."
Interested in the arts and excel at fundraising? This critical role could be your next career path.
Are there writers on the Festival staff?
A quick scan of the Staff page on the Festival's site reads like a roll-call of arts (majoring in writing, literature or philosophy), fine art and communications graduates.
Manager of Children's and YA Programs, Nathan Luff, has also written multiple books and plays for young readers, including The Nerd Herd series and Bad Grammar. In fact, he was first involved in the Festival as an author touring on Russ The Story Bus, visiting schools all over Greater Sydney.
He'll even be hosting several events this year, including Double Trouble, a conversation with authors and screenwriters about what it's like to work with a writing partner.
"It's great because he's a senior operations person who's experienced the Festival from the author's side," says Ann.
Before Annette Hughes became the Festival's Travel and Logistics Coordinator, she was an editor and literary agent. She's also a published author, having written a memoir, Art Life Chooks: Learning to leave the city and love the country.
Benython Oldfield, who has been the Festival's Media Manager since 2013, is a literary agent and publicist, continuing this work through Zeitgeist Agency, which he co-founded.
In the realm of commercial writing, Jo Jukes, Office Manager, is also a freelance copywriter.
Everyone's connected to the writing and literary community in some way, so any writer would feel at home on the team.
The best part of the job
"We connect writers with their audiences. The craft of writing is generally solitary, with long periods of waiting for projects to finish and come out. Particularly for writers earlier in their career, it's like wow, I've found my audience and they love my work!" says Ann.
For aspiring writers, attending a festival lets them see what a writer's life entails. "Hearing serious writers say 'I have three hours of good work in me every day' has a profound effect," she continues. It reassures new writers that they're not the only ones who find writing hard.
As for what Ann gets out of her job, "Anyone that's fortunate enough to do creative work will know that when you've been working on something and planning it, seeing it come to fruition is incredibly satisfying."
Start your journey in the arts with a writing or communications course by leading Australian universities through Open Universities Australia.
Attending the Sydney Writers' Festival? Provoke your thinking with sessions like Reckoning, Not Reconciliation, Wisdom of the Ages and Who's Afraid of AI?
Browse  thousands of courses from leading Australian universities.
Or complete the form on this page to chat to an advisor about study options.
Explore courses