In honour of World Poetry Day on 21 March, let's look at what it takes to become a professional poet in Australia.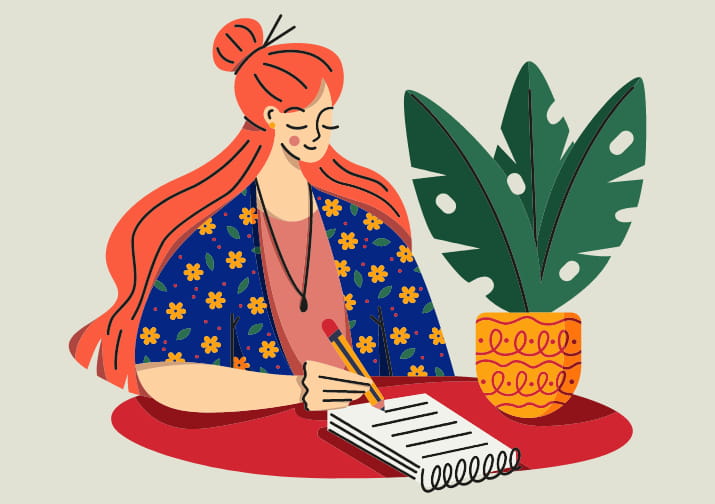 If you love to write and harness the beauty of language, then you might have dreamed about becoming a poet.
Poets have such an important role to play in our modern culture. They craft words that stick in the public consciousness and prompt vital conversations. Just think of US National Youth Poet Laureate Amanda Gorman, who set social media ablaze when she recited her poem 'The Hill We Climb' at President Biden's inauguration.
While writing poetry is more a labour of love than something you will be able to support yourself with full time, it's a creative career that you can explore as a side hustle, or even as part of a wider writing career. Here's everything you need to know about getting started.
How to get poetry published in Australia
Learn how to write poetry
Whether you're a total beginner, or someone who scrawls poems every chance they can get, learning the craft behind poetry will help you become a better writer.
Consider enrolling in a poetry course that explores the different styles of poetry and how they should be structured. While you can teach yourself poetry, it's an art form that relies on formal techniques like meter, flow, sound and rhythm, so it's good to get a grasp on these basics before you start playing with conventions.
You'll also learn literary devices like symbolism, imagery and onomatopoeia, plus how to deliver poetry aloud and how to edit your own work.
Online poetry courses
If you'd like to study poetry alongside other writing topics like short fiction and novel writing, then we recommend enrolling in an online
creative writing degree
like a
Bachelor of Arts (Creative Writing)
.
If you just prefer to focus on poetry, you can take a short poetry subject like Writing Poetry with Curtin University or Publishing Poetry and Short Stories with Macquarie University. When you enrol through Open Universities Australia, you can take these undergraduate subjects as standalone courses, without committing to a full degree.
All courses allow you to take part in virtual workshops and have your work critiqued by classmates, which is one of the best ways to find your strengths and improve your weaknesses as a writer.
Attend poetry events
The literary world is quite insular, which means you often won't hear about publishing opportunities if you're not part of the community. That's why it's a great idea to check out local (or virtual) poetry events and build up your network of fellow poets.
Attend poetry readings and book launches. Go to writing talks and seminars. You can find out about upcoming events by signing up for your state writers centre's email newsletter, or by following the Australian Poetry events calendar.
You never know who you might meet at one of these events, like an editor, literary agent or future collaborator. If you're keen to take part in a competitive poetry slam, this can also help get your work noticed by those who matter.
Submit to literary magazines
Another way to get your work noticed when you're just starting out is to get published in small literary magazines.
Freelance editor Claire Bradshaw recommends thoroughly reading a selection of Australian literary magazines before you even think about submitting so you can determine where your work will fit best. Then it's important to check the submission guidelines and follow them carefully to ensure your work won't be dismissed out of turn. You'll want to look at things like how to format your work and how many poems you can submit at once.
Don't be disheartened if you do get knocked back. It could be that your work just isn't to the editor's taste or doesn't suit the tone that they want to capture with that issue. As legendary American poet Maya Angelou once said about rejection, "You may encounter many defeats, but you must not be defeated."
Where to get poetry published
Australian literary magazines that publish poetry include:
For beginner poets:
For more experienced poets:
Publishers and literary agents occasionally contact high-tier journals like Meanjin and Overland for writers' details when they see work that they like, so while they may not be able to pay a substantial amount for your work, remember that they do have serious influence.
Submit to a publishing house
Once you've edited, workshopped, and edited your poems again, you can try submitting a collection to a publisher.
The best way to find the right publisher for you is to look up poets you admire and see where they had their collections published. Even then, you should check the publisher's submissions page very carefully because they might not be accepting poetry right now! Poetry publishers in Australia include UWA Publishing, UQP and Giramondo Publishing (here's a full list).

Tip: It's worth pointing out that the Australian publishing industry is very small—and the poetry world is even smaller. It is possible to get a collection of poetry published here, but demand is quite niche and poetry books aren't published as frequently as other genres. Publishers do tend to prioritise poets with name recognition. That's why it's worth building up your reputation with smaller presses first.
How much does it cost to publish a poetry book?
While there may be a small ($5-$20) fee involved when you submit to a literary journal (which is then pooled to pay successful contributors), you should steer clear of publishing houses that ask you for an upfront fee.
Publishers should pay you, not the other way around. If a publishing house requests any form of payment from you, then it's likely they are a vanity publisher out to exploit you as an unsuspecting writer. They don't have the resources to deliver on what they promise and should be avoided at all costs.
Fortunately, it's easy to spot a dodgy publisher. Before submitting your work, do your due diligence by checking this list of warning signs from the Australian Society of Authors.
Explore less traditional publishing options
One of the most exciting things about being a poet is that your work doesn't have to live and die in the pages of a book. It can feature in interactive exhibits, on public transport, on social media, in videos or spoken word performances.
Popular Canadian poet Rupi Kaur got her big break as an Instagram poet. Organisations like Red Room Publishing have commissioned poets to produce work for unexpected places like zoos and mangrove boardwalks.
The best way to find out about these opportunities is to follow poetry organisations like Red Room and Australian Poetry on social media, where they do callouts. The possibilities are endless.
Getting published isn't the only reason to learn poetry
Becoming a published writer doesn't have to be your end goal. Learning how to write and appreciate poetry can enrich almost any career in unexpected ways.
Copywriters who understand the mechanics of poetry know how to write memorable advertisements that emotionally connect with audiences. Scientists use poetry to translate their findings into forms that are easier to understand. Business leaders who read poetry tend to be more eloquent speakers and better problem solvers.
And having poetry as a creative outlet relieves stress, helps you express yourself and lets you make sense of your world.
Australian poets worth reading
Now that you know the how and the where, why not explore these extraordinary local poets to get inspired? Learn from their techniques and start your own writing journey:
Maxine Beneba Clarke, Omar Sakr, Eileen Chong, Alison Croggon, Evelyn Araluen, Cameron Semmens, Scott-Patrick Mitchell, Alison Whittaker, Leni Shilton, Omar Musa, Cate Kennedy, David Stavanger, Fiona Wright and Ellen van Neerven.