With the number of podcasts out there, you may be starting to think you could create your own. But how much work is really involved in being a master of the mic?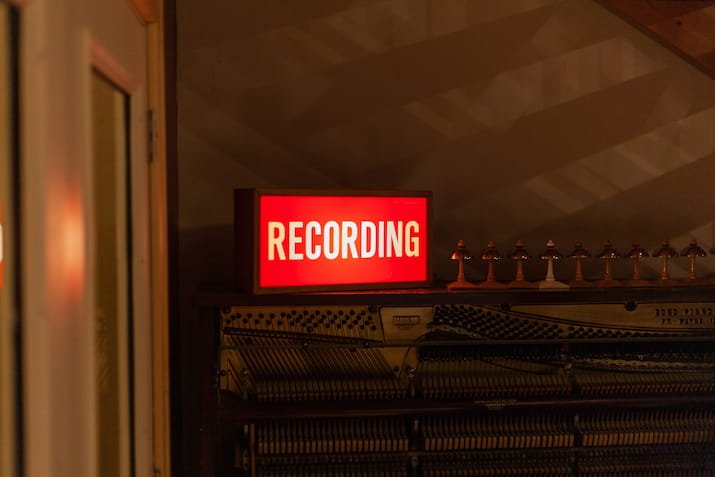 If there's ever been the time to start a podcast, now is it. People are chewing through audio content with insatiable hunger—listening to podcasts as they hit the pavement for yet another walk (or, if you're lucky enough to be out of lockdown, in the car, at the gym, and just about anywhere else you can take wireless headphones).
The audience is there. And, thanks to modern technology, the host of the next big hit could be you.
Sure, I want to host a podcast. But how to start?
Before you invest in podcast equipment, before you set up a social media page, before you come up with podcast name ideas, there's one money-can't-buy asset you'll need to start your own podcast.
You need to have something to say. Your own unique podcast idea.
Think about the podcasts you listen to and ask yourself: what do you get out of listening to them? You can likely categorise them by what they offer you as the listener.
Chances are, each fall under one of the following: entertaining, informative, or educational.
Will the topic you want to talk about entertain, inform, or educate? If so, you may just be onto something.
How podcast stuff works
Once you've got a winning idea, it's time to think about the practical side of things. Essentially, creating a podcast involves planning, recording, uploading and—if you're lucky, monetising. Making money from a podcast, that is.
Planning your topics
A topic or general direction for your podcast is a great place to start. But you'll need to ensure that your idea has legs. Meaning, it'll need to have enough complexity to create episode after episode. After all, podcasts are serial in nature.
Sit down with a notepad and pen – there's no need for audio equipment just yet. Now, map out every topic you can think of that's somewhat related to your initial idea. You might want to set yourself a timer for your brainstorm. Go crazy for 5-10 minutes.
How many ideas did you come up with? If you've got at least 6, that's enough for a series. Anywhere up to 12 is even better.
For example, you may want to podcast on the body positivity movement. Your episodes could span such ideas as intuitive eating, how to practice self-care, the diet industry through the ages, and so on. Each episode covers one individual idea. This set of subtopics creates a podcast "season".
Recording episodes
With a proper plan for success in tow, you can confidently purchase podcast equipment knowing that you'll get some good use out of it. But what do you need to create a podcast?
Essential podcast equipment:
Laptop or computer
The standard laptop you work or study on will likely suffice. Just make sure you can use it in a quiet space.
Microphone
Unfortunately, the inbuilt microphone on your existing computer won't cut it. You need a mic that will create crisp, clean audio. The good news is, there are plenty of affordable mics on the market.
Headphones
You'll want a good pair of headphones that allow you to listen to recorded audio with ultimate clarity.
Software
Podcast software is how you will edit your podcast—that is, uploading your audio files and chopping them up so they sound even better than when you said it. There is a number of options to choose from.
Monetising your hard work
Even if you plan to get into the podcast game for the enjoyment of it, you might as well see whether you can make a pretty penny from the hours you spend recording.
"Wait, I can make money from people listening to me rattle on?"
Well, first things first, you won't be rattling on (that's where your topic planning comes in!). Secondly, yes, you can.
Podcasters make money in a variety of ways—from running paid commercials on their programs, to encouraging listeners to subscribe for a monthly fee using platforms such as Patreon.
Another avenue is creating and selling merchandise featuring your podcast name or logo for listeners to wear, such as t-shirts and hoodies through sites like Redbubble.
It's worth noting though, that while you establish your podcast, it might be best to offer your program for free. Introducing advertising or a payment system down the line allows you to establish an audience first.
How many podcast listeners do I need to make money?
This depends on which of the above avenues you use to make money.
In the early days, you may not see anything coming in from your podcast. And that's OK. Building an audience is a long-term game. And for many, hosting a podcast is enjoyable above all else.
Depending on the topic you choose to discuss, podcasting also offers you the chance to network, meet new professionals, promote yourself and further your career. Some of the value you experience won't be monetary.
Podcast training courses
If you've read this far, chances are you're serious about making your own podcast. So why not invest in a podcast training course?
Podcast training courses are online programs that allow you to learn from the best of the best—taking you through everything you need to know, from coming up with a podcast idea through to uploading your podcast and making money from your newfound hobby.
The Podschool is a great place to start for podcast courses and it's run by Australian media superstar Rachel Corbett. You may have seen her on The Project, along with other news and radio shows.
Of course, this podcast course is just one of many that can help you learn the tricks of the trade.
Browse  thousands of courses from leading Australian universities.
Or complete the form on this page to chat to an advisor about study options.
Explore courses