Want more than a traditional teaching career? Life as a TESOL teacher could be the ideal path for you. Let's explore what this teaching specialty is, and why it can lead to opportunities all over the world.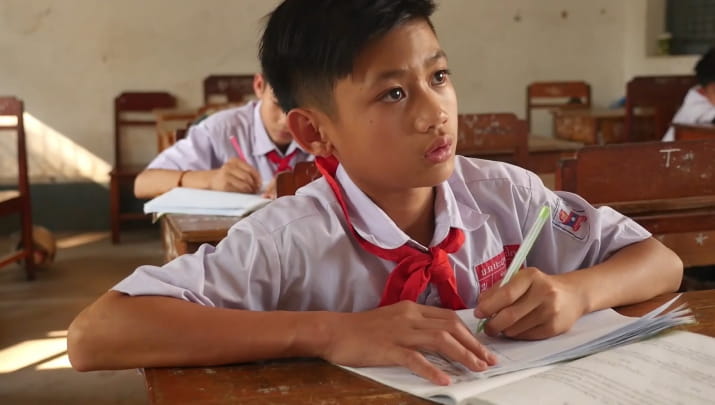 Becoming a TESOL teacher is a great career move if you're passionate about helping others learn English. English language skills are essential for new arrivals to Australia who want to live, work or study here.
What does TESOL mean?
TESOL stands for teaching English to speakers of other languages. English language skills help people find work, study and become part of their local community.
TESOL teachers instruct a wide variety of students, from migrants to Aboriginal and/or Torres Strait Islander peoples who have grown up speaking non-English languages or dialects.
What's the difference between TESOL vs TEFL?
While these two terms are sometimes used interchangeably, there is a difference between being a TESOL and TEFL teacher. TEFL stands for teaching English as a foreign language, and TEFL teachers typically work outside of English-speaking countries.
A TEFL qualification may be best for those who want to country-hop around the world as they teach, but a TESOL qualification will open more doors for you at home in Australia. You can use your TESOL qualification on its own, or as a building block for further education and career opportunities in the future.
How to get a TESOL qualification
TESOL is a great field of study if you love the English language and all its nuances.
To become a TESOL teacher, you'll need an undergraduate degree in an area like education, plus a specialist TESOL qualification. There are several postgraduate options available online through Open Universities Australia, including the Graduate Certificate in TESOL or Master of TESOL. Studying online lets you get your TESOL qualification from the comfort of home. It also means you don't have to sacrifice time away from any full-time teaching commitments.
Want to understand the differences between a graduate certificate and a masters degree in TESOL? Here's a quick breakdown:
| | |
| --- | --- |
| Graduate certificate | Masters degree |
| Takes 6 months of full-time study to complete | Takes 1-2 years of full-time study to complete |
| Most essential course content | More in-depth course content |
| Smaller financial investment | Larger financial investment |
| Focus on achieving the tools required to teach English effectively | Focus on pedagogical and academic approaches to language learning |
| Opportunity to gain specialist knowledge for those already in a teaching profession | Broader range of career opportunities |
| Courses you can study through Open Universities Australia: | Courses you can study through Open Universities Australia: |
If you're feeling unsure about whether a graduate certificate or a masters degree is the right way forward for you, don't worry, we're here to help. Open Universities Australia can offer study guidance to help you make the best choice for the future career you want.
To get into these postgraduate courses, you will typically need a bachelor degree in any discipline. If you received your bachelor degree outside of an English-speaking country, you might need to provide evidence of your English language skills when you enrol. The simplest way to check if you need to do this is to find the details of the course you want to complete online and check the entry requirements.
Don't already hold a bachelor degree? Get in touch with us. We can help you find alternative pathways into the course you're interested in.
What can you do with a TESOL certification?
Once you have your TESOL certification, it's time to look for a job. TESOL teachers work in a range of settings, with small groups of students or even one-on-one. Depending on the type of qualification you get, you could work as a:
English language teacher
Researcher in language teaching and learning
Education policy adviser
Teacher educator
English as a second language curriculum developer
Literacy educator
And if you want to travel the globe while you work? You're in luck. English is one of the most widely spoken languages in the world and is the official language of business and trade. That means that a huge number of people worldwide are looking to learn or improve their English. You'll find that TESOL teachers are sought after in private and public language schools, the public education system, and community colleges.
Are TESOL teachers in demand in Australia?
Yes. Australia has a considerable number of people arriving each week from overseas. People from around the world come here to study, work and live, and many need support to learn English. Australia has built its reputation as somewhere where migrants can find community and a place to call home, so it's essential that there are plenty of opportunities for new arrivals to learn English.
Teaching others to speak, read and write English can be a rewarding experience wherever you start your career. All you have to do is take the first step.
Explore online TESOL qualifications available with leading universities.