Office administrators are the unofficial chief organisational officers of the workplace. They make sure their colleagues have the right tools and environment to do their jobs seamlessly.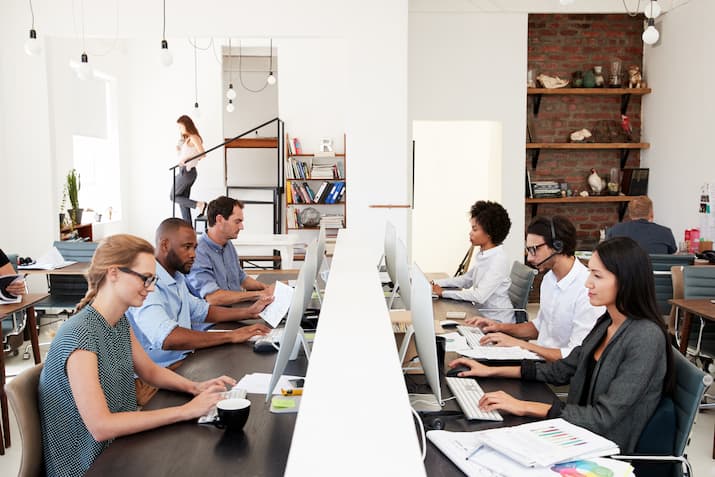 Are office administrators in demand?
They most definitely are! At the time of writing, there are over 2,300 office administration jobs and just under 1,000 office manager vacancies available on LinkedIn. Hint—office managers are what office administrators become once they have accrued experience in the field.
Looking forward, roles in office administration are projected to grow 12.9% between 2021 and 2026.
As an office administrator, you could work in any sector, from emergency services to publishing, organic food making to local government, real estate to non-profit, and so many more.
Plus, it's a multi-dimensional role with great variety in day-to-day duties, so you'll never be bored. And in most cases, it offers excellent work-life balance.
What is the role of an office administrator?
Depending on the specific role and company, an office administrator may support an individual, team or department. Senior office administration professionals may work exclusively with executive or senior leadership teams.
But what does an office administrator actually do?
They oversee the operations of their organisation's office. For example, they welcome visitors, coordinate meetings and appointments, and may oversee the workflow of administrative staff, ensuring that the office runs smoothly.
Their duties and responsibilities can include preparing agendas, making event and travel arrangements, booking meeting rooms, managing the office supplies inventory and maintaining calendars for senior management.
Office administrators also coordinate phone calls, email and mail correspondence. In addition, they file, record and document important and complex information. Discretion is called for, especially when HR matters are involved.
What qualifications do you need to be an office administrator?
While there is no industry-wide training standard, employers look favourably on candidates who have taken the time to acquire business administration skills.
Many universities and TAFEs offer business administration programs at various study levels. You could even study online. For example, Open Universities Australia has courses such as this Diploma of Applied Business or this Associate Degree of Applied Business.
What are the skills required of an office administrator?
Think diplomat, event planner and project manager, rolled into one. Office administrators need to be able to 'read a room'—in other words, be tactful and anticipate their team's needs.
They should also have excellent communication and time management skills. Attention to detail, a knack for multitasking and the ability to balance competing demands are high on hiring managers' wish lists.
Lastly, office administrators should be proficient in the Microsoft Office suite and be comfortable operating standard business equipment such as meeting room projectors and video conferencing technology.
How to stand out
Wondering if there are adjacent skills you could pick up to help you compete with other office administrator candidates? Or, do you have skills from a previous job that might be transferable?
Any experience you have with bookkeeping, finance and HR systems and processes, along with industry-specific software, will be looked upon favourably. This is especially true in small to medium-sized organisations, where employees often have greater breadth in their roles.
Should you be interested, consider these short courses in bookkeeping and accounting.
What job titles are associated with office administrator roles?
Office administration work is often advertised under a variety of titles. Here are the some common (and not so common!) ones you'll come across:
Administration officer
Office assistant
Office coordinator
Office manager
Executive assistant
Team assistant
Team secretary
CEO wrangler*
*This is a genuine position spotted on LinkedIn!
An office administrator's salary
At the time of publishing, research shows that a typical office administrator earns $60,000 a year. This could reach as high as $72,000 with experience.
Leveraging that experience and transitioning into an office manager role could pay off too. On average, office managers earn $85,000 yearly while senior office managers receive up to $131,238 a year.
So, if you're thinking of making office administration or business administration your long-term career, go for it!
Browse  thousands of courses from leading Australian universities.
Or complete the form on this page to chat to an advisor about study options.
Explore courses