Learn more about this short, practical university degree. If you want to get into the workforce faster, then it could be a smart choice for you.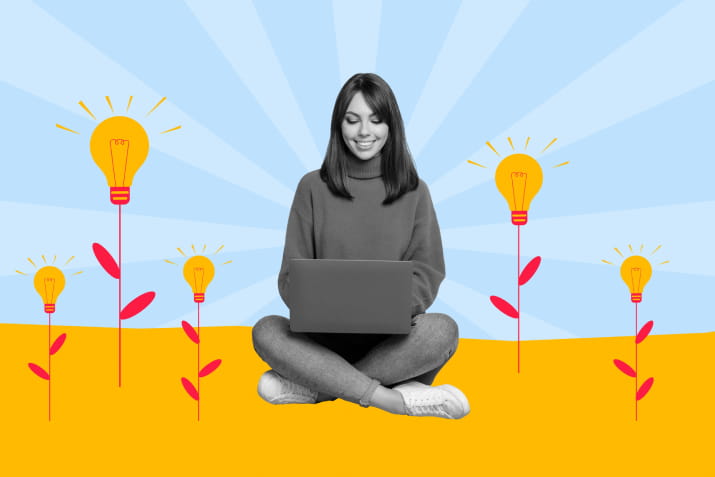 Choosing your first qualification can be tough, especially when you're after a more hands-on course. Should you focus on something vocational at TAFE? Or would a university look better on your resume? Decisions, decisions!
Here's why an associate degree may offer the best of both worlds.
Define it for me first: What is an associate degree?
An associate degree is a short, practical undergraduate qualification that sits one level below a bachelor degree.
You should study an associate degree if you need a stepping stone into university, or if you want to upskill for support work in an area like business administration, law, tourism, IT, education or healthcare.
Entry requirements tend to be lower, too. If you're coming straight from high school, you'll generally only need an ATAR of 55 or above. But there are also plenty of other ways in through work experience, VET study and pathway subjects.
How long is an associate degree?
It only takes two years of full-time study to earn an associate degree—which is another point in the qualification's favour. There are flexible online study options available as well.
What can you do with an associate degree?
There are a few different roads you can take after earning an associate degree, both career and study wise.
Get into the workforce faster
Not all professional roles require a bachelor degree, but they may require some university-level training and accreditation. An associate degree can provide that. This is especially true in industries where behind the scenes organisers are essential to keep things running smoothly.
Careers you can start with an associate degree only include:
Paralegal or legal assistant
Marketing associate
Administration officer
Engineering associate
Help desk and IT support officer, plus many other IT analyst and technician roles
Integration aide, teacher aide or school support officer
Upskill for a management role
An associate degree can also help you upskill for a role as a team leader, supervisor, project manager or office manager. The qualification may be particularly helpful if you work for a small-to-medium sized business in one of these industries:
Finance and accounting
Tourism, hospitality or event management
Construction
Marketing
Human resource management
Community health
Agriculture
Qualify for a bachelor degree
Of course, an associate degree isn't just for those who want to get their foot in the door professionally. You can also use an associate degree as a pathway into further study. In fact, most students choose an associate degree because they have never studied before, or they didn't get the ATAR they hoped for in Year 12. It's a study path that allows them to ease into university life.
Once you graduate, you're guaranteed entry into a related bachelor degree. Better still, your associate degree can count as significant academic credit, so you won't have to start your study journey all over again. You may be able to skip straight to the second or third year of the bachelor.
Your eligibility for credit will depend on the course and the university you study with, so make sure you have all the facts before choosing this option.
Can you study an associate degree online?
So far, so promising, but what if you're already working full time? Or you just have other things going on in your life, like parenting, friends or travel?
You can absolutely avoid a commute and study your associate degree online. Here at Open Universities Australia, we can help you enrol in select courses with universities like La Trobe, University of Tasmania and University of South Australia.
One of the main reasons to study through us is the extra support. Our student advisors will handle all those tricky enrolment and administration tasks for you, throughout your studies. They can also help you access flexible study options you might not know about, and skip entry requirements altogether.
How much does an associate degree cost?
The cost of your associate degree will vary, depending on things like the university that you study with and the course that you choose. But associate degrees are covered by the Australian Higher Education Loan Program (HELP), which means you can apply for a HECS-HELP or FEE-HELP loan to cover the cost of your tuition. You will only start paying the fees back via when you earn over a certain income threshold.
In general, you can expect to pay less for an associate degree than a bachelor degree. If that matters to you, then it's something to factor in when making your decision.
For help weighing up your options, take our 2-minute course matching quiz. All you need to do is share your goals, interests and study experience, and you'll be instantly matched with courses that fit you best. You can also ask our student advisors to compare qualifications for you. Who knows—they might point you in a direction you hadn't even considered.
Explore online associate degrees that you can study with leading Australian universities.